Hungry? Great! Below you'll find some of the best Las Vegas buffet prices around! And, yes, we have Las Vegas buffet coupons, discounts, cheap offers and 2 for 1 also! After you've walked from north to south Strip stopping at a few attractions along the way it's time to chow down and the Las Vegas Strip hotels are just the place! Many buffets offer coupons, 2 for 1s, promo codes and discounts....if you know where to look, and luckly we do! Don't forget, if you're traveling with kids, your little ones are normally discounted all the time, in some buffets they're even free! Here's a list of discounted Las Vegas buffets. Cheers!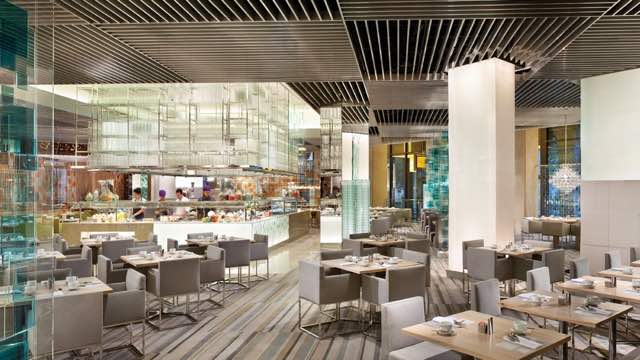 If you're in the mood for upscale buffet dining, then Bacchanal Buffet at Caesar's Palace might just be the place for you. This buffet, located at Caesar's Palace, offers over 500 different dishes, including popular Vegas favorites like king crab legs, prime rib, grilled lamb chops, dim sum, red velvet pancakes, fried chicken and waffles, and made-to-order soufflés.
Bacchanal Buffet January Discounts
There are a few Bacchanal Buffet deals and coupons out there but by far the best we've found are these promotions by Groupon: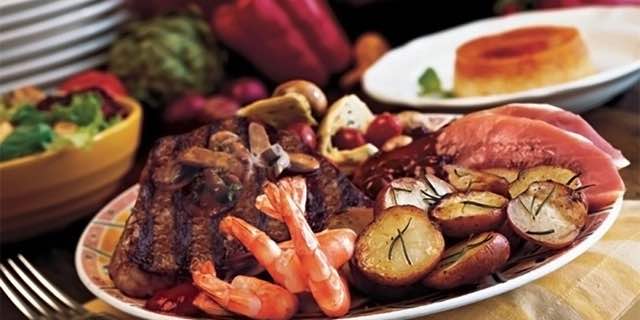 The Paris LaVillage Buffet at Paris Hotel Las Vegas was designed to look like an actual village, with a host of different ethnic foods served their own cottages. For instance, scallops and quiche are served in the Normandy cottage while more upscale delicacies, like steamed mussels, can be found in the Brittany cottage. Both children and adults enjoy being able to choose which food they want from the numerous regions represented in one convenient place.
LaVillage at Paris Buffet January Discounts
LaVillage Buffet usually doesn't discount, it normally doesn't need to but we've stumbled across this deal by Groupon: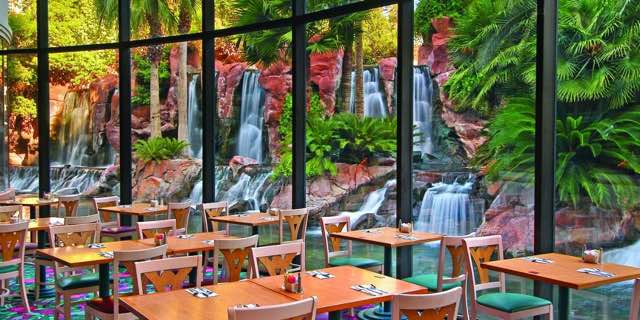 If you're visiting Las Vegas for the first time, you'll quickly come to realize that most hotels on the Vegas Strip offer a buffet, and one place that is rich in both food and atmosphere is the Paradise Garden Buffet at the Flamingo Hotel. Oddly, many buffets in Vegas don't have windows, which is what makes the Paradise Garden Buffet quite nice, the buffet dining room overlooks a real-life animal and garden habitat. Don't be surprised if you see a flamingo or two gazing through the window while you eat. Dining in a zoo come to mind?
Paradise Garden January Discounts
Groupon has for great deals for Paradise Garden Buffet which'll save you about 30% off the normal entry price: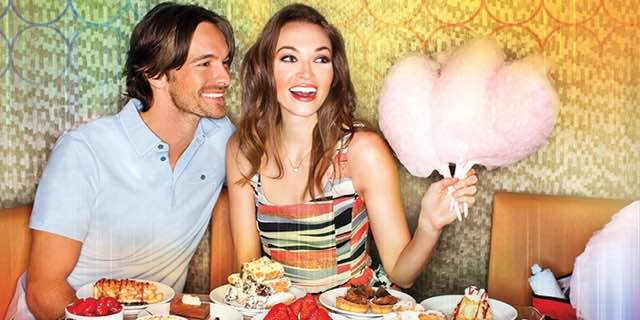 The Spice Market Buffet has often been referred to as the most sought after buffet restaurant in Las Vegas because of its impressive ethnic menu items that span the globe. Breakfast-goers can treat themselves to numerous freshly brewed coffee creations, while those in search of healthier fare may opt for a delicious fruit smoothie.
Spice Market Buffet January Discounts and Coupons
Spice Market Buffet is always discounting, in fact it really doesn't make sense to walk up and pay full price--crazy talk we say! Here's a killer Groupon deal you can grab and save with: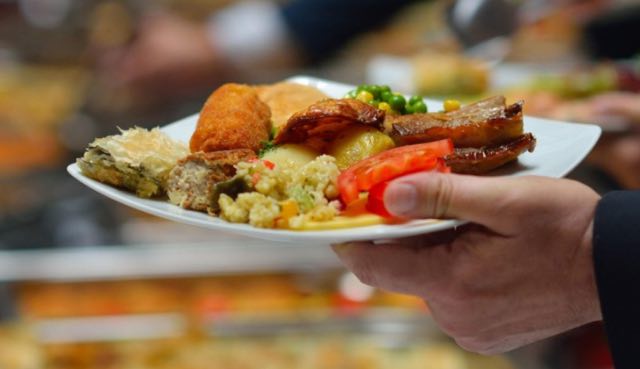 The Circus Buffet is by far one of the most frequented buffet restaurants in Las Vegas, and parents especially love visiting here since kids under 4 years of age always eat free with a paying adult. For families on a strict budget, you can't beat the Circus Buffet's reasonably priced expansive menu, and children of all ages flock to the dining room area, which is decorated in a clown theme with playful bright colors.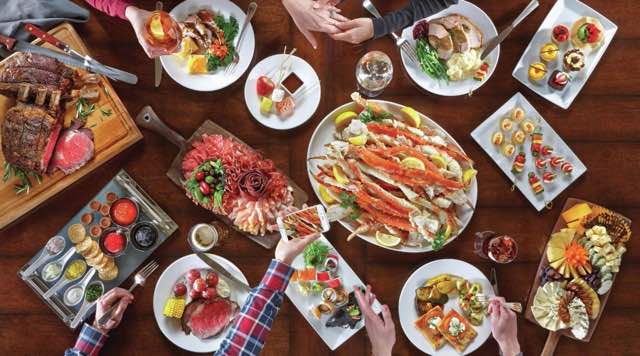 The Bellagio Buffet bills itself as an experience like no other, and it really is. With a generous selection of Italian, Japanese, Chinese and American cuisines, this buffet will not disappoint your needy tastebuds--and belly! Children 5 and under eat free and those 6 - 12 years old are half off.
The name speaks for itself, and you will be amazed at the numerous food specialties available on MORE's menu when compared to other buffet-style restaurants. Breakfast, lunch, and dinner are served every day, and there is also a champagne brunch available every Sunday for adults. If omelets are your go-to breakfast meal, then you will love visiting the omelet station, where kids and adults alike can enjoy watching a chef create an omelet from their very own choice of toppings. Children under 4 eat free!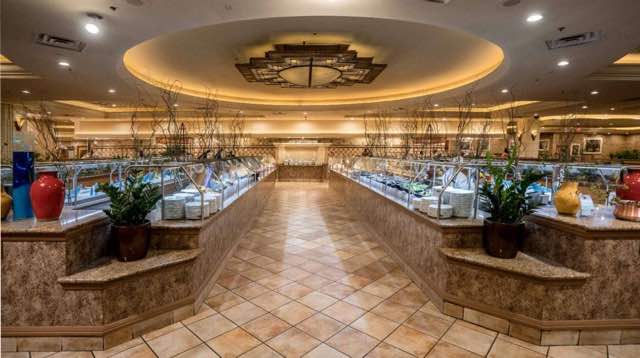 You'll be happy to learn that children 3 and under eat free at MGM Grand's Buffet. Children that are between 4 and 11 receive a discount. Adult buffet prices varies depending on the time of day and the day itself with prices ranging from $18.99 for breakfast during weekdays and $21.99 for weekend Brunch (Friday, Saturday and Sunday). Buffet prices for weekday, weekend, holiday, special events may differ.
Corner Market Buffet at TI is an increasingly popular option for the Las Vegas dinner and show crowd, mostly because of the popularity of Mystere by Cirque du Soleil, the show also located at the TI hotel. ">Corner Market Buffet is set in chic and modern surroundings with all the design elements you'd expect from a Vegas buffet: mirrors, neon, and great lighting. But what counts more than that is the food: it's good and plentiful though the quality and quantity doesn't compare to top Las Vegas buffet offerings like Bacchanal Buffet at Caesars Palace (see our review on this page).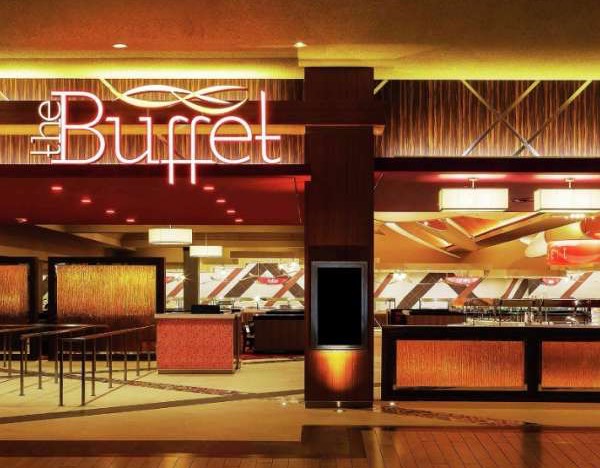 The Buffet at Excalibur, located on the Castle Walk, was recently remodeled and reconfigured. It's new contemporary look makes this buffet far more comfortable. Accommodating over 600 diners at any given time, this 35,000 square foot restaurant is one of the largest buffets on the Strip and all that volume allows Excalibur hotel to keep buffet prices down, which it has. Children's pricing is about 40% lower than adults, a significant discount.
Excalibur Buffet All Day Wristband
Score the All Day Wristband at Excalibur Buffet starting at $26.99. Weekend pricing is Friday, Saturday & Sunday. Weekday pricing is Monday through Thursday. Check out pricing below:
Adults weekdays: $41.99
Children weekdays: $26.99
Adults weekends: $48.99
Children weekends: $26.99
Add on All-You-Can-Drink
Add on all-you-can-drink to your Excalibur buffet starting at $9.99 per person.
Bayside Buffet at Mandalay Bay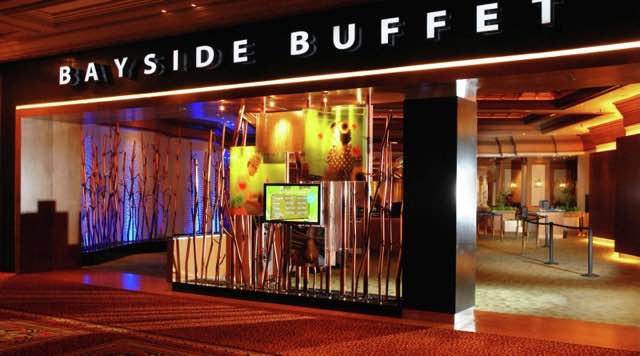 What we like most about the Bayside Buffet at Mandalay Bay hotel is the views of a tropical water garden and pool area nearby and that it's a very reasonably priced buffet, especially considering it's housed at Mandalay Bay hotel, a more upscale property. Yet, look past the the pretty aesthetics and reasonable price and you'll find the food at Bayside Buffet is disappointingly average tasting. All the typical food stations are here: breakfast, Mexican, American, Asian, and others...there's no shortage of offerings, it's just that the food taste is mediocre.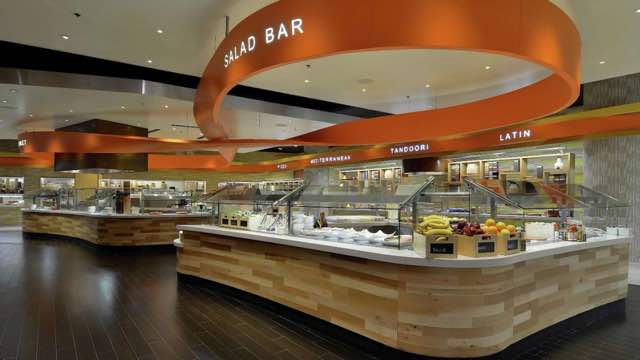 With views of the Aria hotel pool complex The Aria Buffet offers 11 food stations in a serene setting. Unlike the MGM Grand Buffet who recently did away with all wait staff, the Aria Buffet's staff will seat you quickly--there is (normally) no waiting in long lines and deliver your drink order. Children 4 and under eat free. For the Friday and Saturday Gourment Dinner children up to 12 years old eat free!
The Aria Buffet Prices
Breakfast (Mon-Fri) - $25.99
Brunch (Mon-Fri) - $30.99
Dinner (Mon-Thu) - $40.99
Brunch (Sat-Sun) $35.99
Gourmet Dinner (Fri-Sun) - $45.99
The Buffet at Wynn
Recently remodeled and recently voted Best Buffet in Las Vegas by the Southern Nevada Hotel Concierge Association, the Buffet at the Wynn is...spectacular and worth the money. As Las Vegas buffet prices go, The Buffet at Wynn is on the higher end, but worth every penny. 15 live-action cooking stations, over 120 dishes, made-to-order fresh sushi and an impecable attention to detail means you'll have an amazing meal. You'll even find Frank Sinatra's family recipe for spaghetti and meatballs! Discounted meal prices for children 4 through 10 years old. Free buffets for children 3 and under.
Flavors Buffet at Harrah's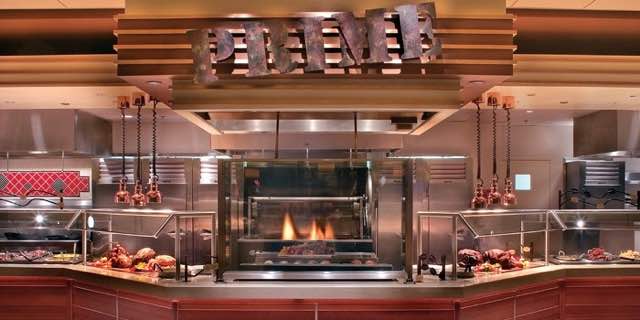 Flavors buffets features live cooking stations and all-you-can-eat crab legs--yummmmm! Kids will love the BBQ station as well as the fresh pizza selection. $9.99 prices for children 4 through 10 years old. Free buffets for children 3 and under.
Located in Henderson, Nevada, about a 15 minute drive from the Las Vegas Strip, Studio B offers a unique dining opportunity for visitors with live-action cooking demonstrations being broadcast on large video monitors inside the main dining area, where chefs are constantly busy preparing appetizers, entrees, and one-of-a-kind desserts. So, not only are you able to indulge in delicious food, but you're also being entertained at the same time. With over 200 items to choose from, everyone in your party is sure to find something they love. Studio B's menu comes in a variety of international cuisines, including Italian, Mexican, Asian, barbecue, seafood, and much more. What we love about Studio B Buffet are the prices...they offer some of the lowest Las Vegas buffet prices in town. We love cheap buffet prices!