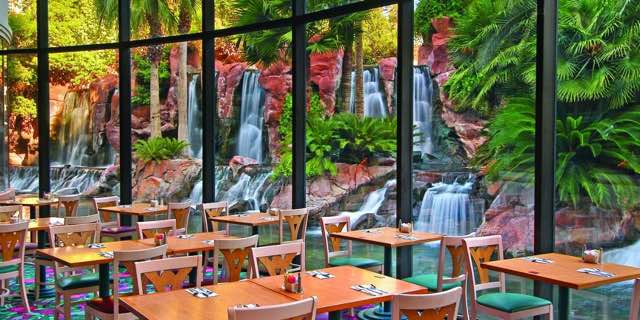 Studio B Buffet at The M Resort offers a unique dining opportunity for visitors with live-action cooking demonstrations being broadcast on large video monitors inside the main dining area, where chefs are constantly busy preparing appetizers, entrees, and one-of-a-kind desserts. So, not only are you able to indulge in delicious food, but you're also being entertained at the same time. With over 200 items to choose from, everyone in your party is sure to find something they love. Studio B Buffet's menu comes in a variety of international cuisines, including Italian, Mexican, Asian, barbecue, seafood, and much more.
In the center of the buffet area you will find several carving stations, where chefs cut and serve turkey, ham, roast beef, and prime rib. Nearby you can choose from a varied selection of sauces, condiments, and side dishes. Seafood lovers visiting during brunch and the weekends can get their fill of such mouthwatering items as lobster, fish, crab legs, sushi, and a host of other seafood options. When you're ready for something sweet to cap off your meal, the dessert bar awaits you with éclairs, flan, gelato, macaroons, and sugar-free goodies for those needing something lighter.
Studio B is an excellent choice for anyone seeking a change in scenery and variety. Children ages 4 and younger eat free. No reservations required.
Location: The M Resort
Hours of Operation and Pricing:
Breakfast:
Monday - Friday (8:00 am - 10:30 am)
Adults $10.99 / Children (ages 5 - 8) $7.99
Seafood Brunch:
Saturday - Sunday (9:00 am - 2:30 pm)
Adults $33.99 / Children (ages 5 - 8) $26.99
Lunch:
Monday - Friday (10:30 am - 2:30 pm)
Adults $15.99 / Children (ages 5 - 8) $11.99
Dinner:
Monday - Thursday (4:00 pm - 9:00 pm)
Lunch:
Adults $23.99 / Children (ages 5 - 8) $17.99
Seafood Dinner:
Friday (4:00 pm - 9:00 pm)
Adults $33.99 / Children (ages 5 - 8) $26.99