Description
Start spreading the news: You can vacation in Vegas while staying in New York City. At New York-New York, the ambience of the Big Apple meets the busiest intersection of the Las Vegas Strip.
Visitors who stay here can also take advantage of Broadway-caliber entertainment, alluring nightlife and a death-defying roller coaster named Big Apple Roller Coaster. Every single detail of New York-New York harkens back to New York City, starting with the famous skyline. It features 12 room towers designed to re-create the Empire City's most famous skyscrapers, including the Empire State Building, the Chrysler Building, the Century Building and the Ziggurat Building.
Things To Do at New York - New York
Brooklyn Bridge
Visitors will also discover a 150-foot replica of the Statue of Liberty and a 300-foot-long copy of the Brooklyn Bridge. Plus, the exterior reflects distinctive New York City landmarks like the IRT Power Station, Grand Central Station, the Ellis Island Immigrant Receiving Station and the United Nations Building Assembly Hall. Speaking of the exterior, there's a pedestrian-oriented outdoor plaza that runs along the frontage of New York-New York. It includes a mix of shops like Stupidiotic, Swatch and I Love NYNY and restaurants with patios like the Shake Shack, a hugely popular "roadside" burger stand, and Tom's Urban. A stage is nestled in one end of the Brooklyn Bridge to showcase live bands and other entertainment.
Hershey's Chocolate World
A sweet new attraction also stands here -- Hershey's Chocolate World, a flagship two-story store where guests can taste new treats. Its entrance features a towering Hershey's Milk Chocolate Bar and an 18-foot Reese's Peanut Butter Cup. MGM Resorts has also begun construction on an 8-acre dining and entertainment district called The Park in the street between New York-New York and Monte Carlo. The Park will not only house casual eateries and bars, but it will also connect to a new 20,000-seat arena being developed in partnership with AEG. Elements of The Park will begin to appear throughout 2015, with the arena scheduled to open in 2016.
After exploring the outdoor offerings, step inside to visit Greenwich Village and Times Square, the Las Vegas rather than New York City ones...
Times Square
A veritable city block of fine dining choices reflect the ethnically diverse cuisine from the Bronx to Brooklyn, Queens to Manhattan, Staten Island and beyond. The bakery-fresh bread of Il Fornaio will have you believing you're in Little Italy, while the atmosphere of Gonzalez y Gonzalez replicates one of NYC's most popular Mexican cafes. Succulent steak and seafood is prepared at Gallagher's Steakhouse, which has been a beloved New York City eatery since 1927. Burger lovers have a choice of Broadway Burger Bar and Grill and Shake Shack.
Greenwich Village
Venture to Greenwich Village for a quick nosh at the Village Eateries, an area of the hotel that offers authentic NYC-style street food such as pizza, kosher pickles, crepes and deli sandwiches.
Big Apple Coaster
Upstairs, the Coney Island institution Nathan's Famous hot dogs fits perfectly inside the Coney Island Emporium, a midway-style arcade with 150 coin-operated games. Also at the amusement center is the Big Apple Coaster. Designed to replicate the classic yellow taxicabs, it's guaranteed to thrill as it tears around the front of the resort at 67 mph. For something a little more relaxing treat yourself to a therapeutic body treatment at The Spa at New York-New York. SoHo-style shops, a fitness center and a seasonal pool with cabanas and three hot tubs round out the hotel's amenities. You don't have to be Frank Sinatra to sing the praises of New York-New York. With such a perfect location and so much to do, you'll definitely be able to make a brand new start of it on your Vegas visit.
Things To Do at New York - New York
The Park
M&Ms World
M&Ms World is located just steps away from New York - New York, so it is impossible to miss. It is open every day of the year from 9 a.m. to midnight, so pick whatever time of the day or evening is most convenient. Top Tip: On the third floor, head to the station called "My M&Ms" where you and your children can customize the candy you purchased with a personal message all your own. Another not to be missed feature is a 10 minute movie in 3D called "I Left My M in Vegas."
World's Largest Coke Bottle and Everything Coca-Cola Store
If your kids love Coca-Cola, they will be excited to see and have their pictures taken in front of the world's largest coke bottle right by the MGM Grand. They will also have a fun time checking out the memorabilia in the Everything Coca-Cola Store and sampling different cola drinks from all around the world. The Everything Coca-Cola Store is located just steps away from the hotel at the Dryers Ice Cream Showcase Mall at 3785 South Las Vegas Blvd.
Virtual Reality MGM Grand
Enter VIRTUAL REALITY at MGM Grand hotel, and your squad is transported to an immersive universe at an epic scale. Exciting, social adventures await, and so do hordes of the undead, topsy turvy pathways, and rogue killer robots. Be free to explore the VR arena, compete, and fight together wirelessly. Up to 8 players play simultaneously. Minimum age is 13, beyon 9pm minimum age is 21.
Showcase Mall
Right across the street from New York - New York hotel is the Showcase Mall a multilevel attractions, retail and restaurant complex housing M&Ms World, a three-story Hard Rock Cafe, Coca-Cola Store, Adidas store and United Artist Cinema, the only first-run movie theater on the Strip.
CBS Television City Research Center
The CBS Television City Research Center at the MGM Grand
welcomes visitors to come in and view and give their feedback on proposed new shows. CBS Television City is open daily from 10 a.m. to 8:30 p.m.
CSI: The Experience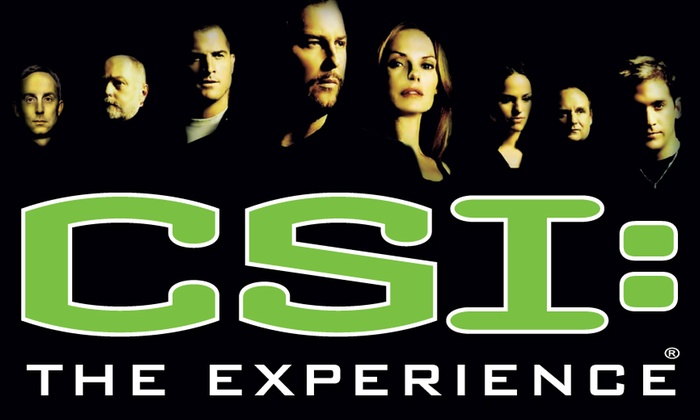 The hit CBS TV show CSI got its start in Vegas before becoming the exciting worldwide phenomenon it is today. And the hands-on interactive experience at
CSI: The Experience
puts you right in the middle of the action, as you step into the shoes of a real crime scene investigator to try and solve one of three different murders.
Ultimate 4-D Experience Magic Motion Rides
The Magic Motion Rides at Excalibur let you experience the unique worlds in high-definition 3-D projection. The thrilling special effects place you right in the middle of the action. Here's how it works: you'll and your fellow riders be placed in a hydraulic powered seats while the movie of your choice is projected in a massive screen in front and around you. Rider seats shake and shimmy in perfect sync with the movie projected. It's a blast! Minimun height to ride is 42 inches. Magic Motion Rides run daily from 10am to 9:40pm; single show price is $9.99. Currently playing are:
San Andreas The 4-D Experience
The LEGO Movie 4-D Experience
Journey to the Center of the Earth
Journey 2: The Mysterious Island
Fun Dungeon at Excalibur Hotel
If there is any kid's activity that can top a day at the pool, it is playing the games at
Excalibur hotel arcade
called Fun Dungeon. The Fun Dungeon is conveniently located on the lower level and open daily from 10 a.m. to 10 p.m. Once your kids discover this place, they won't want to leave. Fun Dungeon offers 200 games, including 15 carnival midways, 10 kiddie land games, 60 arcade games, 10 sports games and 106 redemption games! Wow!
Luxor Arcade
The
Luxor Hotel
houses the Games of the Gods Arcade, a high tech entertainment center with the best selection of arcade games in Vegas!
Shark Reef Aquarium
The
Shark Reef Aquarium at Mandalay Bay
hotel may just be the best family attraction on the south side of the Las Vegas Strip. The Shark Reef complex features fourteen exhibits devoted to dangerous aquatic predators, from over 100 sharks and crocodiles to komodo dragons and piranha, Shark Reef is home to more than 2,000 animals.
New York - New York Swimming Pool
New York New York boasts a medium sized pool--small by Vegas standards--located at the rear side of the hotel. There are no real outstanding features other than in the middle of the pool is a fountain feature that kids can climb. Pools goers will see (and hear) the Big Apple Roller Coaster and screaming from passengers as it whizzes by, a negative for those seeking peace.
The pool is heated but is not open year round. Rafts and tube rentals are available.
Cabanas
Cabanas are an option for those seeking the ultimate in comfort. They hold up to nine guests: five comfortably fit inside with four loungers outside. Cabanas start at $200 and include the following ammenities:
4 lounge chairs
Bottled water
Ceiling fan
Coffee table
Couch
Misting service (in season)
Personal safes
Pool rafts
Poolside wi-fi internet access
Premium sports package (TV)
Refrigerator
Storage cabinet
Telephone
Flat screen television
Towel service
Side table
Yoga at the Pool
Yoga might be just what you need after a long day entertaining in Vegas. Classes are available at the pool Friday through Sunday from 7:30 AM to 8:30 AM and cost $20 per session.
Shows at New York - New York
Zumanity by Cirque du Soleil
Zumanity by Cirque du Soleil, is a seductive twist on reality, making the provocative playful and the forbidden electrifying! Part burlesque and part cabaret, Zumanity is one full night you'll never forget. Dark Wednesdays and Thursdays.
Age requirements: Attendees of the show must be 18 years of age or older.
Britney Spears
Multi-platinum, GRAMMY Award-winning superstar Britney Spears will launch her new residency, Britney: Domination, at Park MGM. Presented by MGM Resorts International and Live Nation, the legendary pop icon will begin performing in February 2019.
Children ages 3 and older require a full-price ticket for entry. Any child younger than the age of 3 may enter without a ticket, but must remain on the lap of the ticket holder. Guests under the age of eighteen (18) years must be accompanied by an adult.
Fall Brew Celebration at The Park (Seasonal)
The Fall Brew Celebration is bringing six weekends of libations and countless beers to The Park in September and October--including up to 50 different pumpkin brews. The Park will celebrate the art of beer with themed weekends highlighting brews from around the world, beginning Sept. 21.
New York-New York Hotel Child Care
New York-New York does not provide on-site childcare or babysitting and the hotel does not specifically indicate that they will arrange for a babysitter. We suggest you visit our Las Vegas hotel child care page for more information on this topic.
Pedestrian Bridge to Excalibur, MGM Grand, Tropicana
A pedestrian bridge connects New York-New York to Excalibur, MGM Grand and the Tropicana.
You Looking for the Actual New York City?
New York City never sleeps, the metropolis of underground subway lines and skyscrapers has more to do for kids than most cities in the world. You might have stumbled upon this page but actualy mean to find details on things to do in New York with kids. Happy searching!