Description
Best for kids because: Lots of things to do
Parent's night out options: Cirque du Soleil shows nearby, nightclubs at MGM Grand / Mandalay Bay, T-Mobile Arena
Family things to do: Take the tram to Mandalay Bay enjoy the shopping mall, the beach, and Shark Reef
What we like: There's a reason why people choose to stay at Exalibur: it's fun and cheap. And even with the resort fee, you'll still save a bundle.
What we don't like: Admission to the hotel pool is $10 per person
Excalibur Hotel and Casino is a Las Vegas Strip resort that is conveniently located, reasonably priced, and kid-friendly all at the same time.
For Vegas bound families, the medieval castle themed Excalibur a real find. It's comparable in price and amenities to the Circus Circus, which likewise attracts many families with children, but it offers the additional advantage of proximity to a whole cluster of other, newer casino hotels, including very family-friendly New York - New York, that will give your kids many more fun things to do.
Location Location Location
Excalibur is ideally situated within easy walking distance of five other casino hotels: New York - New York to the North, the Luxor and Mandalay Bay to the South, and the MGM and Tropicana on the other side of the Strip.
What's IN and NOT IN the Room
IN
Wi-Fi Internet access is included with the mandatory resort fee
TV
NOT IN
No kettle
No microwave
No stove
The following amenities are available for rent on a limited basis:
Rollaway - $30
Extra person - $30
Crib – no charge
Refrigerator - $25 (If you require a refrigerator for health reasons i.e., for special foods, dietary supplements, or medications, you might be able to have this fee waived.)
The maximum number of guests per room (adults and children combined) is four. There is a $30 per person fee for a third and fourth person, regardless of age, per night.
The customary check-in and check-out times are 3 p.m. and 12 noon, respectively. However, early check-in and/or late check-out can be requested for a nominal fee.
Things to do at Excalibur
Swimming
Excalibur Hotel has no less than four outdoor swimming pools, including one with a water slide which is open from 10 a.m. to 6 p.m. daily. The other three pools include the Drenched Pool, which is open from 9 a.m. to 7 p.m., the Main Pool, which is open Saturdays and Sundays only, and an adults only pool. There is plenty of seating, or if you prefer, you can reserve a cabana for the day. You and the kids can enjoy an inexpensive lunch or snack at the poolside café, Drenched.
Ultimate 4-D Experience Magic Motion Rides
The Magic Motion Rides at Excalibur let you experience the unique worlds in high-definition 3-D projection. The thrilling special effects place you right in the middle of the action. Here's how it works: you'll and your fellow riders be placed in a hydraulic powered seats while the movie of your choice is projected in a massive screen in front and around you. Rider seats shake and shimmy in perfect sync with the movie projected. It's a blast! Minimun height to ride is 42 inches. Magic Motion Rides run daily from 10am to 9:40pm; single show price is $9.99. Currently playing are:
San Andreas The 4-D Experience
The LEGO Movie 4-D Experience
Journey to the Center of the Earth
Journey 2: The Mysterious Island
Fun Dungeon
If there is any kid's activity that can top a day at the pool, it is playing the games at Excalibur hotel arcade called Fun Dungeon. The Fun Dungeon is conveniently located on the lower level and open daily from 10 a.m. to 10 p.m. Once your kids discover this place, they won't want to leave. Fun Dungeon offers 200 games, including 15 carnival midways, 10 kiddie land games, 60 arcade games, 10 sports games and 106 redemption games! Wow!
Of course, with all that activity and excitement, your kids are bound to get thirsty or be in the mood for a snack. Not a problem. Dairy Queen and Orange Julius are right there in the arcade. An added plus is that Fun Dungeon is a lot cheaper than the Adventuredome at Circus-Circus hotel and a lot less crowded.
Tournament of Kings
One activity that is sure to be a highlight of everyone's stay is the Tournament of Kings Dinner Show, Excalibur's medieval jousting show where eating with your hands is mandatory! What children wouldn't have a blast eating their dinner with their hands and taking a trip way back in time to root for their favorite dueling knight? The action, based on the tale of King Arthur, takes place in a theater-in-the-round arena where valiant knights on horseback get out their swords and go to battle in a fast and furious jousting competition right before your eyes.
The dinner menu is fixed and consists of the following:
Cream of Tomato Soup
Roasted Cornish Game Hen Seasoned with Allspice
Red Bliss Potatoes
Steamed Broccoli
Roll
Apple Square
Alternatively, a special substitute meal can be requested in advance for those who have an allergy to nuts or have specific dietary needs (gluten free, vegetarian, vegan, kosher, or dairy free).
Castle Walk Shops
Lastly, no trip to Las Vegas is complete without a little shopping for some memento of your stay to take home, and the Castle Walk provides plenty of options, including the kid-friendly Toy Zone, Dragon's Lair, and Kids of the Kingdom. Toy Zone, like the name suggests, is a mecca for almost every kind of kid's toy imaginable. Dragon's Lair is a medieval themed gift shop where your kids can get T-shirts, toys, and other dragon, fairy, and knight related items. Kids of the Kingdom has a large collection of plush toys and also sells both sportswear and medieval costumes for kids. The Castle Walk Shops open at 9 a.m.; closing times for the different stores vary.
Things to do near Excalibur
Clearly, with so many varied activities that your children can participate in, it is highly unlikely that they will be bored at the Excalibur. But what makes staying at this place even more fun for a child is that it's convenient location makes it very easy to enjoy additional attractions and entertainment at other casino hotels that are just minutes away.
M&M's World
CSI: the Experience
Excalibur Hotel Child Care
The Excalibur does not provide
on-site child care
, and the hotel website does not specifically indicate that the concierge will arrange for a babysitter. We suggest you call 702-597-7025 or send an email to concierge@excalibur.com to inquire if this is a service that the concierge can provide.
Child-Friendly Restaurants
Surprisingly, there is no 24-hour coffee shop at the Excalibur, but the good news for parents staying there with their kids is that you have many other options. You are unlikely to go wrong with any of the places mentioned below since all of them are both family-friendly and reasonably priced.
Johnny Rockets
Johnny Rockets is an affordable global restaurant franchise with a menu that is bound to please any child of any age. Though not as big as McDonald's--at least not yet--with more than 300 locations in 26 countries, clearly this restaurant is doing something right. Johnny Rockets is more than just a hamburger joint. It is the kind of place where burgers, fries, music, and friendly service can put a smile on the faces of everyone in the family.
The Buffet at Excalibur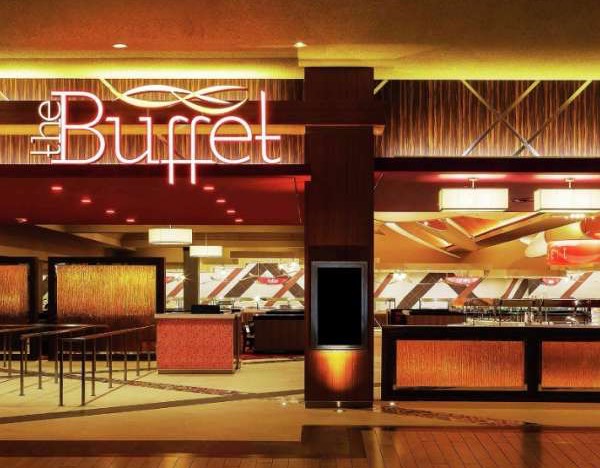 At one time the terms "buffet" and "bargain" were practically synonymous. Today most buffets, including this one, are on the pricey side, but what you get is a much wider range of options. It is hard not to find some dishes to one's liking at a buffet because buffets offer something for everyone.
The Buffet at the Excalibur is open daily from 7 a.m. to 10 p.m. It is also the one restaurant in the hotel where children get a price break. Here are the hours of service and prices for each meal.
Baja Fresh
Baja Fresh Mexican restaurant serves fast food Tex Mex fare that's quick and simple. They're known for great guacamole!
Drenched Café at the Pool (Seasonal)
If you and your family will be spending the day poolside, the very reasonably priced Drenched Café makes a great choice for lunch. Burgers, hot dogs, and sandwiches come with a choice of potato chips, fries, cole slaw, or potato salad. Or maybe your kids will prefer pizza, chicken tenders, cheese quesadilla, or Buffalo wings. Afterwards they can have soft serve frozen yogurt (vanilla, chocolate, or swirl) in a cone or waffle cone.
Castle Walk Food Court
When your family is hungry but in a hurry, the Castle Walk Food Court can have all of you in and out quickly and relatively cheaply. Along with a handful of eateries that are just for a lite bite (e.g., pretzels or popcorn) or something for your sweet tooth, these are the places where you and your kids can order something more substantial.
Hot Dog on a Stick
McDonald's
Pick Up Stix (Chinese food)
Popeye's Chicken
Pizza Hut Express
Schlotzsky's Deli: Soups, Salads, Sandwiches, Pizza
Tropical Smoothie Café: Healthy fruit smoothies and sandwiches, wraps, and salads, too.
Auntie Anne's
Big Chill
Breakfast & Burgers
Cinnabon
Pizza Hut
Popcornopolis (19 tempting flavors to choose from including cinnamon bun, caramel and nacho!!!)
Two Starburks locations: one on the rotunda and the other at the Castle Walk.
Yogurtland
Bucca di Peppo Italian Restaurant
If everyone in your family likes Italian food, Bucca di Peppo Italian at the Excalibur is a perfect choice because all of the dishes are served "family style." Bucca di Peppo is open Sunday-Wednesday from 10:30 a.m. until midnight and Thursday-Saturday from 10:30 a.m. to 2 a.m.
Excalibur Resort Fee
There is a daily resort fee of $39.68 added to the cost of all rooms (this fee is not included in your reservation and will be collected by the hotel). This fee is fixed, that is it is not a fee per person. The fee covers Wi-Fi service, access to the fitness center, a daily newspaper, and local and domestic long distance phone calls.
Incidental Hold/Deposit
Excalibur incidental hold is $50 per night, this give you charging to your room privileges at the hotel
Walkway and Tram to Luxor / Mandalay Bay
A pedestrian bridge connects the Excalibur to New York-New York and the Tropicana, while an indoor walkway provides a quick and easy way to go back and forth between the Excalibur and Luxor. Alternatively, you can take the free tram that goes back and forth between the Excalibur, Luxor, and Mandalay Bay every few minutes between 9 a.m. and 12:30 a.m. (2:30 a.m. on weekends) daily. Tram 1 from Mandalay Bay makes stops at both the Luxor and Excalibur, while Tram 2 starting from the Excalibur goes directly to the Mandalay Bay and does not stop at the Luxor.
M Life Rewards
If you intend to play in the casino and already have an M Life casino player's card, you will be happy to know that the Excalibur is one of multiple MGM casino properties in Las Vegas which use this card to track your play. Of the five above-mentioned casinos that are located near the Excalibur, all but the Tropicana are also MGM properties. All of your rated play at any of these properties (or any other MGM casino) is counted in determining what comps are available to you. You can then use these comps at the participating casino of your choice. If you don't already have an M Life card, you should get one upon your arrival in Las Vegas to use during the course of your stay. Even if your play doesn't qualify you for any freebies on this trip, you will be placed on the casino's mailing list for special offers in the future.
Summing Up; Is the Excalibur Hotel and Casino Child-Friendly?
The Excalibur Hotel and Casino has a reputation for being very child-friendly, and form all indications it is. One of the pools has a water slide which young children seem to love, and the popular Fun Dungeon is a place where there are games galore to suit children of almost any age. The Tournament of Kings dinner show, running at the Excalibur for 25 years and counting, offers action packed entertainment the whole family can enjoy.
On the other hand, the Excalibur isn't for everyone. Here are the important negatives to consider to help you decide whether or not the Excalibur is the right hotel choice for you and your children.
If luxury accommodations are a priority, there are other hotels on the Las Vegas Strip that will probably be more to your liking.
If anyone in your family has asthma or other respiratory problems, another hotel might be a more prudent option.
There is no 24 hour full service coffee shop. Other than the buffet and McDonalds, breakfast options appear to be limited.
The pool with the water slide, which is only open from 10 a.m. to 6 p.m., can get very crowded. While there are three other pools, one is only open on weekends and another is for adults only.
While there is a concierge, it is not clear if arrangements for babysitting is a service that the concierge at this hotel will provide. If not, you are on your own to find suitable childcare.
Only you can decide if any of the above matters enough to be a deal breaker for staying at the Excalibur on your next trip to Las Vegas. Hopefully not, because staying at the Excalibur offers some distinct advantages which not many other Las Vegas hotels can match.
Affordable accommodations within easy walking distance of five other casino hotels.
Medieval castle theme.
Many low cost dining options.
Kid-friendly games and entertainment.
The Excalibur Hotel and Casino is a fun place to stay and play for people of all ages.