Want to get your thrills without having to spend a lot of money to do it? Then make sure you hop aboard the Big Apple Coaster on your next trip to Las Vegas! Located at the New York-New York Hotel & Casino, this famous roller coaster is a favorite amongst tourists worldwide. But the fun doesn't stop at the coaster! You can also visit the adjoining Big Apple Arcade and enjoy a host of different arcade games and video games.
Big Apple Coaster Discount Tickets
"Don't every pay full price"...my father used to hound me with those words so here are a few ways to get Big Apple Coaster tickets on the cheap:
This single ride Big Apple ticket is discounted to $19 for the time being. Yeah, $19 is about the New York-New York roller coaster price, but their ticket fees are lower at Vegas.com. Get $19 Tickets at Vegas.com
If you don't know Viator, let us fill you in: they're huge but not as huge as Tripadvisor, who owns them. Moving on....Viator has got $19.49 Big Apple discount tickets. Good deal? Sure, not bad but not as good as Vegas.com's $19 Big Apple tickets. But the difference between the two is only 49 cents--every penny counts! Get Tickets at Viator
Expedia has got Big Apple tickets for the crazy high price of $29 per ticket! What? Expedia, come on folks, get with the program and discount those tickets! Get Tickets at Expedia
We'll admit, we're on Groupon for about 8 of our 10 work hours per day because it's THE place to find awesome deals on just about everything, including Big Apple Coaster. And, yes, Groupon's Big Apple Coster deal is good, it's $19 per ticket--but it's not great. We were expecting a lower price...it's Groupon after all. Get this Groupon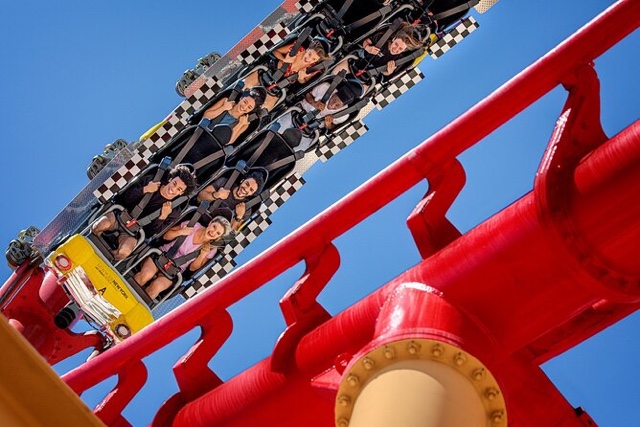 Big Apple Tickets at Cheaptickets
We love Cheaptickets because they have, well, cheap tickets and that's exactly what we live for. Sadly, Cheaptickets isn't offering Big Apple tickets at the moment.
Big Apple Coaster Tickets at GetYourGuide
We're majorly disappointed with GetYourGuide's Big Apple Coaster tickets deal, it's $28.75 per ticket. Phew, that's high, way too high of a price. Surely GetYourGuide can discount that and cheapen the price for us non-billionaires!
Scream Pass Tickets for $49
Getting a Scream Pass at Big Apple Coaster means riding all day, as many times as your heart desires. Surely there must be a record somewhere for the most number of rides accomplished in a single day? Anyway, a Scream Pass not only means unlimited rides of Big Apple Coaster but you'll also get $2 off your 5x7 photo while on the rollercoaster.
Family Fun Flight for Four
Groups and families should score a Family Fun Flight for Four. It's only $89 and includes four single ride admission tickets and a discount on two close-up roller coaster photos.
Vegas Locals Discount
Show your valid Vegas ID and get $14 or $18 admission for the VR coaster ride, depending on the time of day.
Military Discount
Show your active or retired Military ID to receive $14 admission to the VR coaster ride.
Family Fun Flight for Four Discount
This deal includes four individual ride tickets and 2 - 5x7 close up photos for $70.
Big Apple Coaster Hours
Sunday to Thursday from 11 AM to 11 PM
Friday and Saturday from 10:30 AM to Midnight
Big Apple Coaster Promo Codes
We haven't spotted any Big Apple Coaster promo codes as of late, but check back here often because when we do, we'll add those promo codes here.
New York-New York Roller Coaster Coupon
When we find New York-New York roller coaster coupons we'll add those right here.
Big Apple Coaster Tickets
Ready to ride? Here is a list of the Big Apple Coaster ticket prices, that is, the New York-New York roller coaster price:
Single individual ticket: Mon - Sun (11am-6pm): $19 & Mon - Sun (6pm-Close): $23
Re-Rides: $10
Family Fun Flight for Four: $89. This special includes four single ride admission tickets and a discount on two close-up roller coaster photos
Vegas Locals Ride: Mon - Sun (11a-6p): $14; (6p-Close): $18, with a local ID
Military and First Responder Discount: Mon - Sun (11a-6p): $14; (6p-Close): $18
Interesting Facts About The Big Apple Coaster
Here are some other tidbits of information about the Big Apple Coaster:
Several famous New York replicas, such as a 150-foot imitation Statue of Liberty and other popular Manhattan-style buildings surround the coaster
The coaster is formerly known as The Manhattan Express and The Roller Coaster at New York-New York
Made its debut on the Strip in January 1997
Maximum height: 203 feet
Length: 4,777 feet
Restrictions: Must be 54 inches tall to ride
Maximum speed: 67 mph
Deepest drop: 144 feet
Duration of ride: 2 minutes, 45 seconds
Seating capacity: Three 16-passenger trains
Big Apple Coaster Reviews
Ride Big Apple Coaster with Virtual Reality! The Big Apple Coaster Virtual Reality Experience let's you chase aliens far above the Las Vegas Strip as you ride the rollercoaster, a heart pounding experinece! Riders must be at least 54" to ride the roller coaster and 13 and over to ride with virtual reality.
The Big Apple Coaster was the first coaster to feature a 180-degree "heartline" twist and dive maneuver, and you can find over a million adrenaline junkies flocking to this ride each year for a rush of heart-stopping excitement. The ride is designed with New York taxicab themed trains and begins with a suspense-building 180-foot lift followed by a 76-foot drop. Hold on tight because then comes another hill and then an incredible 144-foot drop! Feeling woozy yet? Next up are a standard vertical loop and dive loop, followed by a 180-degree spiral and half-loop sequence. The coaster reaches speeds of almost 70 miles per hour and every second is full of exhilarating twists and turns. Once the ride ends, you have the option to purchase a souvenir photo as a keepsake.