Cirque du Soleil Las Vegas changed the Strip forever with their over-the-top performances. Cirque du Soleil shows in Las Vegas feature an eclectic mix of dramatic circus acts, street performances and acrobatic dexeterity--they deliver dramatic, world-class entertainment on the Las Vegas Strip. Cirque du Soleil shows in Las Vegas have for ever changed the the traditional circus act and when you attend a show you'll see why Cirque du Soleil is a household name known around the world for exceptionally good quality entertainment. From their longstanding Las Vegas act, Mystere, to the newer performances like Michael Jackson ONE by Cirque du Soleil and R.U.N. by Cirque du Soleil there's plenty of variety and loads of spectacular acts.
Discount Cirque du Soleil Tickets
BREAKING: Vegas.com just dropped a huge bombshell as they revealed their new Cirque du Soleil show tickets deal: Up to 60% on Cirque du Soleil shows. Guaranteed. We don't know when Vegas.com will pull this offer, so today could be your last chance to access this deal before it expires.
Who doesn't want a deal on Cirque du Soleil show tickets? We do! Fortunately for you we're complete Las Vegas show geeks who love to find the lowest prices for all Vegas ticket vendors...and we're bringing that to you! Find the cheapest ticket price for each of these shows. Each day we collect ticket prices from Vegas.com, Ticketmaster, SeatGeek and dozens more, then list ticket price from lowest to highest....so you can save: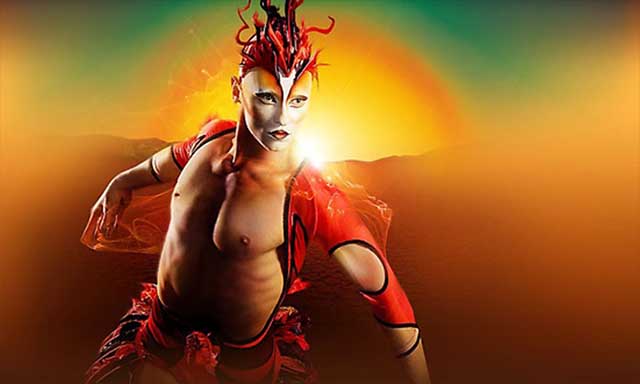 Discount Mystere Tickets
Mystere is Cirque du Soleil Las Vegas longest running show (and one of the best shows in Las Vegas), first performed on 25 December 1993. It's been voted Best Production Show by the Las Vegas Review Journal over 8 times so it's got age and quality behind it.
Like fine art, the storyline of Mystere at Treasure Island is left up to individual interpretation. But one thing about this production is for sure: Mystere is so entertaining you'll want to stay for an encore after the final bow.
Performing stunts like quadruple flips off see-saws and other sick tricks we average folk couldn't even dream up if we tried, this show is so unreal you just kinda have to let it happen. Emphasizing family-friendly, awe-inspiring athleticism and imaginative imagery, Mystere embraces all the signature Cirque du Soleil elements that have made the production one of the OG companies on the Las Vegas Strip.
For those who've never attended a Las Vegas Cirque du Soleil production, Mystere is the perfect show to begin with, in fact it's the original Las Vegas Cirque du Soleil show. These artful, highly visual, eclectic circus shows combine physical with complex visual artistry.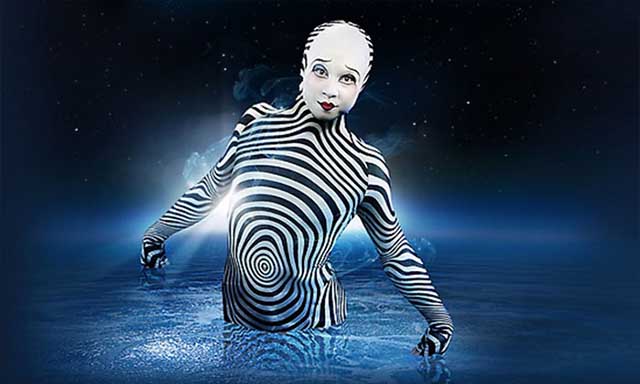 Discount "O" Tickets
HOLY COW! CHEAPEST BY FAR!: Vegas.com from $118
MGMGrand.com from $127
Tix4tonight.com from $127.32
Ticketmaster.com from $134.45
Viator.com from $173
"O" is not just the name of the show, but also the shape your mouth will take for the entire 90 minutes you're gawking over this production. The wettest Cirque du Soleil Las Vegas show of all, "O" at Bellagio immerses audiences into a dream world of acrobats, synchronized swimmers, divers and an array of other aquatic characters in, on and above a 1.5-million gallon pool. It's kinda like that one time you drank a little too much cough syrup and went swimming in your neighbor's pool, but way cooler.
Don't freak out, the audience is out of the splash zone but the daredevils (who are clearly moonlighting as performers) show off their gravity-defying stunts and create illusions with the giant pool that doubles as a stage. Considering the dimensions of this unique performance area, it is easy to feel as though you're in an alternate universe in this super cool theater.
La Grande Expèrience
La Grande Expèrience, also known as The "O" VIP Experience, offers guests a luxurious theatre experience complete with a pre-show reception with champagne, hors d?oeuvres, and guided video tour. You'll meet the performers of the show and enjoy your plush, intimate VIP suite with champagne, gourmet treat, and private cocktail service. Each suite holds 4 people.
Cirque du Soleil 3D Collector Ticket
Your actual ticket to a Cirque du Soleil show can now be the ultimate collectible for fans of Cirque du Soleil "O". The ticket features stunning 3D graphics and effects.
"O" Dinner and Show
Enjoy your "O" at Bellagio show with a Pre-Theatre dinner menu at FIX, Jasmine, Le Cirque, Spago, Yellowtail, Sadelle's Cafe.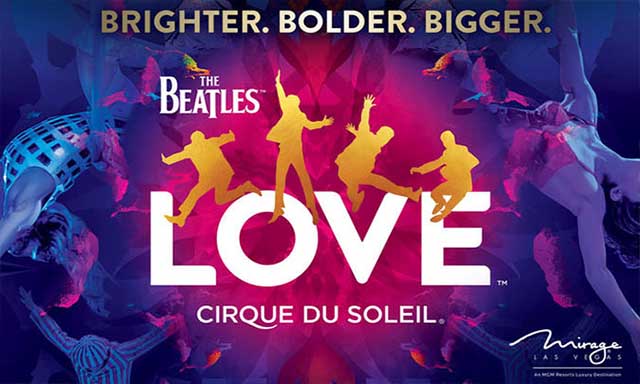 The Beatles LOVE Cirque du Soleil brings the magic of Cirque du Soleil together with the spirit and passion of The Beatles to create an intimate and powerful entertainment experience. With LOVE, Cirque du Soleil celebrates the musical legacy of The Beatles through their timeless, original recordings. Drawn from the poetry of the lyrics, the show explores the content of the songs as interpreted by innovative performances from a cast of 60 international artists. A youthful, raw energy is channeled through aerial performance, extreme sports and urban freestyle dance.
A unique soundscape of The Beatles music has been created for LOVE using the master tapes at Abbey Road Studios. The panoramic visual and surround sound in the custom-built theatre at The Mirage will envelop the audience who will experience The Beatles as never before...
The Beatles LOVE Magical Technical Tour
Get a FREE sneak preview of The Beatles LOVE at the The Beatles LOVE Magical Technical Tour inside the Mirage hotel Las Vegas.
You'll get exclusive insider access to a narrated demonstration of The Beatles LOVE theatre which will introduce you to the show's technical elements such as the show's automation, audio, projections, lighting, rigging, and highlight some of the performance's props and wardrobe. There's a very strick "no late comers" rule so be prompt.
This event takes place on Fridays at 1PM and lasts approximately 30 minutes. Admission is free and seating is offered on a first come basis (ADA/wheelchair accessible).
Note: Strobe lights and theatrical fog will be used during the tour so please do not attend if these are not suitable for you.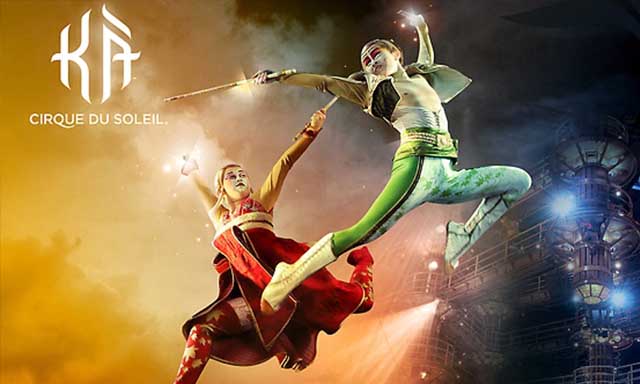 Truth is, there's a Cirque du Soleil Las Vegas production for just about every personality, mood and interest out there. And "KA," is for the action-loving, adventure-seeking show goers that can appreciate an age-old story of good versus evil. The storyline illustrates the journey of a brother and sister twin duo that becomes separated during a siege of their Far Eastern palace by evil warriors. Yep, this is a royal battle, y'all and they've pulled out all the stops.
KA 360
New this summer 2019 is the KA 360 Experience event, which is very cool but, best of all, it's completely FREE! The KA 360 Experience offers you a chance to get up and up-close look at how the KÀ team combines awe-inspiring artistry with one-of-a-kind technology to create this $165 million production. You'll get a one-in-a-lifetime chance to peek behind the KA curtain to learn more about the show including its history and creation. No reservations required, just show up at The MGM Grand theatre in Las Vegas at noon on Tuesdays or Saturdays.
It takes one heck of a performer to tackle Michael Jackson's legendary musical catalogue, but just as he was no ordinary artist, Michael Jackson ONE is no ordinary show. If the music isn't enough to get you into the action, the effects are sure to do the trick. Lights, gravity-defying acrobatics, state-of-the-art hip-hop infused choreography with the King of Pop's signature dance moves fuse seamlessly for what Rolling Stone called "A virtual parade of WOW moments." Cirque Du Soleil's trademark action is a perfect companion for Jackson's music for an experience like no other.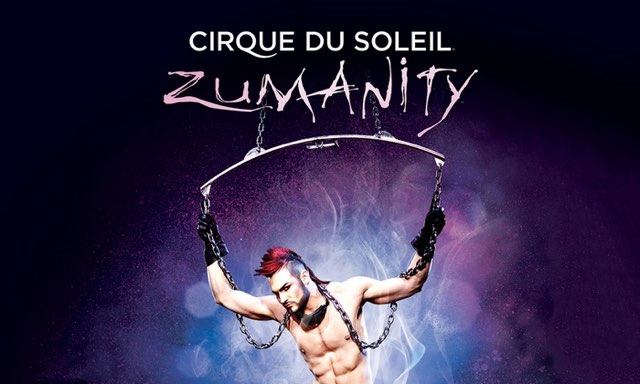 It's definitely getting hot in here and the performers are definitely taking off all their clothes. Exploring the very sexy and very un-family-friendly side of Cirque du Soleil, Zumanity whips - er - whisks audience members up for a deliciously wild ride to discover their sensual side. Unlike other Cirque du Soleil productions, Zumanity has no storyline. Instead, this highly eroticized, cabaret-style spectacle offers a bunch of unique characters whose performances are each themed by different elements of sexuality. Oh, and there is no traditional Cirque gibberish either unless you count some moans and groans as such. Between the leather, chains, silks and well, some things we just can't share, you can bet a little laughter is welcomed. Let your hair down, loosen one extra button, and get your naughty on for some sexy entertainment that just may be a precursor for the remainder of your evening.
Zumanity Dinner & Show
Zumanity dinner & show comes in two different options:
Pre-Fix Cirque du Soleil dinner & show ticket package at Americam, Broadway Burger Bar, Gallagher's Steakhouse, Gonzalez y Gonzalez or Il Fornaio.
This Cirque du Soleil Zumanity dinner and show offer means beginning the night at Tom's Urban then making your way to the show with tickets to Zumanity. Prices start at $92 per person and includes a $40 credit.
Cirque du Soleil Weddings
Yes, you read that right: you and your significant other can have a very very special Zumanity wedding! Zumanity by Cirque du Soleil offers a unique opportunity to tie the knot, in an unusual way, with their "Mistress of Sensuality" named Edie. Edie will perform your marriage ceremony in the intimate and dramatic lobby of the beautiful Zumanity Theater, where two additional artists from the show will escort you down the aisle and rejoice in your union. Of course, you'll be obliged to enjoy the Zumanity show afterwards, from one of their special "Love Seat" sofas, where your love and commitment will fill your hearts sexy acrobats, soaring aerialists, and zany clowns dazzle your senses. More on this Zumanity special can be found here.
Zumanity by Cirque du Soleil Las Vegas Bachelorette Experience
If you're in Las Vegas for a bachelorette/hen do party why not really live it up with an exprience only Cirque du Soleil can deliver! The Zumanity by Cirque du Soleil Las Vegas Bachelorette Experience lets you and your groop get naughty with tickets to Zumanity, Swag Bags, Souvenir Group Photos, and a special treat for the Bride-to-Be, all starting at $79. It's a moment you'll never forget!
Cirque du Soleil Las Vegas Zumanity performs at New York-New York hotel on the Las Vegas Strip. Zumanity is one of the only adult only shows that Cirque du Soleil performs in Las Vegas with the minimum age for attendance at 18 years.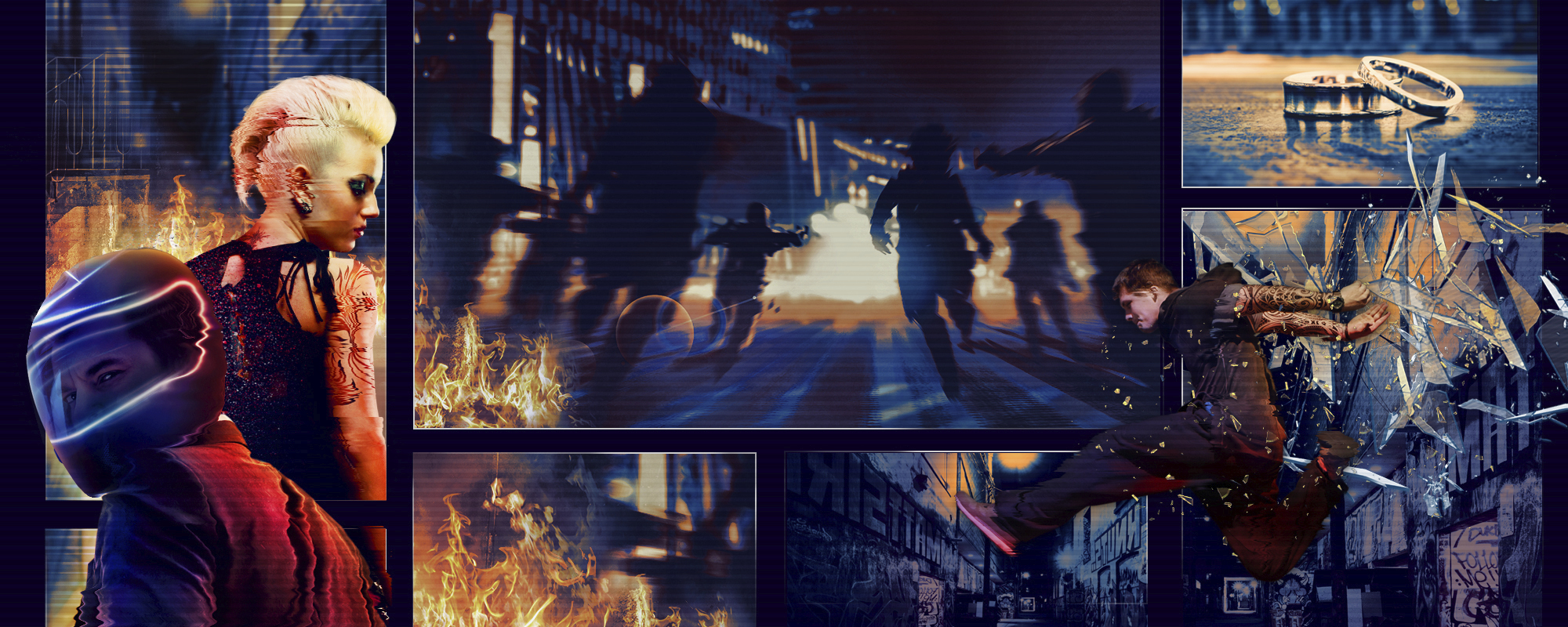 Sorry, this show is temporarily closed. Cirque du Soleil Las Vegas has one of the best track records on the Las Vegas shows circuit. So when they told us they're launching a new immersive show at Luxor Las Vegas, we could hardly contain our excitement. R.U.N by Cirque du Soleil is the formal title and overarching theme for the show. Hopefully, this doesn't require us to do any cardio, because that could get ugly real quick. Unlike the signature Cirque du Soleil repertoire, this show is more about stunts than acrobatics, so we're all in for a treat. Although they wow us with their action-packed moves, this show has incorporated an extensive storyline.