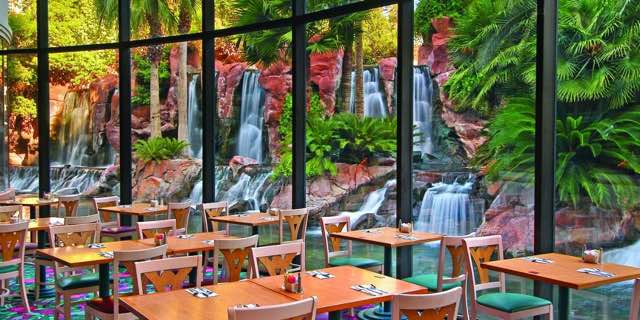 Updated May 8, 2019: If you're visiting Las Vegas for the first time, you'll quickly come to realize that most hotels on the Vegas Strip offer a buffet, and one place that is rich in both food and atmosphere is the Paradise Garden Buffet at the Flamingo Hotel. Oddly, many buffets in Vegas don't have windows, which is what makes the Paradise Garden Buffet quite nice, the buffet dining room overlooks a real-life animal and garden habitat. Don't be surprised if you see a flamingo or two gazing through the window while you eat. Dining in a zoo come to mind?
The buffet here is served as a brunch and includes Mexican, Classic American, and Asian influenced dishes.
Anyone who's been to a Vegas buffet has most likely noticed how confusing prices can be--it's almost as complicated as your cellular phone bill with breakfast, lunch and dinner pricing, weekend and weekday pricing, VIP line pass pricing, All-You-Can-Drink pricing, special event and holiday pricing.....phew! What's great about the Flamingo buffet is that there are two prices: weekend and weekday, simple. Kids between 4 and 9 years old get a sizable discount.
Weekday Brunch: $21.99 from 7 AM to 2 PM
Weekend Brunch: $24.99 (kids 4-9: $10.99) from 5 PM - 10 PM
More on Flamingo Buffet
Paradise Garden Buffet at Flamingo