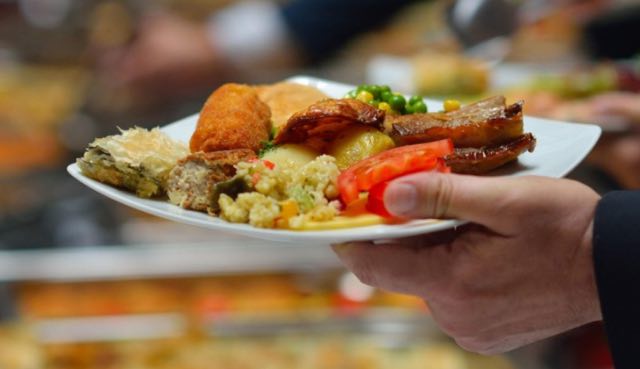 The Circus Buffet at Circus-Circus Hotel is by far one of the most frequented buffet restaurants in the city, and parents especially love visiting here since kids under 4 years of age always eat free with a paying adult. For families on a strict budget, you can't beat the Circus Buffet's reasonably priced expansive menu, and children of all ages flock to the dining room area, which is decorated in a clown theme with playful bright colors.
Here you will find a huge assortment of kid-approved breakfast, lunch, and dinner items, such as chicken tenders, pancakes, macaroni and cheese, French fries, tater tots, and soda, just to name a few. Adults have their fair share of favorite items to choose from too, including beef stew, fajitas, baked fish, and a carving station that is always readily available and stocked with a variety of flavorful deli meats. The Circus Buffet also carries a large assortment of lighter food items, including a salad bar overflowing with vegetables, cheese, and a mixture of dressings and toppings. For breakfast, some healthier food options include fresh fruit, yogurt, and unlimited drinks from juice to coffee and unsweetened tea.
No reservations required.
Circus Buffet Hours and Pricing
Weekday Brunch (7 AM - 2 PM)
Adult $19.99
Kids $13.99
Weekend Brunch (7 AM - 2 PM)
Adult $21.99
Kids $13.99
Weekday Dinner Buffet (4:30 PM - 10 PM)
Adult $21.99
Kids $15.99
Weekend Dinner Buffet (4:30 PM - 10 PM)
Adult $23.99
Kids $15.99
More on Circus Buffet
Circus-Circus Buffet