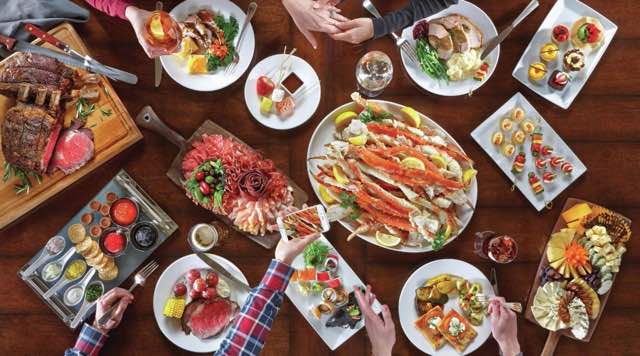 The Bellagio Buffet bills itself as an experience like no other, and it really is. With a generous selection of Italian, Japanese, Chinese and American cuisines, this buffet will not disappoint your needy tastebuds and belly. Bellagio buffet set the trend toward more gourment style buffets and that'll be evident when you dine here.
Meat Offerings include carvings of ham and beef, chicken prepared in a variety of fashions, Kobe beef, venison and more.
The seafood station will impress with crab, salmon, tuna, mahi mahi, and other favorites--of course all fresh.
Asian food includes fried duck and fabulous fried rice, among other Asian cuisine favorites. A Mexican station features popular items such as beef, chicken and shrip tacos, burritos, carnitas, sopas and more.
Live-action cooking stations take your taste buds on a journey of discovery as you sample favorite dishes and new temptations. Every Friday and Saturday from 3:00 PM ? 10:00 PM during Gourmet Dinner Service, guests may savor the delicate flavors of some of the world?s finest caviars Ikura and Tobiko?either alone or as complements to a selection of freshly prepared traditional dishes.
Bellagio Breakfast Buffet
The breakfast buffet at Bellagio features all those predictable stations one might expect but with a hard to find quality. In additon to made-to-order eggs, a pancakes station you'll find a pastries station, a variety of breads including bagles with cream cheese and lox, bacon, crepes, a ham carving station and more.
Bellagio Buffet Prices
Monday - Friday
Breakfast buffet price is $26.99. Hours are 7AM to 11AM
Lunch buffet price is $30.99. Hours are 11AM to 3PM
Dinner buffet price is $41.99. Hours are 3PM to 10PM
Friday - Sunday
Gourmet Dinner buffet price is $46.99. Hours are 3 PM to 10PM
All you can drink is $22.99
Saturday & Sunday
Weekend Brunch buffet price is $36.99. Hours are 7AM to 3PM
Unlimited Champagne Brunch buffet price is $58.98. Hours are 7AM to 3PM
Kids' Pricing
5 years old and under are $4.99
Children 5 and under eat free and those 6 - 12 years old are half off
Bellagio Buffet Coupons
Sorry, we haven't spotted any Bellagio buffet coupons or discounts.
More on Bellagio Buffet
Bellagio Buffet