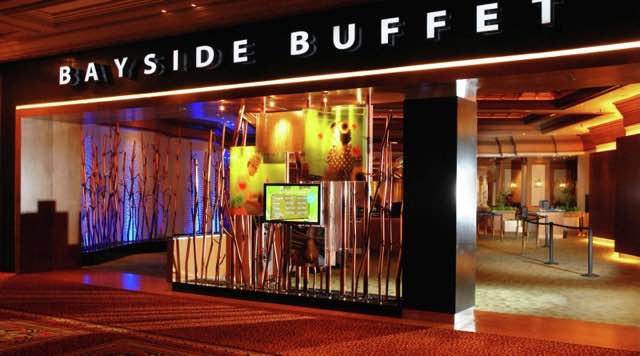 What we like most about the Bayside Buffet at Mandalay Bay hotel is the views of a tropical water garden and pool area nearby and that it's a very reasonably priced buffet, especially considering it's housed at Mandalay Bay hotel, a more upscale property. Yet, look past the the pretty aesthetics and reasonable price and you'll find the food at Bayside Buffet is disappointingly average tasting. All the typical food stations are here: breakfast, Mexican, American, Asian, and others...there's no shortage of offerings, it's just that the food taste is mediocre.
Food offerings run the gamot from roasted turkey and chicken fried steak for breakfast to shrimp cocktail and New York strip loin for dinner.
As already mentioned, prices are very reasonable. Those with children will find about a 35% discount for kids between 5 and 12, free buffets for under 5s.
If having the dinner buffet you can add trhe Unlimited Beverage Package consisting of premium and draft beer, house wine and sparkling brut for $10.99.
Bayside Buffet Hours and Prices
Monday - Thursday
Breakfast 7AM to 11 AM
Adults $18.99
Children $12.99
Lunch 11AM to 2:30 PM
Adults $21.99
Children $13.99
Dinner 4:30 PM -9:45 PM
Adults $32.99
Children $21.99
Friday - Sunday
Brunch 7AM to 4:30 PM
Adults $25.99
Children $20.99
Dinner 4:30 PM - 9:45 PM
Adults $35.99
Children $21.99
More on Bayside Buffet
Bayside Buffet