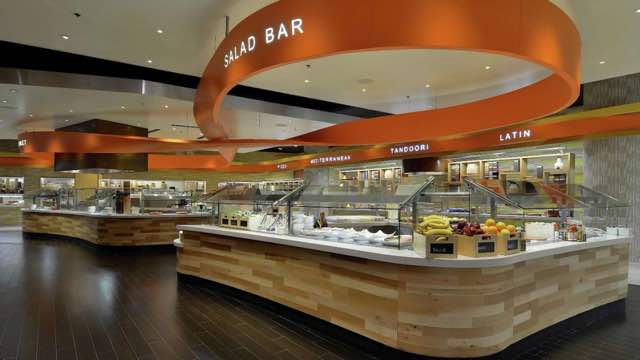 With views of the Aria hotel pool complex The Aria Buffet offers 11 food stations in a serene setting. Unlike the MGM Grand Buffet who recently did away with all wait staff, the Aria Buffet's staff will seat you quickly--there is (normally) no waiting in long lines and deliver your drink order. Children 4 and under eat free. For the Friday and Saturday Gourment Dinner children up to 12 years old eat free!
Food Stations
Fish Market - Fresh seafood, unlimited crab legs, fish and chips, paella and more
Asian - Dim sum, as well as authentic dishes from Thailand, China and Japan
Italian - Made-to-order pasta, cured meats and cheeses, a mozzarella bar and gluten-free pasta
Pizza - Authentic pizzeria-style pies in New York style, calzone and gluten-free
Mediterranean - Healthy dishes and salads from North Africa and the Middle East
Tandoori - Tandoor oven-fresh naan, chicken, vegetable, and more
Latin - Authentic dishes from Mexico, South America and Spain
Carvery - Grilled, smoked and slow roasted meats, featuring our 75-pound beef steamship, assorted sausages, free-range turkey breast, all carved to order
Diner - American comfort food, including spiced meatloaf, chicken fried steak, grilled corn on the cob and Aria's signature red velvet stuffed pancakes
Salad - Create your own salad or baked potato from an array of toppings
Sweets - Cookies, candies, cakes, gelato and more, made fresh daily
Unfortunately The Aria Buffet doesn't normally offer gluten free options, which has been a frequent complaint.
All-You-Can-Drink
Add the All-You-Can-Drink option for $19.99 per person and valid for two hours after purchase. You'll have access to Mimosas, Bloody Marys, Champagne, Rum Punch, Beer and Wine on tap, Strawberry Mint Spritzer
All-Day Pass
All-Day Pass is available Monday - Friday for $60. All?Day Pass is only valid for the date purchased and will expire at 10 p.m. each night.
Monday - Friday
Breakfast 7AM to 9AM
Adults $25.99
Children (5-12) $13.50
Brunch 9AM to 3PM
Adults $29.99
Children (5-12) $15.50
Dinner 3PM to 10PM
Adults $39.99
Children (5-12) Free
Saturday & Sunday
Brunch 7AM to 3PM
Adults $34.99
Children (5-12) $17.50
Friday - Sunday
Gourmet Dinner 3PM to 10PM
Adults $44.99
Children (5-12) Free Up to 2 children per 1 paying adult are free for dinner. 5 or more children - $15 per child.
More on Aria Buffet
Aria Buffet