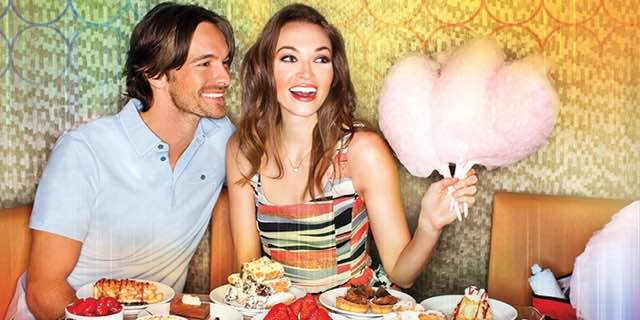 The Spice Market Buffet has often been referred to as the most sought after buffet restaurant in Las Vegas because of its impressive ethnic menu items that span the globe. Breakfast-goers can treat themselves to numerous freshly brewed coffee creations, while those in search of healthier fare may opt for a delicious fruit smoothie. Throughout the day you will discover that each course has been sorted into different stations, depending on which country it represents. For example, during breakfast you might find breakfast burritos and huevos rancheros in the Mexican entrees. For lunch you can return to the same station and build your own tacos. If you're craving Asian food for dinner, you can dine on a wide variety of egg rolls, fried rice, and sushi. Italian food lovers will enjoy choosing between such items as pasta and pizza, while hummus, lamb, and kabobs can be found at the Middle Eastern station.
There are several live-action cooking stations, including the dessert station, where you can watch a trained chef prepare made-to-order crepes and bananas foster. Other deserts include pies, cakes, tarts, cookies, bread pudding, and crème brulee. No reservations required.
You can add a package to your buffet such as an all-you-can-drink package (which should really be called all-you-can-drink-for-2-hours because that's the time limit for drinks. The cost for this option is $12.99 and includes beers, wines and champagnes.
Location: Planet Hollywood Resort
Spice Market Buffet Hours and Pricing for 2020
Breakfast (7am - 10am) adult price is $18.99 and children's price is $12.99
Brunch (10am - 3pm) adult price is $23.99 and children's price is $14.99
Dinner (3pm - 11pm) adult price is $25.99 and children's price is $18.99
More on Spice Market Buffet
Spice Market Buffet