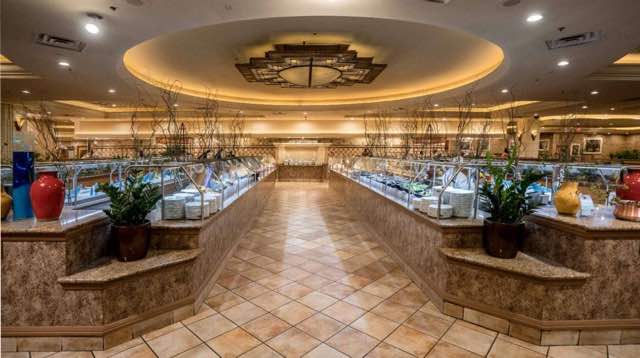 We've got all the MGM Grand Buffet details you need below, but first you've just got to check out this amazing buffet deal: Bacchanal Buffet at Caesars Palace, with VIP Express Line passes only $35.99! Includes a LINE PASS!
Why is this such a good deal? It's far cheaper than buying once in Vegas...and, best of all, because we all hate standing in line for an hour to feed our already hungry belly, this buffet deal by Groupon includes a VIP Line Pass! You save money AND don't wait to eat...wait, is this a dream?!?
Today's Vegas Buffet Deals
Las Vegas buffets are second to none, and so are the prices these days, and since we all want a buffet deal, here are the top deals right now! These discounts are so deep who needs a Las Vegas buffet coupon? Don't print, buy online and save a tree!:
MGM Grand Buffet
You'll be happy to learn that children 3 and under eat free at MGM Grand's Buffet. Children that are between 4 and 11 receive a discount. Buffet pricing varies depending on the time of day, and the day itself, ranging from $18.99 for breakfast during weekdays and $21.99 for weekend Brunch (Friday, Saturday and Sunday). Prices for weekday, weekend, holiday, special events may differ. Does it really have to be this complicated? Do buffets need Surge Pricing?
The MGM Grand Buffet is much like the hotel itself, large. You won't be left wanting at this restaurant and since there is no wait staff, you'll be doing all the food and drink fetching yourself which isn't much of a bother.
Food stations depend on whether you're having breakfast, brunch or dinner. Breakfast will include a made to order omelet station, baked ham, bacon, corned beef has, sausage links, scrambeled eggs, eggs benedict, smoked salmon, breakfast potatoes, biscuts and gravy, pancakes and waffles, oatmeal and seasonal fruits.
Brunch includes brisket, roasted turkey, fried chicken, made to order pizza, mac-n-cheese, a large salad bar, made to order omelet station...and that's just the beginning.
Just a peak at the dinner station items include prime rib, shrimp cocktail, tri-tip, bbq pork ribs, made to order pizza, sushi and more.
Unlimited Drinks are Free
Unlimited house wine and draft beer is included in the buffet price. During weekend brunch the unlimited drinks option offers endless sparkling wine and mimosas.
Kid Stuff
Given the numerous items at the buffet, this might be a great time to get our kids to test out some new flavors they would be hesitant to order off a menu. The select at the buffet includes dishes from around the world like Chinese and Mexican. Some children have to be coaxed into trying anything beyond a burger or cheese sandwich, but if they know they're going on a food adventure with just a little taste of this and that, they may be more inclined to give their taste buds something new to try.
Service
You will be serving yourself as per standard buffet, but the wait staff will keep you hydrated. The service is good, however a sudden rush can force you to have to wait 10 mins roughly before you can place your drinks.
Dishes To Try
Chinese
The Grand Buffet has a Chinese Food section that does well with its flavor standards. Sometimes you can go to an international buffet and all of the food tastes almost the same. At the Grand Buffet you won't have this problem.
Crab Legs
Some kids get a kick out of sucking the meat out of a crab leg and if that sounds like your little troublemaker then you're in luck. The Grand Buffet offers both the cold and hot versions of delicious crab legs.
Tri-Tip Sirloin
If you're going to try something at the carving station, the tri tip sirloin is an excellent juicy choice. The steak is chosen in front of you and cooked to perfection in front of you, all you need to do is grab your plate and a seat and you're set for a filling and delicious meal.
MyVegas Reward
If you're a member of MyVegas Rewards you can get this buffet at a discount or free. See the buffet supervisor for more details.
Express Take Out
Have you ever gone to a buffet and thought it would be great to just take everything to go? Here's your chance - the MGM now allows you to take out your buffet favorites so you can nosh on them in the comfort of your room if you should so choose.
Weekday Prices (Monday through Thursday)
Breakfast is served from 7am to 9am. Adult price is $18.99, child price is $12.99
Brunch is served from 9am to 3pm. Adult price is $21.99, child price is $14.99
Dinner is served from 3pm to 9:30pm. Adult price is $32.99, child price is $19.99
Weekend Prices (Friday, Saturday and Sunday)
Brunch is served from 7am to 3pm. Adult price is $21.99, child price is $16.99
Dinner is served from 3pm to 10pm. Adult price is $32.99, child price is $21.99
More on MGM Grand Buffet
MGM Grand Buffet