I love theater. Having lived in New York City for 16 years I've seen my fair share of Broadway shows so when my family packed up and headed west to Las Vegas last month I was eager to see what this whole Cirque Du Soleil thing was all about. We settled on Mystere as it seemed most kid-friendly Las Vegas shows but if I had my choice, meaning no kids in tow, I'd have chosen KA. But I don't regret Mystere, not a bit. 
We knew this show was open to all ages so we took our 2-year-old and 4-year-old boys...we're daring adventurous parents!
My biggest question was whether Mystere was going to scare my two-year-old and yet be exciting enough for my 4-year-old? In short, no and yes.
A few practical points to make prior to jumping into my review of Mystere:
The TI hotel is, bleeh. Don't let that sway your opinion of Mystere however. I was surprised to walk into a massive, beautiful, smoke-free, state of the art show room without a bad seat in it. Surprising since our walk through the TI casino--yes, you need to walk through the casino to get to the theater--was a tad bit smoky, the low ceilings didn't help. I'm particularly sensitive to cigarette smoke, but the show was worth it.
You CAN bring limited food and drink into the theater for your children. Operative word is limited. I wouldn't go crazy...keep the picnic for more appropriate setting. Snacks and such is more like it.
While children of all ages are permitted at Mystere its most appropriate for those 4 or 5 and older. A 2-year-old is simply too young and won't get it.
Our 2-year-old is still sporting diapers. For those daring to take they potty challenged friends it's good to know there's a changing table located at the women's restroom less than one minute away (TI management: how about adding a changing table to the men's restroom? My husband changes diapers too.) As you walk inside take an immediate right, you'll see it.
The Show starts right at 7pm SHARP. You'll be rewarded for arriving to your seats about 15 minutes early since there's great pre-show entertainment. For you shy people out there note that sitting in Category 1 seats means you just might be part of this very fun (to watch) pre-show entertainment! If you're not comfortable in front of audiences, select a different seating category.
Our four-year-old loved the show! The acrobatics, costumes, props, lighting effects, and performers dangling from all parts of the show room proved to be enchanting for our small person. The show is colorful, oozing with amazing feats of strength, balance, and daring. Honestly there are some parts of the performance that leave one wondering how, just how do they do that!
The two-year-old, well he had a challenging time. It's hard for anything to entertain a two-year-old for an extended period and Mystere certainly won't.
A word on the music, it wasn't overly loud, just right in my opinion, but if you're sensitive to loud sounds plan accordingly.
Where to sit
Honestly, there doesn't seem to be a bad seat in the house. I can't say that with total confidence, I didn't sit in each seat in the theater, but looking around the horseshoe shaped room give makes the point. We sat in Category 2 seats, they were great. We enjoyed a full view of all aspects of the show, something you won't get in Category 1 seats. Get more inside scoop on where to sit for Mystere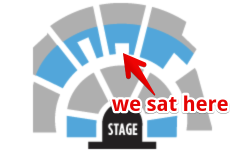 Unbeknownst to us a good portion of the acrobatics consisted of performers dangling from different parts of the ceiling throughout the show room. You'd be hard pressed to see this from category 1 (front of the show room seats). A good amount of the show is performed in the air, sitting in section one seats means looking up far too much for comfort.
Need to leave the showroom?
No problem. You can leave and come back as much as needed which I had to do a couple of times with my 2-year-old.
How's the temperature in the theater?
Very comfortable. I tend to run a bit colder yet I was fine with a light sweater. If you?re anything like me you get cold walking through the casinos (especially in the summer) so consider bringing a sweater or similar.
What to do before or after the show?
Get Mystere "stuff" at the Cirque Du Soleil gift shop just outside the theater. Also just outside the showroom is Starbucks and Francesco's pizzeria--heads up, it only has a single two-top table so don't plan on sitting the entire family down to eat on one table. Beside the single two-top table, Francesco's has a couple dozen stools. Malenas Yogurt Plus is a nice post-show option, also just outside the theater.
Important show details
Location:
Mystere
performs at TI Hotel
Child tickets:
Child tickets required for over 1 year of age even if the child will be on a parent's lap.
Child seats:
Booster seats available for young children.
Food/drink:
Allowed for children
Minimum age:
All ages. Under 18 must be accompanied by an adult.
Show length:
90 minutes. One intermission.
Where to sit:
All seats offer exceptional views. Front seats can mean looking up too long.