Best pools in Las Vegas: there are lots of them and after you've walked the Strip, conquered Big Apple Coster and fired away at New York-New York's 32,000 sq ft arcade, you'll be ready for some R&R, and few cities do H2O fun like Las Vegas, the pools here are out of this world. From beaches to wave pools and lazy rivers, the best Las Vegas hotel pools are hard to top.
Best Hotel Pools On The North Vegas Strip
North Strip is home to hotels like MGM Grand, Mandalay Bay (the best Vegas pool in our opinion) and Luxor hotel, to name a few. When staying here you'll love the selection of outrageous pool decks, amenities and poolside dining options--these truly are the best hotel pools in Las Vegas.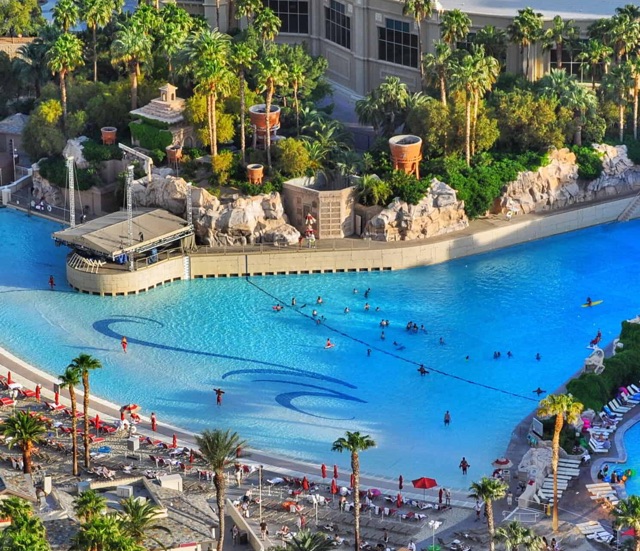 Voted "one of the best pools in the U.S." by Tripadvisor and "9 Best Pools in Las Vegas" by Conde Nast, the Mandalay Bay Pool Complex is a truly spectacular experience for both adults and children. The size and scope of this complex is enormous--at 11 acres, it houses multiple pools, a wave machine, a "lazy river", a sandy beach, private cabanas, restaurants, a spa, and a music stage. Imagine bodysurfing on waves up to twelve feet high, your body gliding along the water like a slick-bottomed boat. Or grab an inner tube and lazily float down the "river of relaxation." Finally, rent a private cabana and indulge in a relaxing poolside massage.
This is The Best Pool in Las Vegas
The Mandalay Bay Pool Complex is the best of the best of Las Vegas pool experiences--adults love it, kids adore it. It's available for free for all Mandalay Bay hotel guests, non-guests must rent a cabana which'll set you back at least $300 per day. Check rates at Mandalay Bay hotel
And what about the MGM Grand pool complex one of the most elegant swimming and sunbathing experiences in Vegas. The complex features five elegant swimming pools, three whirlpools, a relaxing river adventure, walking bridges, fountains, and, of course, ubiquitous waterfalls. Raft rental is available for the kids. Rent them one while you enjoy the relaxing benefit of the spa. Opened year round. MGM Grand hotel rooms begin at $179.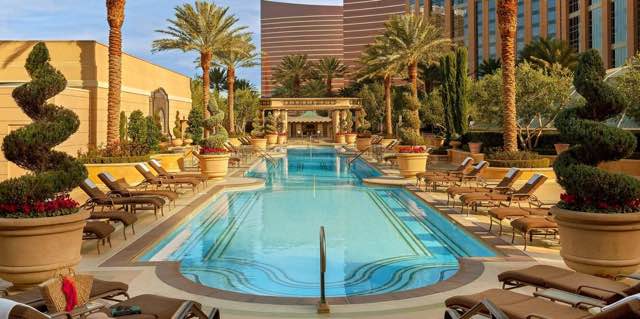 If luxury is what you seek, Venetian and Palazzo pools are the place for you. Each of the 11, recently renovated, pools at The Venetian and The Palazzo provides a distinct experience, perfect for fun or relaxation. Lounge on a comfy chair with the sun on your back, take a few laps in crystal-clear water, sip a cool drink, or order something crisp from Wolfgang Puck's poolside menus. A splash pad is perfect for the kids to get their fun in. Selected pools are heated during the colder months. The Venetian also features the Canyon Ranch Spa which offers a number of signature treatments. On site specialists provide private consultations including preventive health care and stress management. Relax and enjoy, your kids will love you for it. All pools are heated year round.
Venetian Pool: Voted Best Cabana's in Las Vegas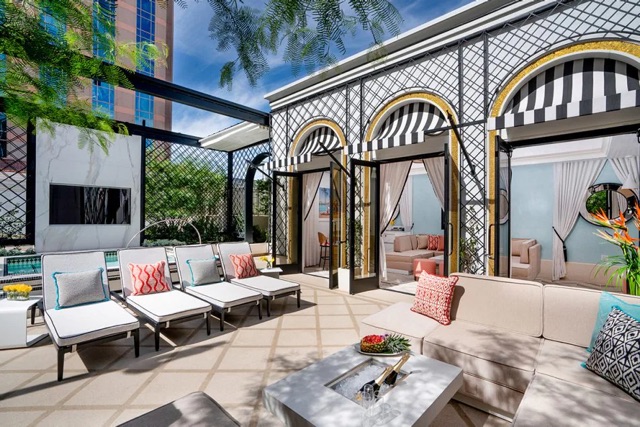 One of the best ways to take pool lounging to the next level is with a cabana. Venetian & Palazzo offer a range of cabana sizes, from 180 to 1,450 square feet. Every cabana is air conditioned, comes with a fully stocked fridge, and Wi-Fi access. Venetian cabanas start at $1,600 per day, Palazzo at $1,000 per day.
All hotel accommodation at Palazzo & Venetian are exeptional quality, spacious suites--nearly double the size of other Vegas rooms--with separate living rooms. Check rates at Palazzo and Check rates at Venetian
Aria's 215,000 square foot pool complex area includes 35 cabanas, each includes 42-inch flat panel TV, misters, a sectional sofa, and complimentary pool raft. Put on your sunglasses and soak in an indulgent Vegas pool experience. Aria hotel's three ellipse-shaped pools are perfect for lazing about. Opened year round from Monday through Sunday from 9 AM to 7 PM. Check rates at Aria
One must not forget the Bellagio –where beauty meets luxury. It is home to the world famous water fountain display and a grand pool complex. Bellagio's pool area captures the romance of the Old World in the classical setting of a bright Mediterranean Villa. Pools range in size from lap pools to a large swimming area. One of the pools can be reserved for special occasions. A perfect place for your child's birthday party! Opened year round. Check rates at Bellagio hotel
The Tropicana Resort and Casino also boasts an impressive pool complex with five acres of tropically landscaped grounds and watery treasures. Lagoons are plentiful; the waterfalls beckon you, drawing you closer to their frothy droplets. The larger pool has plenty of open space in which families can unwind from the hectic Vegas strip. Hire a floatable raft for your children while you swim up to the conveniently placed blackjack table for a try at your luck. Just fifteen feet away from the main pool is a lagoon for adults only. Hire a babysitter and release those wet and innermost passions of desire. Finally, come to be pampered. Three relaxing outdoor spas offer the perfect place to melt away your worries and sip cold drinks in tropical surroundings. Tropicana hotel rooms being at $39.
A paradise fit for royalty, Excalibur's pool area features a lush tropical landscape with 30,000 square feet of deck space for ample seating. Four luxurious pools, including a separate pool for guests 18 years of age or older, a water slide and 19 cabanas, each stocked with all the essentials to keep cool, offer guests everything they need for a fun day in the sun. Just steps from the pool, Drenched Bar & Grill offers the latest in casual poolside dining featuring American fare and a full-service bar. With Excalibur hotel rooms starting at just $22.95 summer just got super cool.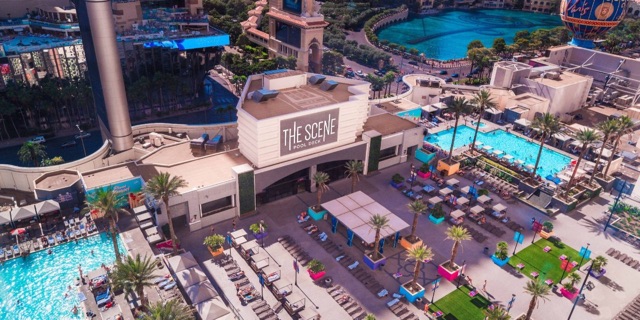 Planet Hollywood's pool is great, but the problem is that from midafternoon on, it becomes party central, so unless you go early in the day, the atmosphere becomes inappropriate for kids. However, do go early and enjoy this amazing pool, then in the afternoon, solving the pool party problem is easily remedied by going next door to the Paris to swim. Caesars Entertainment allows guests of any of its Las Vegas properties to swim at any Caesars owned hotel of their choosing. This is an option you should take advantage of because the Paris pool is much quieter. While you are at the Paris, there are various other activities your children will enjoy as well, just as there are at other hotels nearby. Virtually every hotel on the Las Vegas Strip has a swimming pool, but Planet Hollywood is home to the only FlowRider on the Strip. Room rates at Planet Hollywood begin at just $37.95.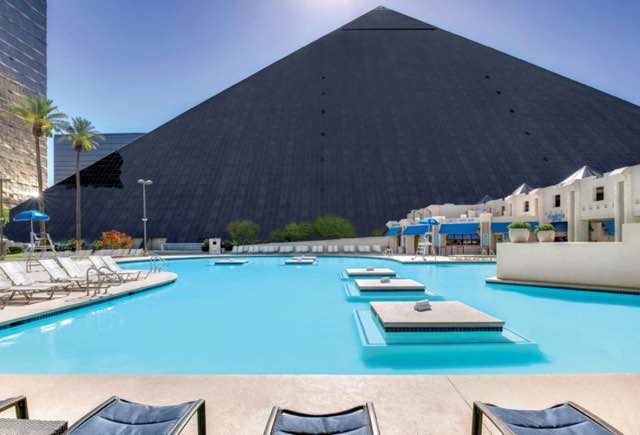 The enormous (19,000 square feet) Luxor pool is open seasonally. Three of the four sections open at 9 a.m., and one opens at noon. The pool is free to all hotel guests, and a large pool deck has complimentary lounge chairs which are available to everyone on a first come first served basis. There is also a special paid access only area, which is open from May through September only, not the full pool season. Guests can obtain access by renting a cabana, daybed, or VIP or regular chair in the area. Luxor hotel rates begin at only $28.95
Best Hotel Pools On The South Vegas Strip
Some of the best pools in Las Vegas are at hotels located on the South side of the Strip. Hotels here tend to be older (not always) since this is where Las Vegas Blvd started back circa 1950s. But don't let age get in the way with quality: the South Strip has some of the best hotel pools in Vegas.
On certain nights from May to September, the marquee at the Cosmopolitan's Boulevard Pool transforms into an enormous movie screen. Each spring and summer, guests take a dip in the pool's tepid waters or lounge poolside while watching some of Hollywood's biggest hits. Cosmopolitan hotel rooms start at $139.95
The Flamingo hotel has always been a desert hotspot and its pool complex only adds to the excitement. This fifteen acre tropical retreat houses four separate pools laced in palm foliage and colorful flowers. Waterfalls and seasonal waterslides provide nonstop refreshment for adults and children alike while the two hot tubs deliver relaxation for those all night gambling go-getters. Private cabanas and food service are also options at the Flamingo as well as a separate kiddie pool in which children can be themselves. Who knows, you could even swim by the spirit of Bugsy Siegel himself. The pool at Flamingo hotel is opened year round. Flaming hotel rooms begin at only $18.95 a night! Holy cow!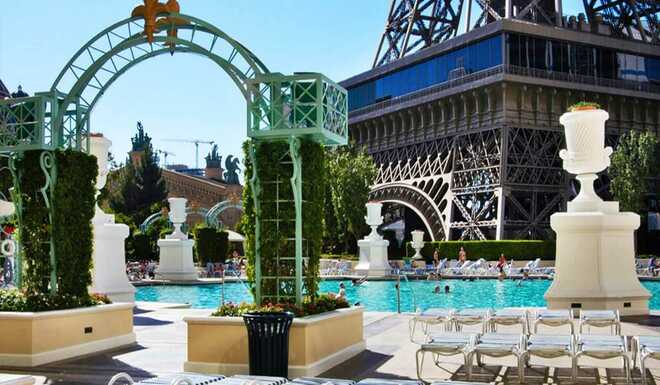 The Soleil Pool is unlike any other pool in Las Vegas. It is a rooftop pool situated directly under the replica of the Eiffel Tower. Guests can enjoy an incredible view of the Eiffel Tower, the Arc de Triomphe, and if they time their visit just right, part of the Bellagio fountain show. The heated outdoor pool is open year round and wheelchair accessible. Hours of operation are 8 a.m. to 8 p.m. during the summer, but only 10 a.m. to 4 p.m. in the winter. Paris rooms begin at $37.95.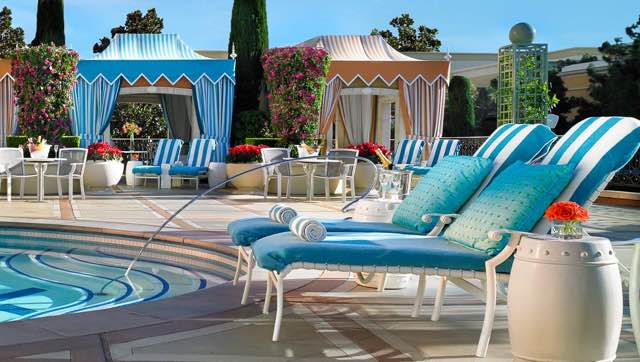 Both The Wynn and Encore offer beautiful, temperature-controlled pools and Jacuzzi spas surrounded by immaculate gardens. Reserve a private cabana at the Wynn, Encore or Tower Suites pools complete with mini-fridge, plasma TV, plush chairs and sofas. Note that there's a secluded, adults-only European pools that permit for topless sunbathing, though this area is completely secluded. 39 cabanas are available for rent. Opened year round. Wynn hotel rooms began at $152.95.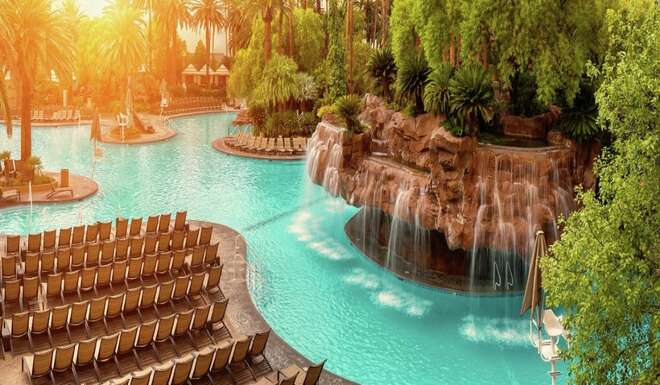 If you fancy a lush, tropical pool atmosphere than the Mirage Hotel is the place for you. It houses two separate pools and a series of blue lagoons and powerful waterfalls. A bit like Hawaii but without the long and monotonous flight. This pool duo has been labeled the most beautiful in Vegas and is very kid friendly with three fast and furious waterslides competing for their attention. Families can tip-toe around the quarter mile shoreline, take a dip in a bubbly Jacuzzi, sun themselves under the hot Nevada sun, or, if in the mood for exercise, join a water-aerobics class. Opened year round. Mirage hotel rooms being at $61.95.
Circus-Circus Splash Zone Pool Complex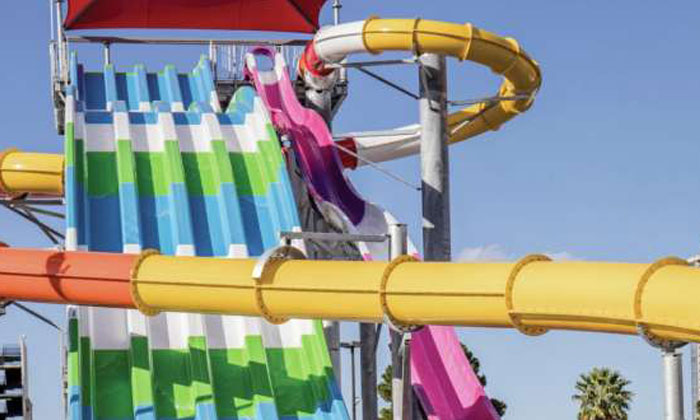 Splash Zone is the Circus-Circus Hotel new swimming pool complex and it's HHUUUUGGGEEE! At an acre in size, Splash Zone features two swimming pools a hand full of whirlpools a 50 foot slide tower featuring three slides (must be 42" or taller to ride) and a water playground with water cannons, spill buckets, rain trees and even a Splash Snacks food truck. Children under 6 must be supervised by an adult. And, of course, everyone should be prepared to get absolutely drenched! Cabanas are availble starting at $100 daily and includes lounge chairs, straight-back chairs, ceiling fan, TV, mini-fridge, safe and storage cabinet. Cabanas seat up to four people. Splash Zone is open from 9am to 5pm daily and available only to Circus Circus current hotel guests.
For some, lounging at a pool gets old...we'll Las Vegas accommodates those a-type personalities with a couple of huge waterparks, though be mindful they're not on the Strip.
Best Hotel Pools in Downtown Las Vegas
This part of the Strip isn't known for over-the-top pools but that doesn't mean you can't find some of great Vegas hotels pools here.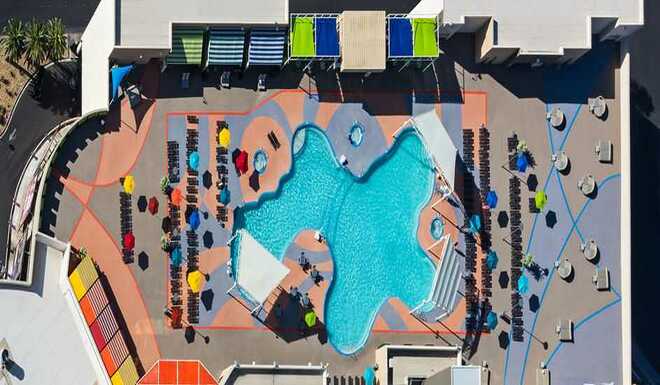 Located on the eighth-floor, the Level 8 Pool at the STRAT is where you can catch some rays on an expansive deck and enjoy increadible views of the city. Three over-sized spas, plenty of chaise lounges and piped-in music set the tone for a truly relaxing experience. Minors under 18 years of age must be accompanied by an adult. STRAT hotel rooms being at $16.95.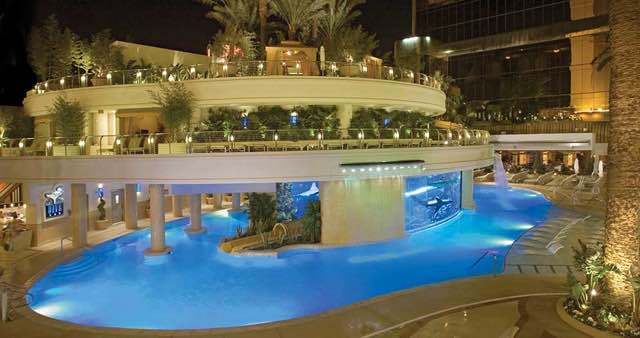 The Tank at Golden Nugget pool has a full encapsulated 200,000 gallon shark tank right in its center--so while you splish and splash five different species of sharks and a wide variety of exotic fish will be watching you, or rather you'll be watching them. If you plan on having a group, The Tank offers 15 Luxury Cabanas to suit your every need with all of the furnishings like flat screen televisions and private mini-fridges. All cabanas feature your own private server! This pool is open year round. Golden Nugget hotel rooms begin at $54.99.
Best Pools On Off The Strip
Cowabunga Bay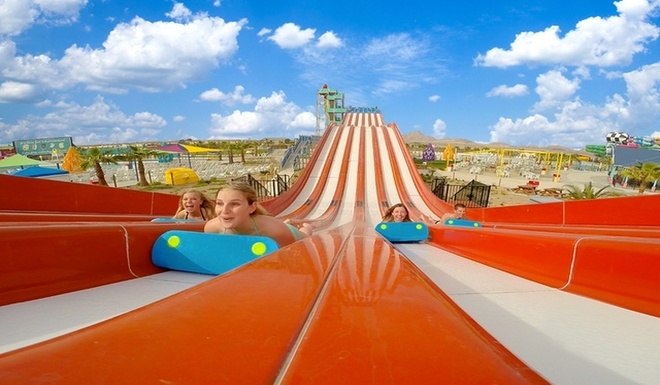 The surf culture of the 1960s lives on at Cowabunga Bay. A wood-paneled station wagon, bright floral beach umbrellas, and a 1967 Volkswagen bus parked alongside the lazy river all showcase the water park's vintage aesthetic. The 35,000-square-foot wave pool even features a backdrop inspired by drive-in theaters, allowing visitors to debate the ending of 2001: A Space Odyssey while swells roll into shore. Cowabunga Bay was voted Las Vegas' best waterpark and features over 25 water slides and attraction.
Water parks abound in the desert, but Wet 'n' Wild offers something for every member of the family. With adult slides, rides for teens, as well as kiddie pools, for the diverse family, there's an option for everyone.