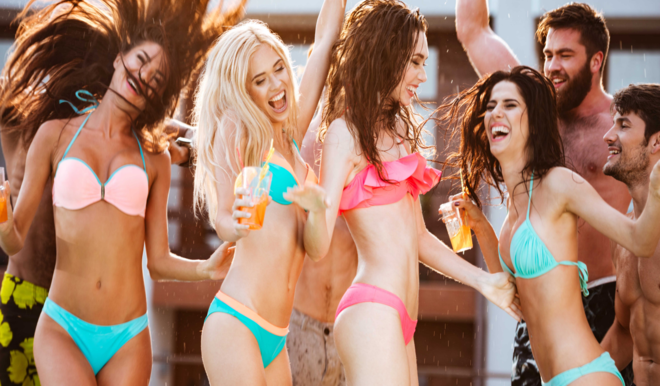 Planet Hollywood hotel's pool is great, but the problem is that from midafternoon on, it becomes party central, so unless you go early in the day, the atmosphere becomes inappropriate for kids. However, do go early and enjoy this amazing pool, then in the afternoon, solving the pool party problem is easily remedied by going next door to the Paris to swim. Caesars Entertainment allows guests of any of its Las Vegas properties to swim at any Caesars owned hotel of their choosing. This is an option you should take advantage of because the Paris pool is much quieter. While you are at the Paris, there are various other activities your children will enjoy as well, just as there are at other hotels nearby. Here is a summary of fun activities for you and your family at Planet Hollywood.
Swimming and Wave Riding
Virtually every hotel on the Las Vegas Strip has a swimming pool, but Planet Hollywood is home to the only FlowRider on the Strip. The FlowRider Wave-in-a-Box Double is a surfboard/flowboard and wave machine using advanced technology. You will have to use your own judgment about whether it is appropriate for your children, but it is perfect for anyone who enjoys wave riding.
The FlowRider is open from 10 a.m. to 6 p.m., with the last reservation taken at 5:20 p.m. Users must be at least 42" to Boogie Board and 48" to Surf the Strip. The cost is $25/person for 30 minutes.
The pool area itself, which is accessible from the 6th floor of the hotel, is supposedly open year-round, but may be closed on certain dates during the winter. Hours of operation are 9 a.m.to 6 p.m.(open later in the summer). There are two separate 4,500 square-foot outdoor heated pleasure pools, one for adults only and one for all ages, two Jacuzzis, and a large sunbathing area. A café is open from 10:30 a.m. to 6 p.m.
Chaise lounges and tables are provided on a first come first served basis at no charge. The area is wheelchair accessible.
Guests wishing more privacy and luxury can call 1-702-785-9106 to reserve a poolside cabana. Prices vary. The cabanas include the following amenities:
VIP host
10 bottles of water
Fresh fruit platter
Refrigerator
Seating for up to 8 guests
42" flat-screen TV
As mentioned above, the pool area becomes very crowded in the afternoon. Live DJs blast loud music and a wild party atmosphere prevails. So if your children are going to use the pool at all, you need to go early in the day before the scene gets out of hand. Or consider using the rooftop pool at the Paris next door where the atmosphere is much more subdued and your kids can enjoy the added treat of a view of the Eiffel Tower. You won't be charged extra for using the Paris pool.