Updated August 2023: Non-smoking hotels in Las Vegas are more common than you'd think. Many Vegas hotels have established "smoke free" policies since more people are seeking the indulgences of live entertainment, food and games that Las Vegas offers without exposure to smoke-filled rooms. All Vegas hotels below are 100% non-smoking.
Delano Las Vegas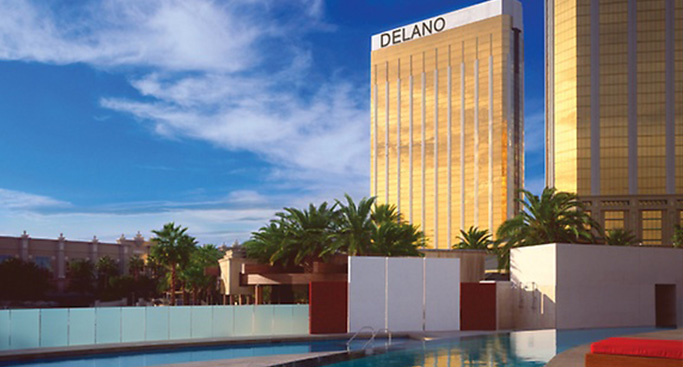 Delano is a 100% non-smoking Las Vegas hotel that also happens to be gaming-free. This all-suite hotel provides a stylish and sophisticated alternative to its gaming-oriented counterpart. The 43-story Delano Las Vegas is connected to Mandalay Bay. Delano Las Vegas hotel guests enjoy access to Mandalay Bay's beach complex, shops, attractions and world-class entertainment and nightlife venues like the House of Blues, the Foundation Room and the Mandalay Bay Events Center.
Check rates here
Park MGM
If you're looking for Strip location, good pricing and completely 100% smoke free casino in Las Vegas, Park MGM might be a good choice. This 100% smoking free hotel is located in the heart of the Strip and within walking distance to all the action.100% means just that, no smoking is not allowed in the casino, restaurants and bars, hotel rooms, hotel room corridors, or any common areas, including the resort pools. There are a few designated smoking spots that are tucked away from the general public.
Check rates here
Signature at MGM Grand
MGM Grand's Signature resort is a non-gaming, non-gambling, non-smoking hotel that boasts impressive amenities like a fully functional kitchen and full living rooms. Guests can enjoy MGM Grand's many offerings, including several on-site restaurants, pools, and of course, the Casino.
Check rates here
Vdara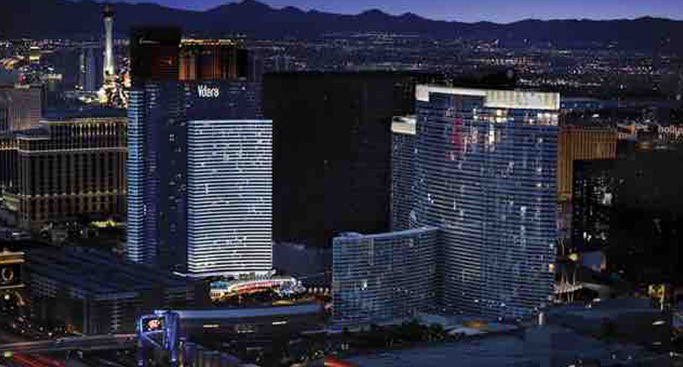 Vdara Hotel is nestled inside the City Center Complex and is completely non-smoking, casino-free with 1,495 decadent suites featuring gourmet kitchens, some include washers and dryers. The Vdara's Sky Pool and Lounge is located on the roof and is like a sanctuary offering stunning vista views and private cabanas. The hotel's spa area is an unbelievable 16,000 square feet of escape from the glitz of Las Vegas.
Check rates here
Elara by Hilton Grand Vacations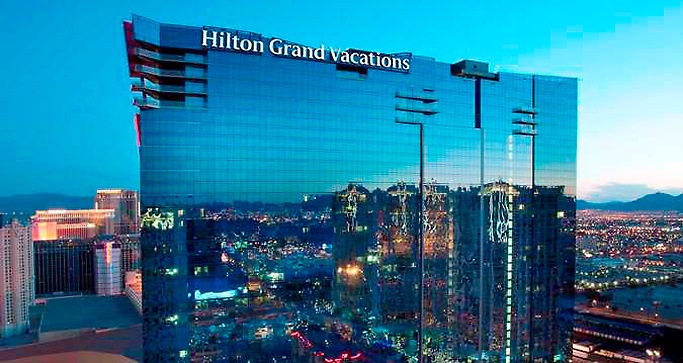 Located in the heart of the Las Vegas Strip, Elara By Hilton Grand Vacations provides an unsurpassed resort setting, and it's entirely smoke-free. Elara's stylish studios and grand suites feature up to four private bedrooms, with each suite containing state-of-the-art entertainment systems and kitchens. And depending on your choice of suite, you'll also enjoy use of a sofa sleeper, a whirlpool tub, an eight-foot projection TV, a washer and dryer and more.
Check rates here
Marriott Vacation Club Grand Chateau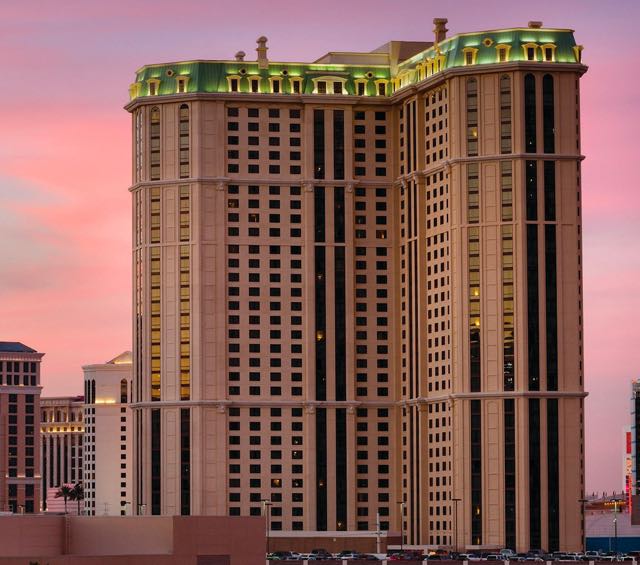 Tucked just off of the strip, Marriott Vacation Club Grand Chateau is a full non-smoking hotel and offers gateway to Las Vegas with grand villas and lavish rooms complete with full kitchens, washers and dryers, and free WiFi. While you're here, enjoy free Valet parking, the on-site fitness center, a swimming pool, and a Marketplace shop to pick up necessities. The Marriott's best asset, perhaps, is its swanky rooftop bar overlooking the Las Vegas Strip, SkyBar 38. Plus, there are no resort fees for your entire stay.
Check rates here
Hilton Grand Vacations on the Las Vegas Strip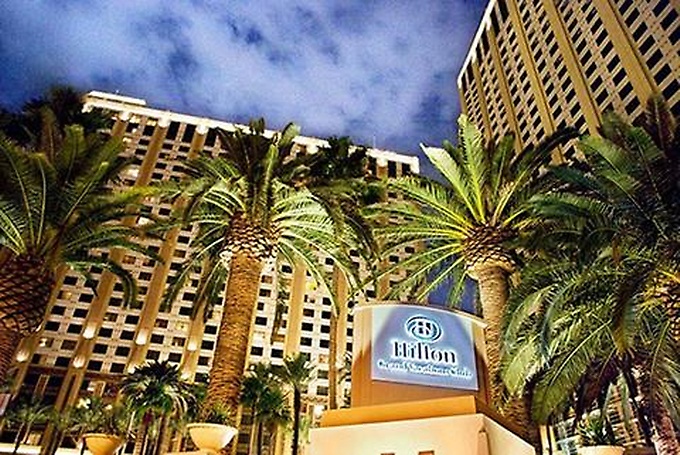 Right on the Las Vegas Strip, Hilton Grand Vacations is in the heart of the action on the north end of the strip. Non-gaming Las Vegas hotels are a refuge for families, and you can choose from studios and one- and two-bedroom suites. All suites have full kitchens complete with all the necessities and full washer/dryers. Of course, this hotel is completely smoke-free.
Check rates here
Trump International Hotel Las Vegas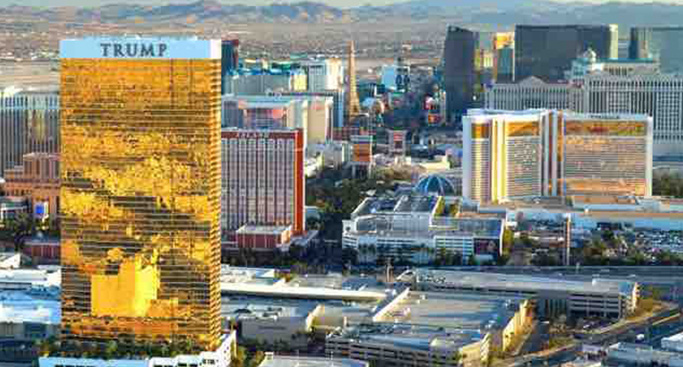 Trump International Hotel is mere steps from the action of the Strip and directly across from the Fashion Show mall. Its location and amenities make it a good prospect for families seeking non-gaming, non-smoking and hotel rooms with kitchens. Located down the street from the Wynn Hotel (and about a 10 minute walk to the Venetian), the Trump makes it easy to get to the heart of Vegas action.
Check rates here
Renaissance Las Vegas is billed as a boutique luxury hotel located just east of the Las Vegas Strip, just across the street from Bally's. You'll find contemporary yet comfortable hotel rooms making Renaissance a good choice for families wanting to be in the middle of the Vegas action. This hotel is the largest smoke-free, non-gaming hotel in the area and offers the trendy ENVY Steakhouse, an award-winning Las Vegas restaurant located right inside the hotel.
Check rates here
The Palazzo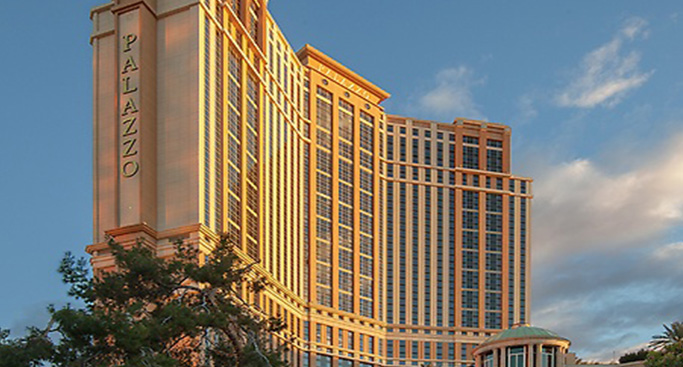 The Palazzo Hotel Las Vegas is 100% smoke-free/non-smoking. This 5-star eco-friendly Las Vegas Strip hotel features spacious suites with a separate living area and a dining table. In-room media includes 2 LCD HD TVs, a DVD player and high-speed Internet access. The extra-large bathrooms feature a 19-inch flat-screen TV and deluxe amenities. A daily newspaper is available. The Palazzo features over 80 restaurants and bars, serving a variety of food from around the world.
Check rates here
Cancun Resort Las Vegas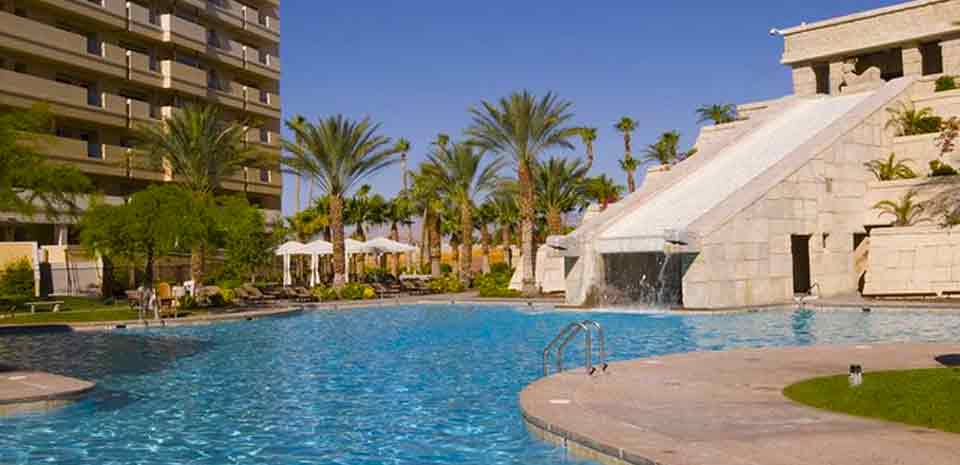 Enjoy the resort living of the tropics in a convenient location at the south end of Las Vegas Boulevard at Cancun Resort. Just a short drive from the Strip and all of its attractions, eateries, casinos, and shows, the luxury non-gaming resort is accessible to everything. One- and two-bedroom villa-style condos offer all the comforts of home. With expansive views of the strip or the mountains beyond, each room features a full kitchen, dining area, and living room with sofa bed that feels more like a luxe apartment than a hotel at all. Cancun Resort also happens to be an excellent hotel for kids in Vegas.
Check rates here
Wyndham Grand Desert Resort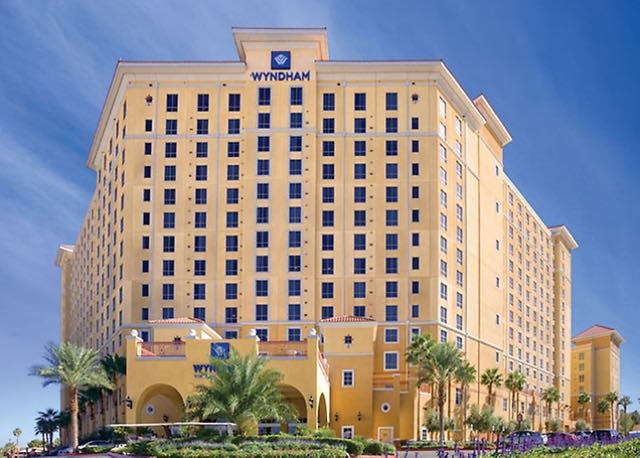 Staying just off the strip means you get lots of amenities, especially at the Wyndham Grand Desert Resort Las Vegas. Two-bedroom resort suites are an expansive 1,000 to 1,325 square feet and can sleep six visitors. There is a full kitchen, dining area, two bedrooms, a whirlpool tub, and a washer/dryer. For smaller families, a one-bedroom suite that sleeps four might do the trick, with a space of about 600 to 850 square feet. There is a king bed in the master bedroom and a queen sleeper sofa in the living room. Plus, there's a kitchenette and a washer/dryer.
Check rates here
The Platinum Hotel and Spa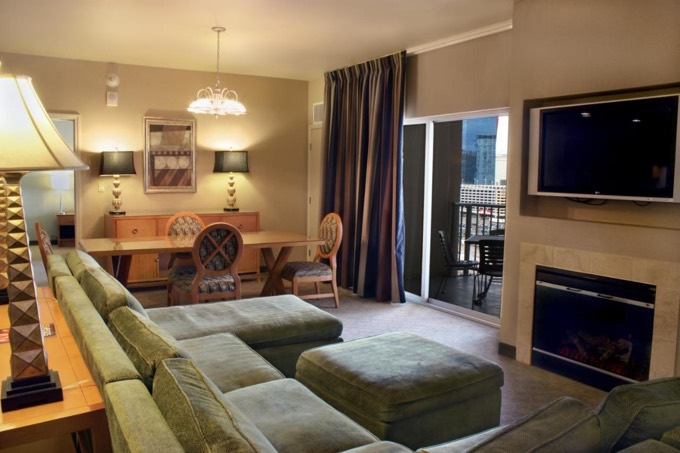 The Platinum Hotel and Spa is located at 211 E. Flamingo Road, Las Vegas, NV 89169. Just off the Las Vegas Strip, this luxury hotel offers 255 one and two bedroom suites. They also feature their Strip View Marquis Suites with wrap-around balcony and private terrace. All suites include washers and dryers, full kitchens, plasma TVs and jetted tubs. Other amenities include wireless Internet, spa and both indoor and outdoor pools. The Platinum Hotel and Spa is ideally located for parents and kids to enjoy the many family activities available on or near the Las Vegas Strip including the Atomic Testing Museum just down the street. They offer great hotel packages such as their "Family 4-Pac Vacation" consisting of two nights' stay, snacks, pizza, four movie tickets, sodas and cereal for four people.
Check rates here
When arriving to Las Vegas you can smoking at McCarren Airport Las Vegas is allowed.
Questions
Is Bellagio smoke free
Looking to book the Bellagio hotel in Vegas but want to be sure the rooms are smoke free.
Yes, Bellagio has non-smoking rooms though smoking is permitted in the casino.
Is the Venetian smoke free
Is the Venetian and Palazzo smoking free?
Both Venetian and Palazzo rooms are 100% smoking free. You can still smoke in the casino area.
Is Park MGM smoke free
I'm staying at Park MGM, I want to be sure it's smoke free.
Yes Park MGM is 100% smoke free. There are designated, fully enclosed smoking areas.
Is Wynn hotel non smoking
Is Wynn hotel non smoking?
Wynn hotel doesn't list smoking rooms on their website. Some folks say that they in fact do have unlisted smoking rooms but we haven't been able to verify this. You might want to call them at 702-770-7000 before smoking in a Wynn hotel room since they'll charge you $350 for deep cleaning your room.
Caesars Palace smoking rooms
Does Caesars Palace have smoking rooms?
Yes and no. Caesars Palace allows smoking in their hotel suites only.
Can you vape in Las Vegas hotel rooms
I don't smoke I vape, can I in my Vegas hotel room?
Vaping isn't allowed in non-smoking rooms. There are smoking hotel rooms in Las Vegas at The D Downtown, certain rooms and suites at The LINQ, Flamingo, some at Caesars Palace and Horseshoe Las Vegas (former Bally's.)
Can you smoke at Circus Circus?
My family doens't smoke but I do. I'll be staying at Circus Circus
Sorry there are no smoking rooms at Circus Circus.
Does Mandalay Bay have smoking rooms
Are there any smoking rooms at Mandalay Bay hotel?
All rooms at Mandalay Bay are non-smoking and therefore smoking of any substance in those rooms is prohibited.