Chasing Vegas Christmas lights? You're at the right place. Page updated Dec 17, 2022
Where to See Christmas Lights
---
This holiday season, head over to the world's largest Christmas lights maze and village at Resorts World Las Vegas. Experience a world of adventure with awe-inspiring animated light sculptures, Enchant?s charming Village offering ice-skating, live entertainment, interactive games, dining, holiday shopping, Santa & Mrs. Claus, and so much more. This year the magic makes its way to Resorts World Las Vegas? bringing a special edition of this spectacular event to Las Vegas Boulevard for the biggest holiday celebration in town with Enchant on the Strip. Enchant on the Strip opens on Saturday, November 19, 2022 and runs through January 1, 2023. Tickets go on sale starting September 15. Christmas lights Las Vegas don't get much better. Get Tickets Here
Las Vegas Speedway Christmas lights "Glittering Lights" begins at 5pm each evening until Jan 8, 2023. Almost 3 miles of lights to drive through among 500 displays and 4 million twinkling lights. Get Tickets Here
Drive through acres of more than 1.5 million lights twinkling along to holiday music. Giant candy canes, snowmen, and holiday creatures pepper the path, the main event is the tunnel of lights, Willy Wonka-like, that envelopes cars in an other-worldly display of animated hues. Get Tickets Here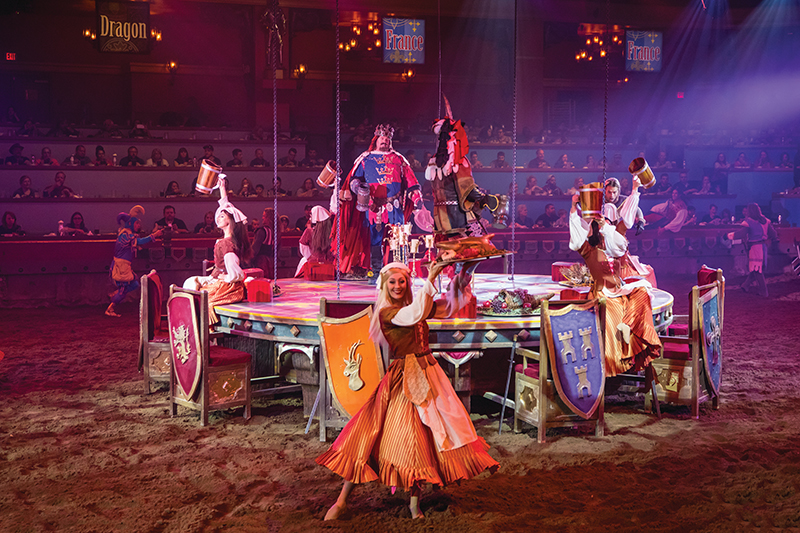 Through Dec 21, 2022. The Tournament of Kings turns into a holiday wonderland. There will be the mythical Merlin and even falling snow! It's the perfect way to eat, drink and be merry this holiday season. Get Tickets Here
Get access to rides, attractions, and the holiday lights experiences at the Opportunity Village Magical Forest. Get Tickets Here
See Very Terry Christmas through Dec 27. 2022. This holiday themed performance is Las Vegas' most famous holiday tradition, done in the style of those great family TV specials of the past. Get Tickets Here
Las Vegas's favorite holiday tradition returns once again fill your season with gorgeous beauty and sparkling cheer. Nutcracker discount tickets are available at Groupon. Get Tickets Here
This immersive wireless lighting technology merges with, music, dance, and plenty of laughs. Named the "Best Act in America" by America's Got Talent. Get Tickets Here
Must be 14 years of age or older: This show follows 8 yr old Davin, who is mistakenly dragged down to Hell in lieu of Charles Manson. When he returns to the land of the living, he's not only missed Christmas, but he's a little more demonic than before. Get Tickets Here
Experience this holiday classic in a state-of-the-art way with stunning visuals and a 30 min Christmas show, photo-ops, and a life-sized nutcracker. Get Tickets Here
The Boulevard Pool at The Cosmopolitan transforms into a winter wonderland high above Las Vegas Boulevard with the return of The Ice Rink, through Jan 6, 2023. Get Tickets Here
The Snow Carnival unveils a winter wonderland with more than 350 tons of real snow. Snowflakes are whirling in the air and covering the ground in a white blanket, creating endless opportunities for play. Get Tickets Here
Enjoy a one of a kind magic show, fun cheerful magic with all the holiday spirit we all love. You will witness Magic up close in a interesting way! The magicians perform heart warming cheerful magic with a uplifting holiday message this is a all ages show. Enjoy beverages and popcorn included.Get Tickets Here
Las Vegas Speedway Christmas lights, named "Glittering Lights" lasts from Friday, November 1, 2022 through Saturday, January 8, 2023 beginning at 5pm each evening. This attraction will give the whole family 2.5 miles of lights to drive through among 500 animated displays and 4 million twinkling lights. Get Tickets Here
Las Vegas Christmas Events
11. Magical Forest at Opportunity Village
Experience the Magic! Celebrate the holidays with a cherished southern Nevada tradition -- the Magical Forest at Opportunity Village! The Magical Forest is a winter wonderland with millions of sparkling lights, nightly entertainment, great food and endless holiday cheer.
Glittering Lights Santa Tram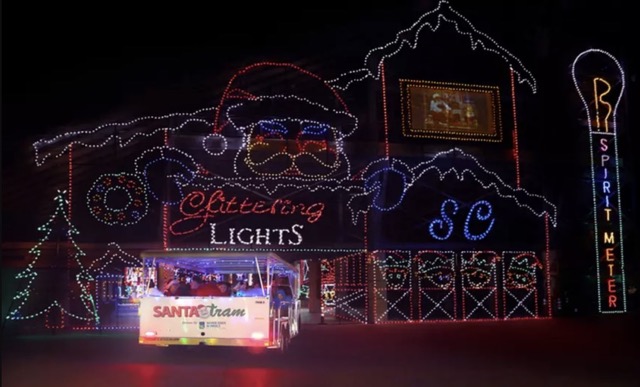 Sit back and relax while Santa Tram?s team does all the driving. Santa Tram is powered by Silver State Schools Credit Union and guides guests through the millions of lights in an open air-tram. Guests can nestle under blankets, sip hot cocoa, and munch on fresh kettle corn as they look at the dazzling lights and displays. Arrive at the outdoor boarding area at least 30 minutes prior to departure so the kiddos can experience train rides, games, and a visit from Santa to find out if they?ve been naughty or nice.
Festival of Lanterns at Cowabunga Bay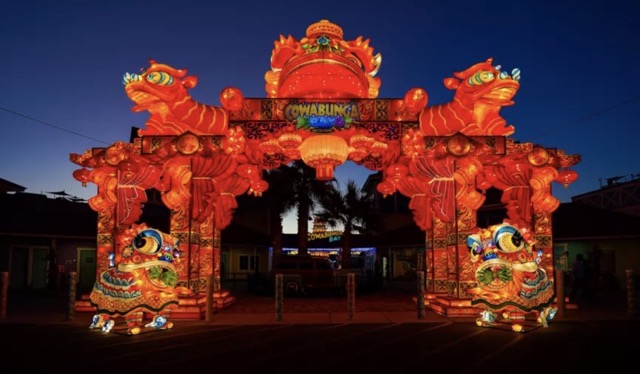 Cowabunga Bay presents its Festival of Lanterns event featuring millions of LED lights, that will amaze everyone, includes daily performance, music, drinks, and excellent food.
Sam's Town Mystic Falls Park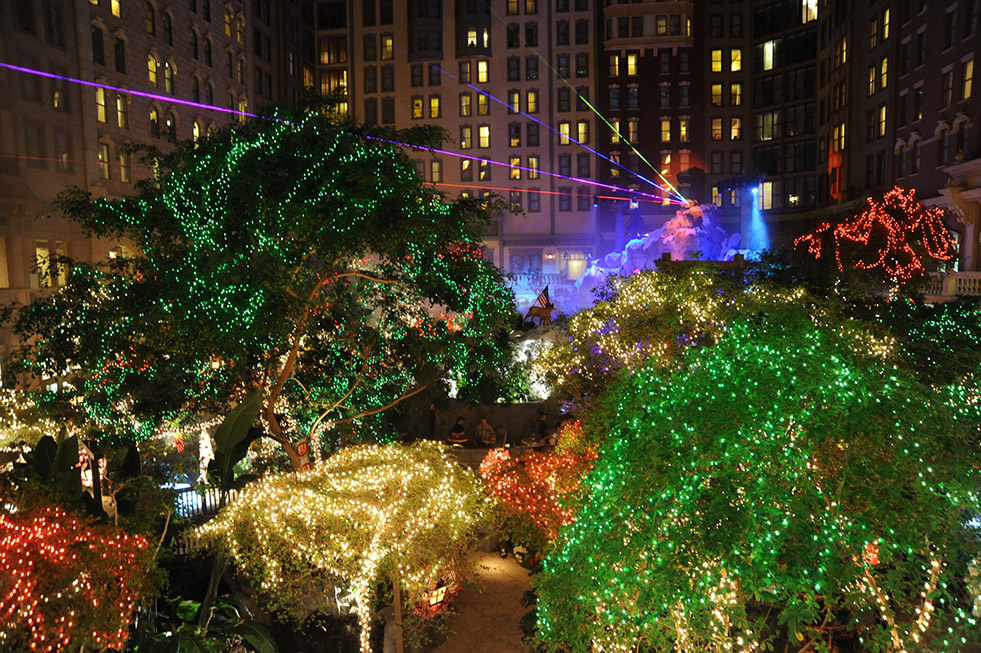 Take a leisurely stroll in the park day or night in Mystic Falls Park at Sam's Town. Relax to the sound of a rolling waterfall, complemented by the soft chirping of birds in live trees reaching up toward the skylight 10 stories above. Suddenly, the serenity is interrupted with the urgency of a wolf's call howling from atop the waterfall. It's the beginning of Sunset Stampede Laser Light and Water Show. The mountain in the Mystic Falls Indoor Park comes alive as the Sunset Stampede chronicles the Western pioneer experience with music, dancing water and a state-of-the-art laser light show. Best of all, this show is free!
Where: Sam's Town Hotel
Botanical Cactus Garden Lights at Ethel M Christmas
The Ethel M Holiday Cactus Garden offers the opportunity to get into the full swing of the holiday through 1/2/2022 at their Ethel M Chocolate Factory. Aglow with over 500,000 holiday lights, their three acres of desert landscaping and cacti come alive this season with special 3-D effects. Special glasses are available for purchase in the Ethel M store. Santa stops by for a visit each Friday, Saturday and Sunday from 5 pm to 9 pm and photos with Santa are available for purchase. The lights come on each night from 5 pm to 10 pm. Bring the entire family for a beautiful night of holiday twinkle, see the factory, enjoy some hot chocolate and take home some "to-die-for" chocolates. The Holiday Cactus Garden is free to tour.
When: Through January 2, 2022 from 5pm to 10pm Website: www.ethelm.com
Bellagio Conservatory Holiday Display
Bellagio's Conservatory & Botanical Gardens will give locals and tourists a holiday experience that is unforgettable. This winter display is free for all to enjoy! It features a polar bear family made with white carnations and a flying reindeer made completely of whole pecans. The sculpted rocking horse is surrounded by an whimsical working train. All this highlighting the 42-foot Shasta Fir tree sitting in the center covered with thousands of holiday lights. "Mr. and Ms Green Thumb" will be available daily from 10:30 am until 11:30 pm to answer all your questions about this amazing holiday display. While at the Bellagio, the Fountains at Bellagio is a must see, and hear, during the holiday season. The whole family will enjoy their stroll out front of the Bellagio taking in the wonder of the fountains dancing to holiday music. This year you will enjoy such holiday music favorites as Carol of the Bells, O Holy Night, It's Beginning to Look a Lot Like Christmas, The Most Wonderful Time of the Year and Santa Baby.
16. Winter's Village Green Valley Ranch and Red Rock Hotels
This Christmas season hang out at either Green Valley Ranch or Red Rock Resort as they transform their pool areas into Winter wonderlands featuruing ice skating, fireplaces, outdoor hair dressing stations, winter crafts and more. Skating is $25 per person ages 6 to adult, $15 ages 5 & younger. Admission to Winter's Village is free for all ages.
Dates: November 17, 2018 to January 6, 2019
Best for Ages: All ages welcomed but best for 5+
Holiday Shows in Vegas
---
'Twas The Knight
Now through December 21, 2022. The Tournament of Kings 900-seat arena will turn into a holiday wonderland. There will be the mythical Merlin and even falling snow! But the battle for honor must go on. The fate of King Arthur hangs in the balance. Knights will ride, charge and joust their way to victory, while you cheer on your country's hero and indulge in a celebratory three-course feast! It?s the perfect way to eat, drink and be merry this holiday season.
Tickets from $72
A Very Terry Christmas
The holidays are here and Terry Fator is transforming into a Very Terry Christmas through December 27. 2022. Terry Fator: The Voice of Entertainment presents A Very Terry Christmas, a holiday themed performance by Terry Fator and his amazing cast. A Very Terry Christmas is Las Vegas' most famous and anticipated holiday tradition, done in the style of those great family TV specials of the past, while mixing in the perfect amount of modern Las Vegas.
Tickets from $50
Pictures with Santa
---
December 17-24, 2022: Santa Claus steers his sleigh from the North Pole to Las Vegas to find out who's been naughty and nice. Children 12 and under receive a FREE photograph with Santa Claus. Throughout the day, Santa Jaws will "swim" by to join the kiddies for a photo. Santa will put on a SCUBA suit and plunge into the shipwreck exhibit to wave farewell alongside his underwater friends before going back to his elves and reindeer.
Tickets from $24