Whether you're looking to blend fun with learning or just have a grand old time, there's something on this list for every family!
Step under the big top with the world's largest permanent circus! Starting daily at 11am, the shows feature a wide range of performers from all across the globe, right at the center stage of Carnival Midway. See Katerina show off her dazzling hula hoop skills all the way from Russia, be dazzled by Argentinian trapeze artist Noelia, watch in awe of the Cherifian Acrobatic Troupe from Morocco, enjoy the resident Circus Circus clowns, and so much more!
Where: Circus-Circus
Ages: All
It's Vegas and thus, it's hot! One of the best options for cooling down from the desert heat is to visit the Children's Park and Playground at the popular outdoor Town Square Shopping Mall. With a number of play areas that are either in shade, in trees, or in a fountain, your kids will have fun and stay cool.
Where: Town Square
Ages: Children 10 and under
This modern take on the legendary city's demise is an attraction within an attraction, as myth takes center stage at the heart of the Forum Shops at Caesar's Palace. Complete with animatronics, fire, and special effects galore, it's a little silly, a little over the top, and a lot of fun! The show starts every hour on the hour, so you can easily plan a break from shopping and go check it out.
In addition, there's also a free aquarium! The 50,000-gallon tank houses over 300 beautiful stingrays and tropical fish. Behind-the-scenes aquarium tours are a
Where: Caesar's Palace
Ages: All
The Container Park, located Downtown, is an open-air shopping center built from repurposed shipping containers. Located just a few blocks away from the Fremont Street Experience, this open-air shopping center filled with boutique retail shops, restaurants, and live entertainment...as well as one of the best kid's parks in Vegas.
Where: Container Park
Ages: Children 10 and under
Photo by Tim Wright
This Italian-inspired shopping center opts for authenticity at every turn; In the grand tradition of street performers worldwide, the cobbled streets of the Venetian's Grand Canal Shoppes come alive with around 30 small performances every day. Living statues intrigue and delight, the Artiste del Arte musicians sing to shoppers, and troupes of classically trained performers from all over the world bring the best of the Old World right to Las Vegas.
Where: Grand Canal Shoppes at Venetian
Ages: All
This is a real treat for the senses any time of the year. Get ready for topiaries like you've never seen, spectacular floral design, and unrivaled attention to detail. The Bellagio's horticulture team transforms all 14,000 square feet of botanical garden into a lush, stunning landscape to suit the current season. Spring, summer, fall, and winter are all beautifully portrayed throughout the year, as is the annual Chinese New Year celebration.
The current theme, Japanese Spring, takes you and your family to the Land of the Rising Sun with the sweet aroma of blooming cherry blossoms (called 'sakura'), a golden temple, and a Kabuki character made of fabric and preserved floors.
Where: Bellagio
Ages: All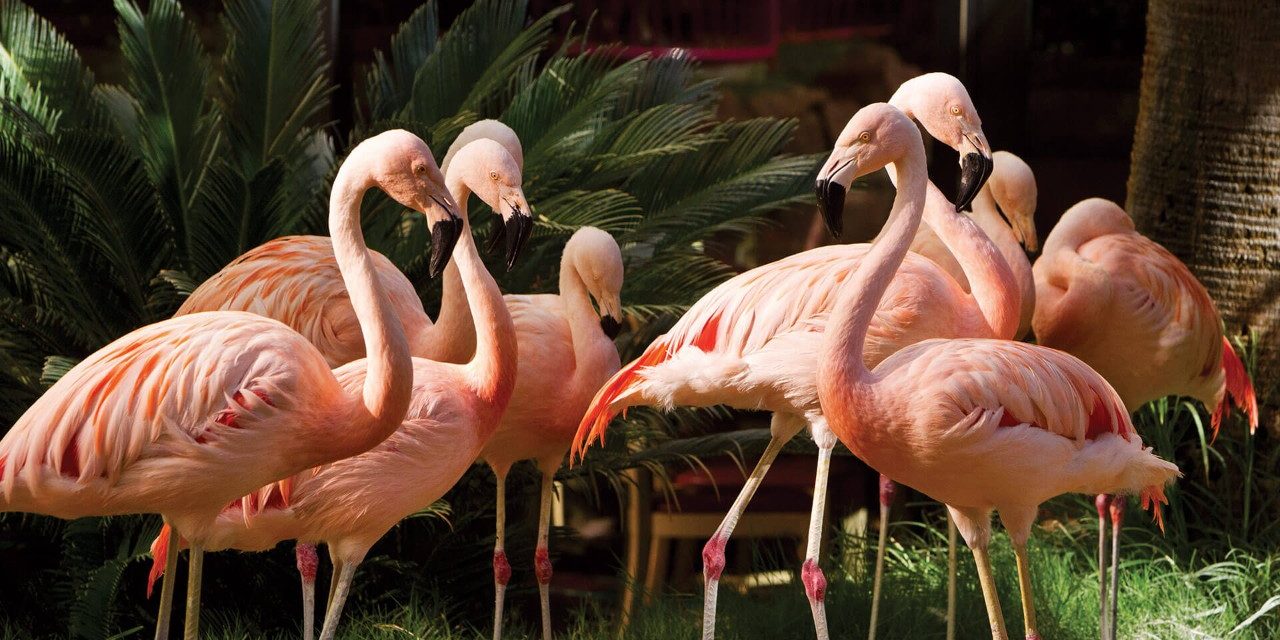 Fun fact: the collective noun for a group of flamingos is a flamboyance! There's no better place for flamboyance than right at the Flamingo: this isn't a zoo, rather, it's a habitat! In addition to the resident flamingos, the 15-acre grounds are home to ducks, swans, fish, ibis, turtles, parrots, hummingbirds, and more. Designed to be a tropical paradise, this serene refuge from the hustle and bustle of the Strip is chock full of photo opportunities and a chance to see a neat section of nature up close.
Where: Flamingo
Ages: All
If you tell your kids that every night a volcano erupts with fire, smoke, and lava right in front of their hotel, they won't believe you until they see it for themselves. Head outside the main entrance Sunday-Thursday evening just before 7 p.m. or 8 p.m. or Friday or Saturday just before 7 p.m., 8 p.m., or 9 p.m. Those the times when, whether permitting, you can see this incredible man-made spectacle during the winter. The times are an hour later during the warmer months. The volcano used to erupt every half hour from dusk to midnight, but as of July, 2015, the hotel cut back the viewing times to save costs. Sadly, this is just one example of the growing trend of Las Vegas casino hotels to cut down on free entertainment. The free tram between the Mirage and Treasure Island still exists, but the free pirate show that used to draw big crowds of all ages to the TI nightly is now a part of Las Vegas history.
Where: Mirage
Ages: All