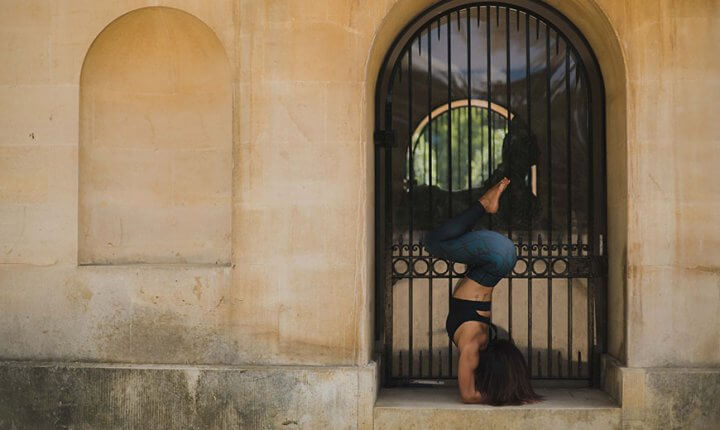 Early in 2018 I was searching around and thought I'd complete my 200-hour yoga teacher training in Rishikesh, I ended up taking a London yoga course instead but prior to embarking on that training I did quite a bit of research on trainings around the world, I even visited a few spots, including Rishikesh, not to scout out a good location for my TTC, but just by happenstance I was travelling around and decided to visit the spots I was considering for a training. I loved Rishikesh! It's old, spritual, raw and has peaceful energy.
As we all know, there are a million and one places to become a yoga instructor but to do a Yoga Teacher Training in Rishikesh is a major life experience! Yet, even in Rishikesh, yoga trainings abound so it's helpful to know which ones best suit your needs. It's sad to say that I ran into a good number of fly-by-night or scammy yoga schools in India so it's good to use a critical eye when adding a contender school to your short list.
On this post I've assembled what we feel is a nice cross-section of Yoga Alliance certified teacher training courses. Pick the type that best suits your needs. I think these are all trusted schools.
Before you get to my list of yoga teacher trainings in Rishikesh I thought I'd tell you about a few things to expect. Firstly: Yes, you'll be training in India and you may even be training in an ashram but you most likely won't have the comforts of home. Let me explain. Accommodations in YTT schools and retreat centres in India are bare! Don't expect luxury, if you do you'll be disappointed. Your room will almost certainly consist of a very simple--maybe uncomfortable--single bed on a wood or metal frame. You'll be sharing your room with at least one other student (unless you want to pony up more cash for your own room). Rishikesh can be miserably hot or freezing cold so you can expect to have to deal with the weather. Say bye bye to kebabs and burgers, you'll be eating a vegeterian diet for a month or so...which may be difficult for meat eaters but in the end will be really good for you. The month of your training will be dry--no booze in the training centre will be allowed.
Now that I've turned you off from wanting to take your yoga teacher training in Rishikesh let me tell you that: YOU'LL NEVER HAVE A MORE AMAZING EXPERIENCE! I decided to to my teacher training far from home because of the cultural benefits and because I wanted to make life-long friends from around the world and I thought London was the right place for that and Rishikesh was a close second on my list.
Yoga Courses in Rishikesh: The Research
I'd been practicing yoga for 2 years when, at a power yoga class I was suddenly hit with the idea that I'd like to become a yoga teacher. I didn't have the intention to teach professionally, I really just wanted to deepen my practice and take part in a transformative experience with other people who also were seeking the same.
My search first started on Google. I typed in 'yoga teacher training', I was overwhelmed by choices but three locations really stuck out at me: Rishikesh, Goa and London--why London, no idea but it was on the list of schools I saw on my Google search. I must have visited a hundred websites (hence the great list of schools above!) and contacted over a dozen, I looked at locations, teacher bios, curriculums, and payment prices. I wasn't afraid to spend a good amount on a good experience but terrified at the idea of spending $1000 or $3000 on a bad one!
Yoga Teacher Training in Rishikesh: What You Need to Know
1. Your Daily Schedule Will be Hectic, You'll Get Tired, But it's Soooo Worth it!
When you decide to do a 200-hour course you're commiting to some pretty intensive learning! This yoga stuff isn't all the easy. Yoga philosophy really challenged me, the anatomy isn't so easy (you need to learn the names of loads of muscles and bones) and don't get me started on the Sanskrit names! Ugh, that was hard. But you'll be so pleased with yourself when you've graduated--and you will! Here's what my daily schedule looked like:
6:00 AM - 7:30 AM, Yoga
7:45 AM - 8:45 AM, Pranayama
9:00 AM - 10:00 AM, Breakfast
10:30 AM - 11:30 AM, Yoga Philosophy
11:30 AM - 12:00 PM, Break
12:00 PM - 1:00 PM, Teaching methodology
1:00 PM - 1:45 PM, Lunch
3:00 PM - 4:00 PM, Yoga Anatomy/Alignment Class
4:00 PM - 4:15 PM, Tea Break
4:15 PM - 5:45 PM, Yoga
6:00 PM - 7:00 PM, Meditation/Yoga Nidra
This was my course schedule six days per week for 4 weeks. We got one day off. It's clear a yoga teacher training intensive is, damn intensive! After the first week I realised that I'd be wise to do as much studying and homework after dinner so I could enjoy most of my single day off per week. The yoga philosophy was hardest for me, others on my course found difficulty in different subjects. This type of struggling with subject matter is normal, it happens so not to worry. Your course leaders are there to help you through.
2. You'll Be Vegetarian for a Month
India is a vegeterian culture and while attending your course, if you're not already, you'll be vegeterian (and alcohol free). If you're not vegeterian this may come with some difficulties such as reduced energy (not so great beause you'll need all you can get) stomach issues and the like. For you meat eaters I'd recommend reducing or even eliminating your meat intake a couple of weeks prior to your course start date. This'll make it easier for you to focus on learning and course work rather than fealing debilitated due to the severe changed in food intake.
Your meals will very likely all follow Ayurvedic principles and include rice, beans, salads, lentils, soups and the like. Again, if these aren't food items you generally eat in your daily life, begin doing so a few weeks prior to your the course.
3. Your Accommodation Will Be Basic
Don't expect high-end accommodations while on your yoga teacher training in Rishikesh, in fact expect pretty basic and relish in the simplicity of it. Yoga teacher training is about letting go and learning, letting go of old ways and adopting--at least experiencing--new ones. In some ways, letting go of complex needs will allow you to let go of other feelings that might be in the way of the mental end emotional clarity you'll want for a yoga YTTC. Let go. Be comfortable with simple. Leave the monkey mind behind. Embrace this new experience.
4. Course Fees
You know that old saying: you get what you pay for. That's especially true when it comes to education. It's quite expensive to run a yoga teacher training program--when done with quality in mind. Firstly well educated, experienced yoga teacher trainers command a pretty penny. By "yoga teacher trainers" I'm not referring to a yoga teacher leading a public yoga class but rather someone who knows how to teach students to become qualified yoga teachers. Generally, a good yoga school will have specialized teachers for each subject so an Asana teacher, a Pranayama teacher, a Yoga Philosophy teacher, and so on. Beware of school which offer yoga teacher training with one, two or three teachers. I can go on here but in the end, expect to pay US $1,900 and over for a good yoga teacher training in Rishikesh.
5. Look For RYS Yoga Alliance
What does RYS mean? RYS is a distinction given to a Registered Yoga School who offer yoga teacher trainings that meet Yoga Alliance Standards. A RYS must submit its training's syllabus to Yoga Alliance, be verified by their credentialing team and be current with annual fees. When researching and selecting a yoga teacher training school in Rishikesh be certain it is registered as a RYS with Yoga Alliance and ensure its teaching team are registered yoga trainers.
6. Check For Reviews
When you find the yoga school you like it's time to do check for reviews from students who've been there. Yoga Alliance has
this handle way
of letting you look up yoga teacher training Rishikesh schools (and any other location) to check reviews from other students who've been there.
7. Choose Your Rishikesh Yoga Course!
Ok, now that you've done your yoga teacher training due diligence--the course fees work for you: check. You've verified the school is Yoga Alliance RYS designated: check. You've read reviews on Yoga Allance: check. Great! Now you'll need to apply and be accepted onto the course, and if accepted you'll be asked to pay a non-refundable deposit (this is perfectly normal, almost all TTC schools require this, with good reason), and--the fun part--you'll need to start planning your travel to Rishikesh!
8. Best Time to Visit Rishikesh
This is mostly a mild to hot spot in India but generally speaking May and June is quite hot in Rishikesh with temperatures reaching 35°C/95°F. The best time to visit is from late October or early November to January and March - April to first week of May. If you don't mind the heat June, July, August and September are quite hot and mostly muggy and rainy.
9. Yes, it's Safe to Travel to Rishikesh
Being a revered pilgrimage destination, Rishikesh is mostly safe to travel but like any major destination one must keep vigilance as foreigners--in any city--can be easy targets for scams. Mostly however, the local people of Rishikesh are humble and appreciate the contributions that tourists, local and international, offer to their holy city.
10. How to Apply for a Visa to India
Unless you're a passport holder of a few select countries which includes China, you'll need to apply for a Vist to enter India. This includes those with US, UK or EU passports but luckly the process is pretty simple and can be done online through the e-visa application website. There's a lot of information to provide, a small fee to pay and, if your application is successful (which it should be in most cases) you'll get your Indian visa by email within 48 hours.
Ashtanga Yoga Teacher Training in Rishikesh
Rishikul Yogshala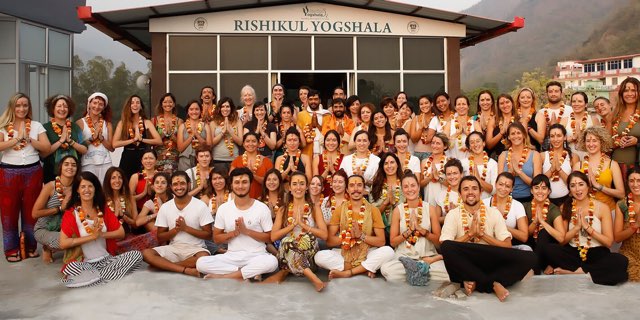 In Rishikesh, hidden away in the hills is this yoga shala and yoga teacher training school in India. Rishikul Yogshala must be doing something right as they several locations in India, in addition to trainings in Nepal, Iran, Mozambique, Vietnam and Thailand. Phew! They are on fire! Rishikul focuses mainly on yoga teacher training courses. There are 7-day and 15-day retreats available as well. The accommodation is much more basic than some others on this list, but again, within the context of everything, everything is adequate and mosquito netting is provided.
One word of caution, Rishikul promotes itself as a centre to learn and train as an Ashtanga Yoga Teacher. It is well known within the Ashtanga community that only by attending classes and training with Sharath Jois, in Mysore, India, can someone become "authorized" to teach Ashtanga Yoga. There's quite a lot to say about this, but it is also worth mentioning that several of the images featured on the website are poses that are not taught in the Ashtanga yoga sequences. They offer very little "Ashtanga yoga" classes per se, rather they begin the day with Hatha yoga classes. A small distinction for some, but rather important if you are solely interested in Ashtanga Yoga.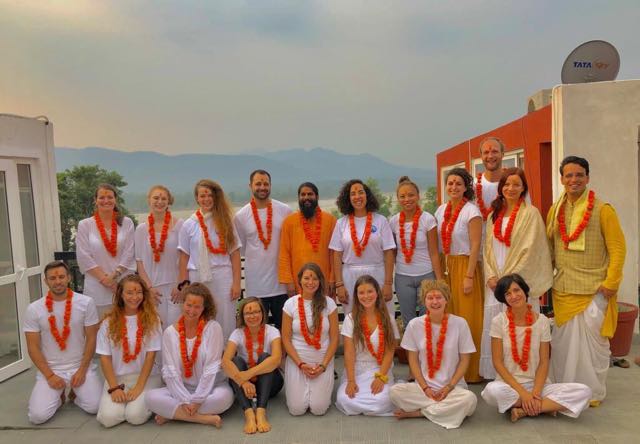 Gyan Yog Breath is a wonderful resource as a yoga teacher training school in Rishikesh. Offering 100-hour, 200-hour, 300-hour and 500-hour advanced yoga teacher trainings, you'll find nearly every course of study you could possibly desire here. The training includes lessons in both Hatha and Ashtanga yoga, Ayurveda, Kriyas, Meditation, Yoga Philosophy, Mantra chants, as well as Pranayama techniques.
World Peace Yoga School is a Yoga Alliance certified yoga teacher training school in Rishikesh offering 100, 200, 300 and 500-hours of yoga teacher training in the Hatha and Ashtanga styles. Authentic training can be had in a non-traditional venue--sorry no historic ashram here, but the school is located within the city limits of Rishikesh making historic and sacred sites easy to get to.
Shakti Yoga Peeth
Shakti Yoga Peeth offers 100, 200 and 300-hour yoga teacher training in Rishikesh in the Ashtanga and Hatha styles. Per course capacity is limited to 20 students assuring a higher degree of personal attention. Fully certified by Yoga Allance, Shakti Yoga Peeth is a good choice for a YTT in Rishikesh, but do consider that venue and accommodation are barebones--your personal room, while clean, will not offer air conditioner which is not an issue outside of extremely hot summer months. Expect vegeterian meals prepared in the Ayurvedic tradition, no animal meat and alcohol are allowed within the facility.
Yoga India Foundation
Yoga India Foundation offers Hatha and Ashtanga style 200, 300 and 500-hour residential yoga teacher trainings in Rishikesh. The school's location isn't in the city centre but you're a hop and a skip from the Ganges river--expect to do some of your course practice on the river banks--and not too far of a walk from temples, shops and attractions. The most popular course format is the 200-hour and Yoga India Foundation breaks down that course offering as follows:
Techniques, Training and Practice (120 hours): Communication, demonstration, observation, assisting and adjustments.
Anatomy and Physiology (20 hours): Breathing, Gunas, vikaras, Kundalini, chakras, nadis.
Yoga Philosophy, Lifestyle and Ethics for Yoga Teachers (30 hours): Yoga Sutras, Hatha Yoga Pradipika, Bhagavad Gita, Yogopanishada and principles of ahimsa.
Practicum (10 hours): A Minimum of 5 hours of actual practice teaching as the lead instructor, observing, assisting.
Yoga + Meditation for Health and Healing
Bringing Yoga + Meditation into Daily Life
Vinyasa Flow Yoga Teacher Training
The Vinyasa Yoga School offers instruction in both Vinyasa Flow yoga and Hatha yoga. Their yoga teacher training in Rishikesh is divided into three levels: 200 hours, 300 hours, and 500 hours. The 500-hour course combines the 200 and the 300-hour course lessons into one highly immersive 50-day experience to develop the yoga soul.
The curriculum for all three teacher training levels is both unique and highly comprehensive; Pranayama breathing exercises and meditation fundamentals are practiced daily in tandem with yoga in order to provide a better-rounded and more fulfilling educational experience. Students take turns leading sessions, expanding their teaching abilities as well as their horizons. Yoga therapy also plays an important role in the coursework. Daily sessions instruct students in yogic therapy, accupressure, and Marma therapy. Daily lectures help students learn how to apply yogic teachings to anatomy and physiology.
Everything is included in the tuition fee, with no hidden costs. It covers three homemade vegetarian meals a day, a private room and bathroom, and weekly cultural excursions every Sunday. The school's approach to more harmonious living doesn't stop at its gates. A portion of every tuition fee is donated to the Vinyasa Yoga Foundation, the school's non-profit organization devoted to humanitarian efforts in and around Rishikesh.
Vinyasa Yoga Academy specializes in a variety of teacher training courses. In addition to the standard 200, 300, and 500-hour courses, the Academy also offers 100-hour courses to better suit those just beginning their journey into the yogic lifestyle. While the teacher training certifications focus on Hatha, Ashtanga, and Vinyasa Flow, the Academy sets itself apart by going deeper. Students can also train in certifications for prenatal yoga, yoga for children, yin yoga, and more. Smaller class sizes allow for an intimate setting and better learning experiences. Each level includes instruction in yoga nidra psychic sleep, meditation, yoga cleansing, and yoga philosophy.
Each week includes one half day for reflection and relaxation. The day will vary by course, but Sunday is always a day of rest. Nature & cultural excursions are included in the tuition fee.
Both shared and private rooms are available, as is Wi-Fi internet access, laundry services, and hot water. Air conditioning is available for a fee. The meals served daily are vegetarian, but accommodations can be made with prior notice to fit vegan diets as well as any health restrictions such as diabetes or gluten intolerance. Purified drinking water is available free of charge 24 hours a day.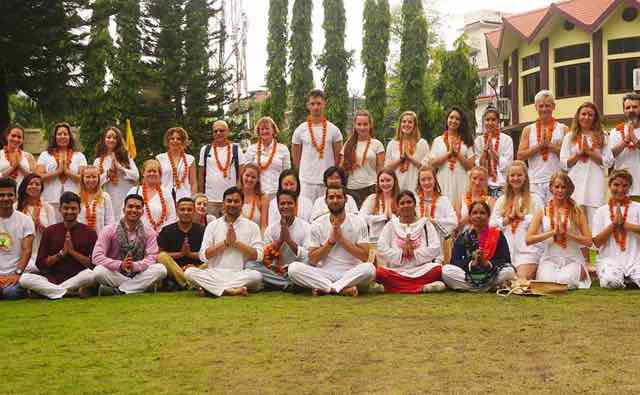 The Rishikesh Yoga Club takes pride in being a multilevel and multifaceted facility designed for all levels of practitioners, from the beginners to the most advanced. They offer teacher training certification courses (TTC) at 200 hours, 300 hours, and 500 hours that practice Ashtanga and Hatha yoga, along with TTC courses in Yin yoga and Kundalini yoga. The daily curriculum is rounded out by guided meditation and instruction in yoga anatomy and philosophy. The Club is certified by the Himalaya Yoga Club and Yoga Alliance USA.
Each day's various training sessions last eight hours, with students encouraged to use their downtime for exploring all Rishikesh has to offer. Guided weekend local sightseeing excursions are included in the tuition fee, as is complementary pickup from Dehradun Airport, one Ayurveda spa therapy treatment, yoga books, and more.
The About Us page doesn't mention many specifics about food or accommodations. The food is described as vegetarian/vegan with "reasonable options" and the rooms are "comfortable and pleasant," although the FAQ does say the accommodations are shared. Wi-Fi access is available.
By approaching yoga as a complete lifestyle and not as a practice separate from lifestyle, the Rishikesh Yoga Club helps students lay the foundation to fulfillment.
Shoolin Yoga School offers a variety of Rishikesh courses and retreats for yoga practitioners of all skill levels. Teacher training certification is offered in 200-hour course options teaching an overview of yoga disciplines including Hatha, Ashtanga, Vinyasa, Raja, Bhakti, Karma, and more. Yoga teacher training certification is also offered in a 200-hour Ariel Yoga course. There is also a 100-hour course for those seeking to strengthen their practice and yogic foundations without the rigorous time commitment.
Every weekend, students venture out into Rishikesh on organized trips like rafting on the holy Ganges River and trekking to the Himalayan caves. These trips build mindfulness and connect students to the local nature.
The courses at Shoolin delve deep into a holistic approach to yoga, with training in Ayurveda and yogic ethics that can be applied to all areas of life. They also go beyond yoga with a 200-hour Teacher training certification in meditation. Shoolin Yoga School is certified by Yoga Alliance USA.
The tuition covers all sattvic meals (three vegetarian yogic meals daily, with filtered drinking water), course material, accommodation, laundry, and pickup from Dehradun airport. Single and shared rooms are available, with attached Western-style bathrooms. Hot water for showers is available during the winter months only. The entire campus is connected to Wi-Fi.
Rishikesh Yog Sansthan
If you are looking to go dive deeper in yoga education and personal practice, Rishikesh Yog Sansthan might be the place for you. Accredited by Yoga Alliance, Rishikesh Yog Sansthan offers 100, 200, 300 and 500-hour certified yoga teacher training courses. These courses are not only meant for aspiring teachers, but are designed for people who wish to strengthen their own practice and get educated about the history and philosophy of yoga. So, get set to embark on a wonderful journey towards self-realization through yoga. Throughout the course, each student will be personally administered by yoga experts who have mastered the concepts of Vedanta, Asana sequencing, Anatomy, Asana, Physiology, and Psychology.
At the end of the course, you will have complete knowledge of correct adjustment, alignment and correction techniques of each asana. Upon completion, you will be a certified, successful and highly confident yoga teacher. All the accommodation and food facilities provided by Rishikesh Yog Sansthan are at par excellence. You will have complete freedom of choosing either single rooms or double-sharing rooms, as per your needs. All the rooms have attached western bathrooms. The course fee is also inclusive of breakfast, lunch and dinner. Home-grown tea and RO drinking water are complimentary. Rishikesh is also a paradise for adventure lovers looking to indulge in various activities like river rafting, bungee jumping, camping, rock climbing and much more.
Aadi Yoga School
Get ready to become a certified yoga teacher by joining Aadi Yoga School, Rishikesh, India. The school offers vigorous 100 and 200-hour Hatha, Ashtanga Yoga teacher training programs. The courses are thoroughly designed to help you gain a profound understanding of all the major aspects of yoga. The school also conducts Iyengar yoga training workshops, intensive meditation & breathing sessions, and yoga philosophy classes. Basic concepts of anatomy and physiology are also part of the curriculum. As a student at Aadi Yoga School, you will not only learn the art of teaching yoga asana, but you will have enough opportunities to deepen your own practice. At the end of the course, you will definitely emerge with a broader understanding of Pranayama, Meditation, Kriyas, Hatha and Ashtanga Yoga. Upon completion, you will be confident enough to set up your yoga studio and start a promising career as a certified yoga teacher. During the course, you will also have plenty of opportunities to communicate with like-minded people from all over the world. To make your stay comfortable and contented, Aadi Yoga School offers high-end accommodations with attached bathroom and hot water facility. The school serves nutritious vegetarian meals and herbal tea to keep you fit and healthy during the course. Other facilities provided include free shuttle service to and fro from the airport.
This 200-hour teacher training course focuses on the study of both Hatha yoga and Ashtanga yoga, deeply rooted in the yoga sutras of Patanjali. Not only will students improve their yogic skills and strengthen their foundations, they'll also take steps towards a life of inner peace. Coursework includes alignment and adjustment workshops to increase students' flexibility, bandhas, mudras, and pranayama breathing exercises.
Tapovan Yoga Peeth is certified by Yoga Alliance USA and follows their curriculum with emphasis on strength, purity, and cleansing. Mantra chanting and meditation techniques further each student's knowledge while inspiring long-lasting lifestyle changes for students to take with them back home. 300 and 500-hour teacher training course are also available.
The accommodations are simple yet comfortable, designed to encourage learning and tranquility in a safe peaceful environment. Single and double rooms are available. Every room has an attached bathroom with hot and cold water 24 hours a day. The facility's water is safe to drink. Three vegetarian sattvic meals made from locally-sourced ingredients are included in the tuition fee, with vegan and gluten free options available with prior notice.
The Tapovan Yoga Peeth campus has free Wi-Fi access. Transportation to and from Dehradun airport is available upon request.
Samatva Yogalaya offers intensive teacher training certification courses that are based on traditional Hatha yoga as well as Hatha yoga in the Iyengar and Ashtanga styles. Under the guidance of teachers Krishna Sikhwal and Sangita Sikhwal, theory and practice blend seamlessly into a harmonious integrated learning environment. The 200-hour course is suitable for beginners and intermediate students. 300 and 500-hour teacher training certifications are also available for those seeking a longer learning experience.
Since yoga is as much a lifestyle as it is a practice, Samatva Yogalaya's curriculum includes courses on the philosophies that govern successful yoga teaching. Ethics, lifestyle practices, and more are all covered. The teachings emphasize that yoga is not an exercise, rather it's a pursuit of learning and balance that never ends. All five parts of the body - the physical, the vital, the mental, the conscious, and the spiritual - are nurtured throughout the training process.
All the accommodations are private rooms with attached bathrooms, great for those in need of some alone time to reflect at the day's end. Tuition also includes three meals a day and Sunday excursions. The ashram-style facility is within easy distance of the city's center.
Samatva Yogalaya school is certified by Yoga Alliance USA.
The 200-hour teacher training course at Siddhi Yoga teaches Hatha and Ashtanga yoga over 25 days in a serene environment designed for practitioners at all skill levels, even those who aren't seeking to become teachers in their own right. With a wide-ranging curriculum including yoga anatomy and physiology, postural adjustment for safer and more intuitive practice, emotional rebalancing techniques, and naturopathy. The training diversity and rich curriculum at Siddhi Yoga will help students move forward in their own yoga journeys while also shoring up the foundations of their yogic lifestyle. Students will also practice Pranayama breathing and meditation.
The tuition fee covers 26 nights of room and board along with three vegetarian meals a day, a yoga bag, airport pickup, and both hot and cold drinking water. Off-site excursions and activities are not included; transportation to the airport after the course's conclusion is the student's responsibility. Four levels of accommodation are available: shared room without air conditioning, private room without air conditioning, shared room with air conditioning and private room with air conditioning. The facility is connected to free Wi-Fi.
Leave behind the world's encroaching commercialism and sorrow and look inward for happiness and serenity through study at Siddhi Yoga.
As its name suggests, the Multi Style Yoga School prides itself on offering students a wide variety of yoga styles throughout their numerous Rishikesh teacher training courses. Among the styles covered are Hatha, Ashtanga, Vinyasa Flow, Kundalini, and Sivananda yoga along with asanas, pranayama, chanting, and mantra.
The variety doesn't stop with yoga styles: the school offers more teacher training course options than most, with 50, 100, 200, 300, and 500-hour increments available. The 200, 300, and 500-hour courses end with Yoga Alliance USA certification.
The Multi Style Yoga School integrates peer teaching and a practicum period to ensure the best learning experience for teachers at all stages of their journey. Meditation, sutras, ethical studies, yogic anatomy, philosophy, and physiology all play important roles. Students will practice setting up their classrooms, creating a sacred learning space, organizing lesson plans, sequencing principles, and more.
The yoga teacher training fee includes single or shared lodging and three vegetarian sattvic meals a day (suitable for vegans - no egg and no dairy) with tea and snacks. Each room has Wi-Fi internet access, private attached bathroom and toilet, and 24-hour hot water. Airport transportation from the regional Dehradun airport or the international airport in New Delhi can be arranged through the school.
Rishi Yog Peeth sets itself apart by focusing on spreading the yogic lifestyle globally through the students that come to train at their facility. The school practices Hatha and Ashtanga yoga with mantra chanting, anatomy, physiology, and proper physical alignment. Pranayama breathing techniques and Shat Kriyas cleansing are also taught.
In addition to yoga, students will practice centering themselves with a variety of meditation styles. Empower health, wellness, and harmony with Chakra meditation, Kundalini meditation, and more. Teacher training courses are offered in 50,100, and 200-hour increments. The 200-hour course is certified by Yoga Alliance USA.
All accommodations are shared. Each room has free Wi-Fi and an attached bathroom. Room & board is included in the course fee with three vegetarian Sattvic meals per day and herbal tea every morning and evening. The fee also includes a Shatkarma Kit, course materials (two yoga books, notebooks, and pen), and a minimum of one local excursion. Transportation to and from airports is not provided. The courses are all taught in English.
Rishi Yog Peeth believes that harmony and happiness are obtainable through the yogic lifestyle. Health, clarity, self-awareness, and the joys of teaching these lessons to others form the heart of their mission.
Located right on the banks of the holy Ganges (Ganga) River, the Pratham Yoga School is on the outskirts of Rishikesh, about seven kilometers from the city center. Each course works from a foundation of Hatha and Vinyasa Flow yoga along with Ayurveda teachings. Yoga Asana, Pranayama breathing techniques, Kriya cleansing, philosophy, and meditation further strengthen the curriculum.
Accommodations are shared, with private rooms available for an extra charge. Each room has an attached private bathroom and hot shower. Air conditioning is available for an extra charge, as is a heater during winter months. Three vegetarian Sattvic meals are served daily with a vegan option available with prior notice. Tasty beverages like clean water, herbal tea, fresh smoothies and juice, hot turmeric milk are all served. Followers of a fruitarian or raw vegan diet are advised to visit in March, April, September, and October. Weekend trips are covered by tuition costs.
The tranquil setting amidst the beautiful Indian landscape is perfect for yoga study and getting away from busy city life. There's even an outdoor platform for practicing in tune with nature. The center offers 100, 200, and 300-hour teacher training courses, with the 200 and 300-hour levels certified by the Yoga Alliance USA.
Rishikesh Yog Mandir offers 200, 300, and 500-hour teacher training courses in yoga as well as training courses in meditation and Ayurveda. Each course is certified by the Yoga Alliance USA. The well-rounded curriculum covers Vedic Ashtanga yoga, Hatha yoga, Iyengar yoga, Kundalini yoga, and Raja yoga, along with Pranayama breathing techniques and meditation. In keeping with the fundamental belief that yoga should be accessible to all people seeking it, the teachers create specially modified asanas that are crafted for different body types.
The school prides itself on promoting a Vedic standard of practice and lifestyle; to this end their extensive library of books, CD's, DVD's, and more is free and available to all students. Learning and the pursuit of yogic knowledge are lifelong pursuits; the courses at Rishikesh Yog Mandir are designed to meet all skill levels from beginner to expert.
Accommodations are offered in dormitory settings, shared double rooms, and private rooms. The dormitories use shared washrooms. Hot and cold water is available for bathing. Air conditioned lodging is available for an additional charge. Wi-Fi internet access is free. Meals appear to be included in the accommodation package. Travel arrangements to and from airports are the student's responsibility.
Aadi Yoga offers two levels of standard teacher training courses for yoga practitioners, the 100-hour course and the more intensive 200-hour course. The 100-hour option is designed as a building block to the 200 level; it splits the 200 hours into two semesters to allow for more schedule flexibility. The second 100 hours can be completed any time within a 36-month period for those who desire to finish the 200 hours. Teacher training courses in aerial yoga are also offered.
Starting with the fundamentals of Hatha and Ashtanga yoga, each student moves closer to fulfillment over the duration of their coursework. Each curriculum teaches Pranayama breathing, meditation, Kriya cleansing, alignment and adjustment workshops, and more to bring each individual to the next level of their yogic journey. The 200-hour teacher training course goes deeper, with lessons in Iyengar yoga. This style of practice is perfect for those with physical maladies like injuries or ill health.
The course fees are fairly comprehensive. They cover three vegetarian meals per day with herbal tea, lodging in shared or private rooms with private attached bathrooms and hot water, course materials, sightseeing excursions, and airport pickup and drop-off. Air-conditioned rooms are available for an extra fee.
With an emphasis on small class sizes (no more than 12 students at a time) and the intimacy of more personalized instruction, Rishikesh Yog Dham is an ideal hamlet for anyone seeking the finest yoga training in a more scaled down environment. The school offers 200, 300, and 500-hour teacher training courses; each adopts a multi-discipline curriculum with Hatha, Ashtanga, and Vinyasa yoga as well as mantra chanting, stress-relieving Yoga Nidra and Kundalini yoga. The longer courses imbibe the foundational knowledge with deeper understanding to improve the students' teaching skills and their individual well-being.
Since Rishikesh is a safe city where crime is a rarity, students of all genders can travel alone to Yog Dham and focus solely on the yogic lifestyle's inner tranquility. Both shared and private rooms are available, all with free Wi-Fi access and attached private bathrooms with hot water. The course fees also cover three Sattvic meals a day, filtered drinking water that's completely safe, morning detox drinks, a welcome package with stationary, Sunday excursions and experiences in Rishikesh and the surrounding area, and Shatkarma cleansing materials. Airport pickup and drop off can be arranged with prior notice.
Rishikesh Yog Dham is registered with Yoga Alliance USA.
Vendasha Yoga Academy is located in the peaceful Rishikesh hamlet of Tapovan. The school offers 50, 100, 200, 300, and 500-hour teacher training courses, with all levels at 200 hours and above offering Yoga Alliance USA certification. Hatha and Ashtanga yoga form the heart of the curriculum; the longer courses also feature Iyengar yoga. In addition, each student learns Yoga Nitra relaxation for better sleep, Pranayama breathing techniques, mantra chanting, the peace that comes with guided meditation, and more.
An institute of Vedic sciences, Vendasha Academy places a special emphasis on Ayurveda as both a practice and a way of life. Vedic physicians and an astrologer are all on staff, ready to impart their wisdom to students. Every course includes an aura checkup and Ayurvedic massage. Ayurveda practitioner courses are offered in 50, 100, 200, and 300-hour sessions.
The course fee includes lodging in a shared or private room with attached private bathroom. Each room has a fan; air-conditioned rooms are available for an extra fee. Wi-Fi is free. Course materials, a cleansing kit and a minimum of one Himalaya excursion (more in longer courses) are included. Family suites are available for those wishing to travel with a partner or friend.
Mimamsa Yogshala offers four course varieties specializing in yoga, meditation, Ayurvedic cooking, and Osho meditation, with teacher training courses offered in both yoga and meditation. Aspiring yoga teachers come from all across the globe to Lakshman Jhula in Rishikesh to train in 100 and 200-hour teacher training courses. The courses are certified by Yoga Alliance USA.
Classical Hatha and Ashtanga yoga form the backbone of the curriculum. Designed to innovate, stimulate, and engage while imparting yoga's ancient teachings, Mimamsa Yogshala uses music to bring a new dimension to their courses. The 100-hour course is a more condensed experience. Over 14 days, students practice Asanas, Kriyas, Pranayama breathing methods, meditation, mantra chanting, mudra gestures, bandha body positioning, and more. The 200-hour teacher training course picks up where the 100-hour leaves off. It's ideal for those who have already completed the 10 hours and are looking to deepen their understanding of what it means to live a truly yogic lifestyle. Explore theoretical aspects of yoga, as well as practicalities like business.
Each stay includes three vegetarian Sattvic meals per day. Shared and private rooms are available. Weekly excursions are included in the course fee, like rafting on the holy Ganges river and temple trekking.
The 200-hour teacher training course at Ojashvi Yoga Shala is dedicated entirely to the practice of Hatha yoga. The ancient Hatha tradition is rooted in the pursuit of happiness and harmony, the unity of the mental and physical for a more joyful life. With this in mind, class sizes are limited to 12 students to allow more personalized instruction. The course is accredited by Yoga Alliance USA and offers RYT 200 certification.
In addition to the Hatha methodology, students practice sun salutations, Pranayama breathing methods, yoga anatomy and physiology, guided meditation, mantra chanting, and yoga philosophy. The goal is not just to instruct aspiring yoga teachers, but to guide them down a lifelong path to inspire others. It's not solely about theory or practice, but rather the unity between them.
Ojashvi Yoga Shala is located on the banks of the holy Ganges River in Rishikesh. The tuition covers assistance with sightseeing and local tourism and seasonal extracurricular activities like river rafting and mountain trekking. The course fee includes private accommodation with attached bathrooms with hot and cold running water. Students will enjoy three healthy vegetarian meals per day. Airport transportation to and from the facility can be arranged for a fee.
Located on the southwestern coast in Goa, Upaya Yoga School is an idyllic seaside academy built for self-realization, tranquility, and study in a beautiful holistic environment. The school offers 50, 100, 200, 300, and 500-hour teacher training courses, with all levels at 200 hours and above offering Yoga Alliance USA certification. The multifaceted curriculum covers Hatha Yoga, Raja yoga, Mantra yoga and Ashtanga Vinyasa Flow. The courses and teachings are based on Bloom's Taxonomy.
The tuition fee includes lodging in dormitory, shared, or private rooms. Air conditioned rooms are available for an extra fee. Meals are served three times daily Monday through Friday with breakfast and lunch on Saturday, Thus students are responsible for Saturday dinners and all Sunday meals, easy to find at local restaurants. Free unlimited filtered hot and cold drinking water is available at all times. Wi-Fi access is free.
As a former Portuguese colony until the early 1960's, Goa has a unique place in Indian history. From the World Heritage Basilica of Bom Jesus and beautiful colonial architecture in the "Old Goa" quarter to the lively modern festivals, Goan culture is vibrant, welcoming, and unforgettable. Upaya Yoga School is situated near the clean and friendly Arambol Beach.
Brilliant opportunity for yoga beginners to learn and gain profound knowledge about Kundalini and Ashtanga Yoga. Located in the holy city of Rishikesh, Sri Yoga Ashram offers intensive 100-hour and 200-hour teacher training courses. The school is registered with Yoga Alliance USA and offers a valid certification on successful completion of all the courses. This certification will give you the eligibility and license to teach yoga in any part of the world.
Kundalini is a powerful yoga that focuses on the spiritual growth of a person. On the other hand, Ashtanga Yoga is a dynamic form of yoga that involves the deep study of eight limbs: Yama, Niyama, Asana, Pranayama, Pratyahara, Dharana, Dhyana and Samadhi. Based on yoga philosophy of Patanjali, Ashtanga Yoga is a journey towards total self-realization.
Through the guidance of an expert faculty, you will be able to learn and expand your knowledge of yoga. You don?t have to worry about accommodation and food, as the school provides furnished rooms with attached bathrooms, Wi-Fi connectivity and RO purified water. Food plays a crucial role in the right practice of yoga and that?s why the school provides vegetarian meals ? 3 times a day. Free shuttle service from Dehradun Airport is offered for all students. The course also includes 3 sightseeing on Sundays to Kunjapuri Temple, Vashistha Cave and the Ganga Aarti.
Maa Shakti Yog's multi-style teacher training courses are designed to provide a well-rounded and comprehensive knowledge base for yoga teachers and their future students. Hatha, Ashtanga, Iyengar, Yin, and Vinyasa yoga are all practiced, along with Pranayama breathing techniques, guided meditation, mantra chanting, yogic philosophy, and more. The school offers 100, 200, 300, and 500-hour teacher training courses, with all levels at 200 hours and above achieving Yoga Alliance USA certification at the completion of their training.
Understanding the body 's needs is central to Maa Shakti Yog's methodology. Each teacher training course includes lessons on both the theories and practices of yoga during a woman's moon cycle (or menstrual cycle), how to understand the changes and challenges she undergoes during this time, and how to adjust accordingly.
Starting at 200 hours, the course fee includes pickup from Dehradun Airport, three Sattvic vegetarian meals per day with free filtered water on demand, lodging in shared, private or premium rooms with two complementary nights and private attached bathrooms, free Wi-Fi, free laundry service, and a 24-hour housekeeping staff. An on-site spa and gym facility can be used for a fee. The fee also covers three local excursions, to Ganga Arti, Temple Darshan, and Ashram Tour.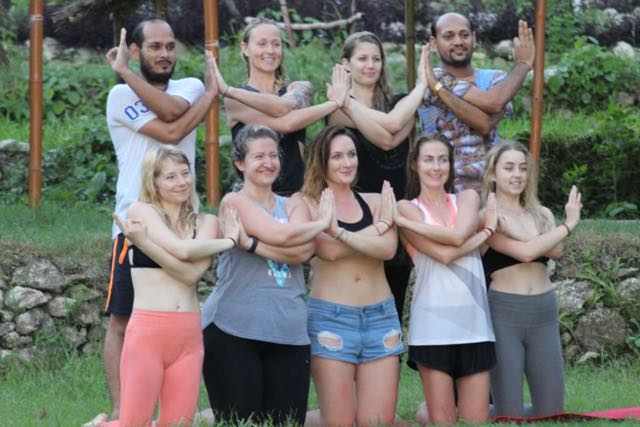 Rishikesh Vinyasa Yoga School in northern India offers 200-hour teacher training courses that focus on several different kinds of yoga practices including traditional Vinyasa alongside Ashtanga yoga and Vinyasa Flow.
Vinyasa Yogashala
The Vinyasa Yogashala is another yoga retreat and yoga teacher training centre in Rishikesh, India. Certified as a yoga school by Yoga Alliance, USA, this centre trains yogis in Hatha Yoga and Vinyasa Flow Yoga, one of the most popular styles of yoga. There is a 100-hour, 200-hour and 300-hour programmes, and they clearly state their curriculum online, a helpful tool for determining their standards of training. You'll learn Vinyasa and Hatha yoga, Pranayama, anatomy, philosophy, yoga nidra, mantras, mudras and bandhas as well as shatkriyas, or cleansing exercises.
While the accommodations may not be something you'll write home about, they are sufficient and private. Each student is afforded their own private room and cleanliness is not lacking. Additionally, vegetarian meals are on offer and of course you're free to wander into Rishikesh to sample more delicious Indian food.
Arohan Yoga School
Arohan Yoga School conducts a comprehensive and intensive 200-hour yoga teacher training program covering asana, pranayama, mudra, bandha, cleansing, and meditation techniques. Practical work will be in the hatha, ashtanga, iyengar and aerial styles of yoga. Theory includes yoga anatomy & physiology, philosophy, and vedanta. On off days the school offers free excursions and Ayurvedic cooking classes. This 200-hour TT is Yoga Alliance certified.
Anand Prakash Yoga Ashram, a yoga teacher training centre located in Tapovan, Rishikesh alongside the Ganga river is a features two yoga halls, a rooftop, and an Ashram. Most yoga takes please in the Nataraj Yoga located on the third level and large enough to accommodate up to 60 students quite comfortably. All yoga halls are supplied with cushions, bolsters, blocks and yoga mats.
Yoga Essence Rishikesh
Yoga Essence Rishikesh is a registered yoga school of Yoga Alliance, USA and Government of India. This 200-hour yoga teacher training is in the Hatha and Ashtanga styles--that is you're learn Asana postures, adjustments and sequences in both styles...quite unique. You'll also receive a 250-hour yoga nidra certificate by completing the 200-hours. Expect yoga philosophy, pranayama, mudras, bandhas, chanting and anatomy lectures.
Yoga Yug International School
Yoga Yug International School is a registered Yoga school recognized by Yoga Alliance and offers a 200-Hours Residential Yoga Teacher Training certification program in Rishikesh. The course curriculum includes sequencing in mulitple yoga styles, anatomy, meditation, Pranayama, and yoga philosophy. All texts are also included in the program price.
Hatha Yoga Teacher Training
Hariom Yogashala
Hariom Yogashala is registered with Yoga Alliance and offers 100 and 200-hour yoga teacher training courses in Rishikesh. The syllabus for 200 Hour Yoga Teacher Training Course is immersive and intensive for students who want to dive deeper into Hatha yoga, Philosophy and the Ancient Way of Yoga. This course is intensive, you must complete it within 28 days and it's registered with Yoga Alliance.