Yoga retreats Rishikesh (and yoga teacher trainings) abound so it's helpful to know which ones best suit your needs. The city of Rishikesh, India in the Uttarakhand province, is known as the 'City of the Divine' and is the spiritual center of the country where sages, rishis, saints and pilgrims have gathered in for hundreds of years. It's a bustling city with markets, ethnic art, handicrafts, ashrams, holy shrines and of course, yogis from around the world.
Best Month to Visit Rishikesh
This is mostly a mild to hot spot in India but generally speaking May and June is quite hot in Rishikesh with temperatures reaching 35°C/95°F. The best time to visit is from late October or early November to January and March - April to first week of May. If you don't mind the heat June, July, August and September are quite hot and mostly muggy and rainy.
Yoga Retreats for Beginners
We really believe that the more yogis in the world the better off it'll be! But strengthening one's body--especially wrists--for yoga takes time, effort and commitment. Take your time if you're a beginner and perhaps consider sticking to 3, 4, 5 day retreats. It's safe and they're more affordable. Retreats are availble for longer periods--increasingly popular are month long yoga retreats but these are normally reserved for more advanced practicioners. You'll get there...with time!
Ashtanga Yoga Training in Rishikesh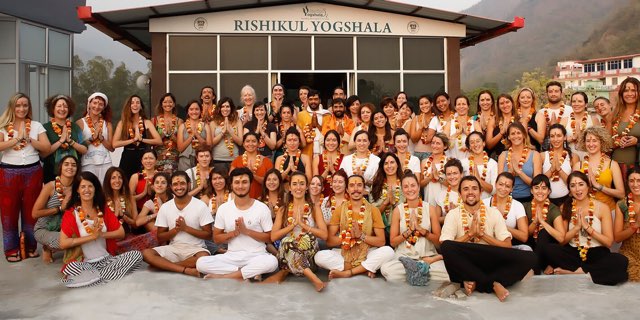 In Rishikesh, hidden away in the hills is this yoga shala, retreat centre, and yoga teacher training school in India. Rishikul Yogshala must be doing something right as they several locations in India, in addition to trainings in Nepal, Iran, Mozambique, Vietnam and Thailand. Phew! They are on fire! Rishikul focuses mainly on yoga teacher training courses. There are 7-day and 15-day retreats available as well. The accommodation is much more basic than some others on this list, but again, within the context of everything, everything is adequate and mosquito netting is provided.
One word of caution, Rishikul promotes itself as a centre to learn and train as an Ashtanga Yoga Teacher. It is well known within the Ashtanga community that only by attending classes and training with Sharath Jois, in Mysore, India, can someone become "authorized" to teach Ashtanga Yoga. There's quite a lot to say about this, but it is also worth mentioning that several of the images featured on the website are poses that are not taught in the Ashtanga yoga sequences. They offer very little "Ashtanga yoga" classes per se, rather they begin the day with Hatha yoga classes. A small distinction for some, but rather important if you are solely interested in Ashtanga Yoga.
Gyan Yoga Breath is a wonderful resource as both a yoga retreat and a yoga teacher training in Rishikesh school. Offering 100-hour, 200-hour, 300-hour and 500-hour teacher trainings, you'll find nearly every course of study you could possibly desire here. The training includes lessons in both Hatha and Ashtanga yoga, Ayurveda, Kriyas, Meditation, Yoga Philosophy, Mantra chants, as well as Pranayama techniques.
The Gyan Yoga Breath also offers two different yoga retreats. One is a 7-day yoga retreat geared towards beginning practitioners. With both sunrise and sunset yoga classes, along with meditation classes, you'll have an opportunity to expand your yoga practice, coupled with enough time to enjoy the gorgeous surrounding valley. Additionally, they have an on-site Ayurvedic Doctor who is available for free one-on-one consultations and pulse diagnosis. Another feature is that each retreat is limited to 21 students maximum. If time is of the essence, or you'd rather start small, choose the 3-day yoga retreat, offering mostly the same programme as the 7-day retreat. The lodging is basic and clean, with very minimal and simple furniture on top of a hill offering gorgeous views over the valley.
Iyengar Yoga Retreats and Training in Rishikesh
Iyengar Yoga is known the world around, and for good reason. B.K.S. Iyengar was one of the first people to study with Krishnamacharya, the man who also taught Sri K. Pattabhi Jois, the founder of Ashtanga Yoga. B.K.S. Iyengar took the teachings in a slightly different direction focusing more on alignment and structure. Anyone who has previously studied Iyengar Yoga will attest to the quality of this style of yoga. This centre is called The Patanjala Yoga Kendra, located in Rishikesh, and is recognised by the official Iyengar yoga institute in Pune. Authenticity is without question here!
General yoga classes, intensive yoga courses as well as beginner yoga classes are all available here. If you're interested in philosophy, you can also book a one-week course on the Philosophy of Yoga which will study Patanjali's Yoga Sutras. While this centre may not truly qualify as a yoga retreat, due to its rigorous standards, limitations on dress and posted rules, what you will discover is an institution that is qualified in teaching the lineage of Iyengar yoga and a practice that will serve you throughout your life.
Vinyasa Flow Yoga Retreats and Trainings
The Vinyasa Yogashala is another yoga retreat and yoga teacher training centre in Rishikesh, India. Certified as a yoga school by Yoga Alliance, USA, this centre trains yogis in Hatha Yoga and Vinyasa Flow Yoga, one of the most popular styles of yoga. There is a 100-hour, 200-hour and 300-hour programmes, and they clearly state their curriculum online, a helpful tool for determining their standards of training. You'll learn Vinyasa and Hatha yoga, Pranayama, anatomy, philosophy, yoga nidra, mantras, mudras and bandhas as well as shatkriyas, or cleansing exercises.
One week yoga retreats are offered throughout the year. Featuring meditation along with morning yoga and pranayama practices, these retreats are sure to leave you relaxed and rejuvenated, ready to face modern life again. Ayurvedic massages are also available as are excursions to nearby caves, temples and a boat ride on the Ganges. While the accommodations may not be something you'll write home about, they are sufficient and private. Each student is afforded their own private room and cleanliness is not lacking. Additionally, vegetarian meals are on offer and of course you're free to wander into Rishikesh to sample more delicious Indian food.
Pranayama & Reiki Retreats in Rishikesh
Parmath Niketan
Parmarth Niketan is located in Swargashram, on the holy banks of Mother Ganga. It is the largest ashram in Rishikesh home to housands of pilgrims from all corners of the world. With over 1,000 rooms, the facilities provide modern amenities weaved in with traditional and spiritual simplicity. Daily activities at Parmarth Niketan include morning universal prayers, daily yoga and meditation classes, daily satsang and lecture programs, kirtan, the world-renowned Ganga Aarti at sunset, as well as Nature Cure and Ayurvedic treatment.
Intensive yoga courses and others on meditation, Reiki, pranayama, acupressure, are available. Here's an extensive list of course offerings at Parmarth Niketan:
Be the Peace in the Chaos
Beginner Intensive Yoga
Bhakti Yoga
Creating Balance in Daily Life through Yoga
Embrace Your Spirit
Eternal Sound Healing with Gongs
Foundation Yoga
Intensive Yoga
International Yoga Day
Kriya Yoga & Meditation
Kriya Yoga 2.0
Kundalini Yoga for Mental Wellness
Naada Yoga with Vedic Chanting
Restorative Yin Yoga
Special Navratri Spiritual Retreat
Special New Year Spiritual Retreat
Yin Yoga 101
Yoga Nidra
Yoga Retreat Week
Yoga Teacher Training Course
Ashram Retreats
Yoga Niketan
Branded as one of the oldest Ashrams in Rishikesh, Yoga Niketan, situated by the river Ganga, was established in 1964 by Yogacharya Swami Yogeshwarananda Saraswati Maharaj Ji to spread yogvidya and spirituality. A traditional form of Hatha Yoga and Raj Yoga is taught by senior yoga teachers from India with the primary aim to develop concentration and mental agility. The Sadhna/Meditation hall is fully air conditioned and can accommodate up to 100 sadhaks. Meditation classes are held early morning and in the evening.
Yoga Niketan Ashram has about 100 rooms and accommodations are basic: a/c and non-a/c rooms, a private bathroom, hot and cold water. You won't find frillz here.
Sadhana Mandir Ashram
Founded in 1966 and located on the banks of the Ganges in Rishikesh, Sadhana Mandir Trust was established by Swami Rama as a meditation retreat center. Retreats available are:
8 steps to self-transformation
Basic Practices of the Himalayan Tradition
Fundamentals of Yoga Meditation
Channel Purification: The Practice of Alternate Nostril Breathing
Introduction to Yoga Nidra
5-Day Yoga Retreat
Meditation and Its Practice
Deepening Breath, Deepening Meditation
Guided Silence Retreats
Self-Guided Meditation Retreat
Retreats are open to yogis of all levels, from beginners to advanced practicioners.
Dayananda Ashram
Dayananda Ashram located in Rishikesh on the banks of the Ganga river is a centre dedicated to the study of Vedanta and Sanskrit. The Ashram's temple is dedicated to Lord Siva as Gangadharesvara facing the Ganga and the main lecture hall also faces the Ganga river. The temple's library contains more than 5,000 titles on the subjects of Vedanta, Sanskrit, Yoga, Indian and Western philosphies, and Religion.
Retreats to Dayananda Ashram are available to those who are students and devotees to Swami Dayananda and those interested in learning from Swami Dayananda.
Anand Prakash Yoga Ashram & Retreat Centre
Anand Prakash Yoga Ashram, a yoga retreat and teacher training centre located in Tapovan, Rishikesh alongside the Ganga river is a features two yoga halls, a rooftop, and an Ashram. Most yoga takes please in the Nataraj Yoga located on the third level and large enough to accommodate up to 60 students quite comfortably. All yoga halls are supplied with cushions, bolsters, blocks and yoga mats.
Retreat and yoga teacher training students will find the Asharm's accommodations quite comfortable though all rooms are shared with single beds. Guest rooms all have night tables and shelves as well as ensuite bathrooms with hot water, shower and a Western toilet.
The Ashram provides three freshly cooked Sattvic vegetarian meals a day, gluten free and vegan are available.
Yoga trainings include:
100-Hour Yoga Teacher Training
200-Hour Yoga Teacher Training
300-Hour Yoga Teacher Training
500-Hour Yoga Teacher Training
1000-Hour Yoga Teacher Training
Is it Safe to Travel to Rishikesh
Being a revered pilgrimage destination, Rishikesh is mostly safe to travel but like any major destination one must keep vigilance as foreigners--in any city--can be easy targets for scams. Mostly however, the local people of Rishikesh are humble and appreciate the contributions that tourists, local and international, offer to their holy city.