There's no game like bridge, and there's no place like Las Vegas! The 2019 Youth NABC rolls into the Strip and the legendary Cosmopolitan, giving players under 20 plenty to see and experience while making new friends, bettering their skills, and taking in all the weekend has to offer. There's plenty to do all over the Strip and navigating with public transportation is a breeze! The Las Vegas Monorail is air-conditioned, fast, and stops at many of the Strip's biggest resorts. Check out these great tips for getting around and fun things to do near Cosmopolitan hotel.
Fun Things to do Near the Cosmopolitan

Potted Potter, the widely imaginative continuation of the J.K. Rowling Harry Potter books, is coming to Las Vegas this summer for a 10-show run after a successful run in New York City's Theatre District and London's West End.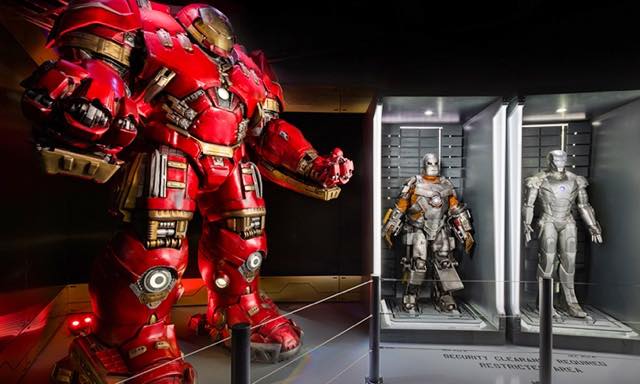 Get ready to take on the ultimate mission with the Avengers! This immersive exhibit brings the Marvel Cinematic Universe to life with authentic props, costumes, and more. Visitors go deep into the Scientific Training and Tactical Intelligence Operative Network that's a must for comic book fans and MCU lovers alike.
See the city from new heights at LINQ on the world's tallest observation wheel and offers an unbeatable view of the city. It clocks in at a towering 550 feet tall. It's climate-controlled which is a big plus; the glass pods hold up to 40 people each. Not a fan of heights? The High Roller is situated on the LINQ Promenade, so there's plenty of other activities to check out.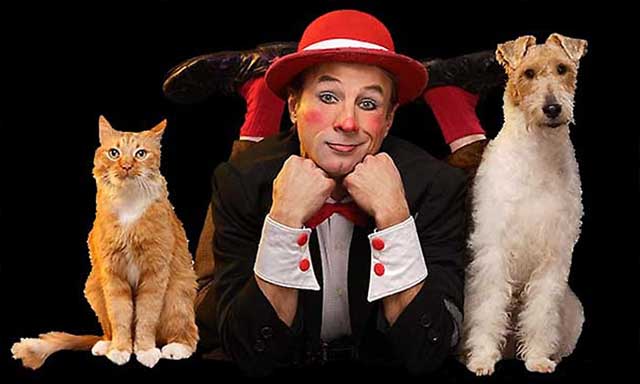 Gregory Popovich and his team of 30 trained furry friends--all once in shelters have been turned into Las Vegas show celebrities. This show has been featured on The Tonight Show, USA Today and David Letterman and has many thumbs up votes with kids of all ages.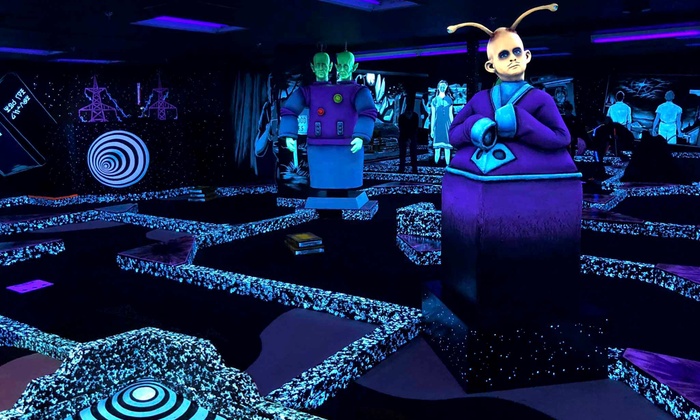 This new take on miniature golf puts a gleeful and spooky spin on a classic. Explosive glow-in-the-dark visuals, unique props, and music from a live DJ make for a fun trip to the 5th Dimension. More than just mini golf, the Twilight Zone By Monster also features bowling lanes, arcade games, and a gift shop.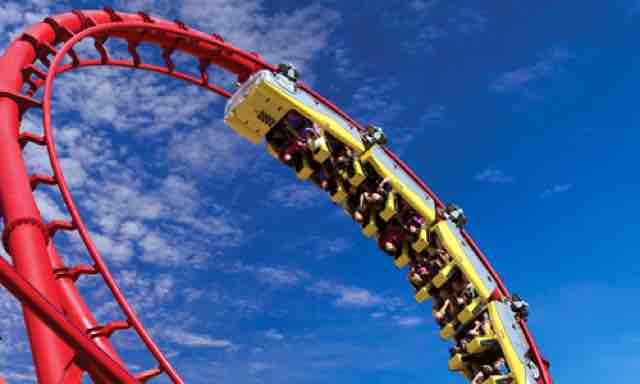 As thrilling as the Big Apple itself, this non-stop thrill ride features the world's first 180-degree twist! Get ready to scream, laugh, and see why over 1.4 million riders a year call this coaster an unforgettable experience! Not one for roller coasters? Check out the rest of the Big Apple Arcade.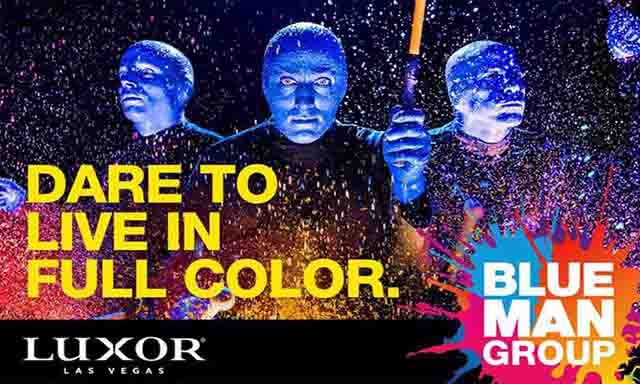 Blue Man Group can be called the ultimate sensory overload show. Three black cladded mute men covered in shiny cobalt blue paint take the audience through a journey of sound, light and color. They entertain using music and lights, drums, neon, and movement. This show is fun, bright, visual, colorful, funny and bursting with theatrics and entertainment. There's a reason why 35 million people around the world have attended a Blue Man Group performance, because it's fun and creative and bizarre.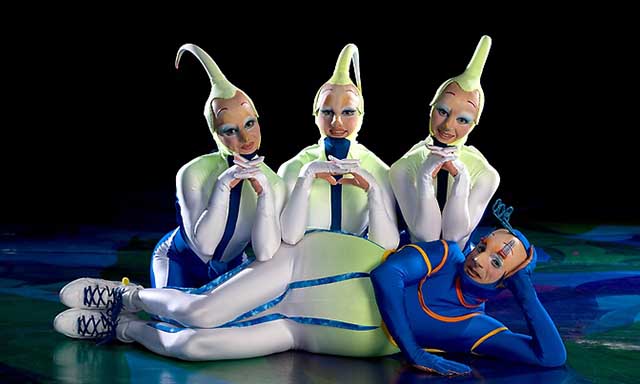 Like fine art, the storyline of Mystère at Treasure Island is left up to individual interpretation. But one thing about this production is for sure: Mystere, which also happens to be the first Cirque du Soleil production in Vegas, is so entertaining you?ll want to stay for an encore after the final bow.
Another no-cost Las Vegas classic that's amazing for all ages! The iconic Fountains of Bellagio show is a fun mix of music and visuals that takes over 1,000 choreographed fountains to incredible new heights. The music selection ranges from modern Top 40 hits to Broadway classics. The show runs for several hours every afternoon. A must-see for every Las Vegas visitor.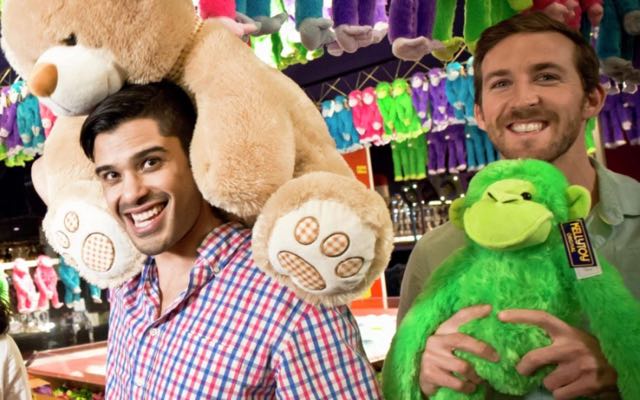 Fun Dungeon at Excalibur
Nothing beats a day at the arcade! Try your luck, test your skill, and win prizes all while beating the desert heat. Challenge your friends to air hockey, try to beat your high score at Pacman, and so much more. Almost 200 of the most fun carnival, arcade, and redemption games come together all in one great spot. Need to power up? No worries! Refreshments are available on-sight.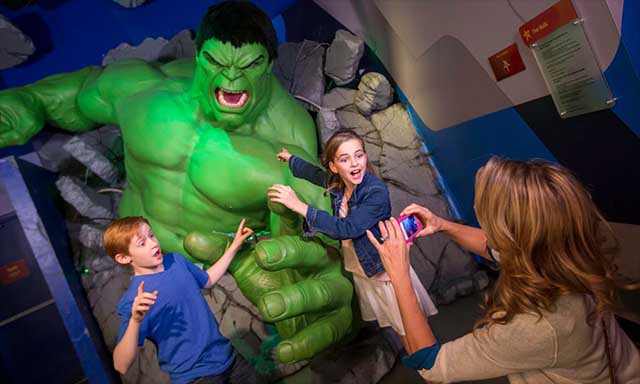 Ever wanted to take a selfie with Beyoncé? Snap a photo next to Marilyn Monroe? It's possible at Madam Tussad's. The legendary museum brings to life movie stars, musicians, athletes, fictional favorites, and so much more. It's a little silly and a LOT of fun.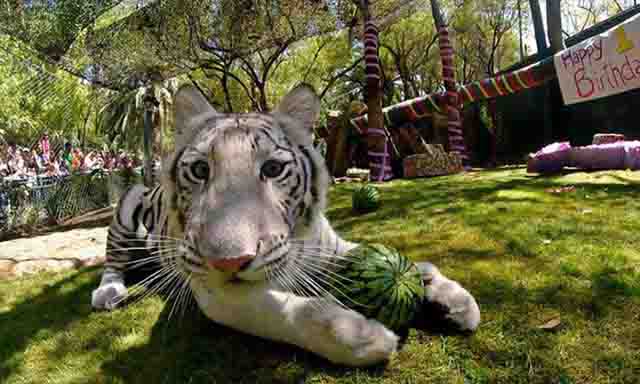 Siegfried & Roy's Secret Garden and Dolphin Habitat at the Mirage We said it before and we'll say it again: animals are neat, and in the case of Siegfried & Roy's white tigers, lions, and leopards as iconic as Las Vegas itself! This is a classic Las Vegas experience for all ages, focusing on both fun and conservation. The Secret Garden also houses bottlenose dolphins in a stunning aquatic habitat. Sign up to paint with the dolphins, take Dolphin Training 101, and enjoy other amazing once-in-a-lifetime adventures.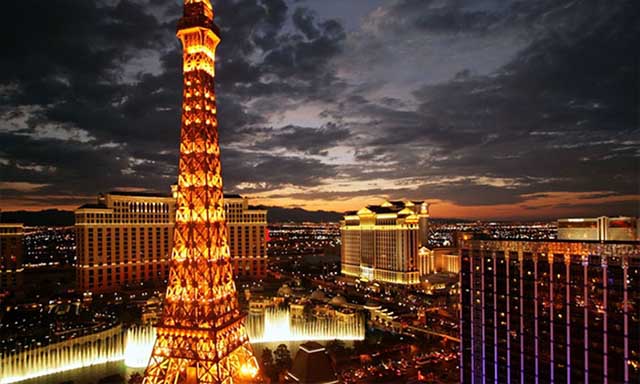 One of the amazing things about Las Vegas is the vast array of world sights recreated right on the Strip! The half-scale replica shows off 360-degree views of the city, detailed for visitors by highly-knowledgeable Ambassadors. Nightly light shows take place every hour on the hour and at the half-hour at :30.
Photo by Tim Wright
Streetmosphere at The Venetian
It's not atmosphere: it's Streetmosphere! Eat, shop, and soak it all up. St. Mark's Square in the Grand Canal Shoppes is a prime people-watching spot not only with fellow shoppers, but with living statues, acrobats, stilt walkers, dancers, and more! The entertainment is continuous, but it culminates in a free 15-minute show that kicks off at the top of the hour every day between 12 and 6 PM.
The Forum Shops at Caesar's Palace
There are malls, there are shopping centers, and then there are the Forum Shops. Not only are there over 160 stores to browse, but the whole place is dripping with excitement! It's decorated to suit a Roman emperor, with entertainment to match: there's a 50,000-gallon aquarium and the iconic Fall of Atlantis animatronic show isn't to be missed.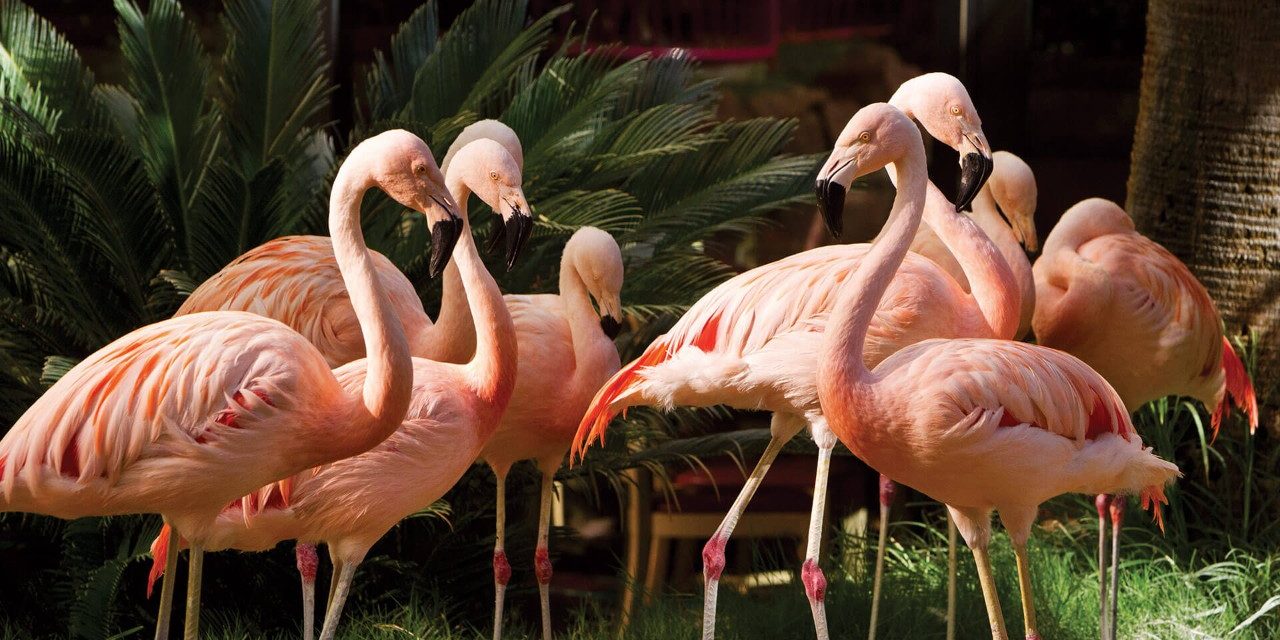 Flamingo Wildlife Habitat at Flamingo
Let's face it: animals are neat! A flock of Chilean flamingos spend their days in peace and comfort with plenty of other feathered friends as well as fish and turtles. Not only is this a wonderfully tranquil spot in the heart of the city, it's also crammed with photo ops. Some of the best selfie spots on the Strip! Oh, it's also totally free.
Miracle Mile Shops at Planet Hollywood
A claim like "Las Vegas's most exciting mall? is a big statement in a city like this, so go judge for yourself. The over 200 shops and restaurants offer a little something for everyone, from classic mall favorites like Urban Outfitters to zingy offerings like Houdini's Magic Shop. Don't shop til you drop, though: stop for a bite to eat and recharge at the 36 food and drink offerings.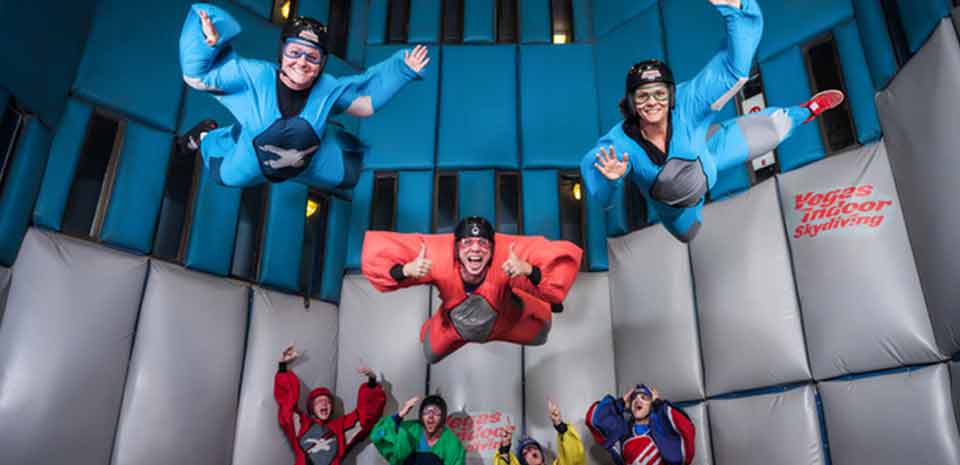 Ever wanted to go skydiving without the risk? Now you can! A 1,000-horsepower engine generates wind speeds up to 120 MPH to simulates free-falling in a safe and monitored environment. There's no age limit: kids weighing over 40 pounds can fly with a parent or guardian's permission.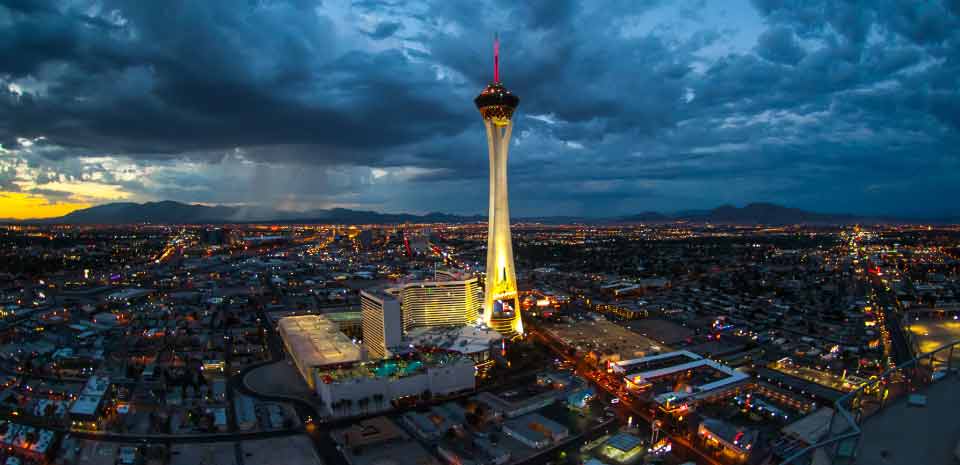 In a city known for "biggest, fastest, most,? how about "tallest?? The Stratosphere Tower observation deck is the tallest free-standing observation tower in the United States, soaring 1,149 feet over the city with incredible 360-degree views of Las Vegas. Choose from one of several observation docks, like the climate-controlled Indoor Observation Deck or the Outdoor Observation Deck with viewfinders. Feeling brave? Hop on the Outdoor Tower Ride.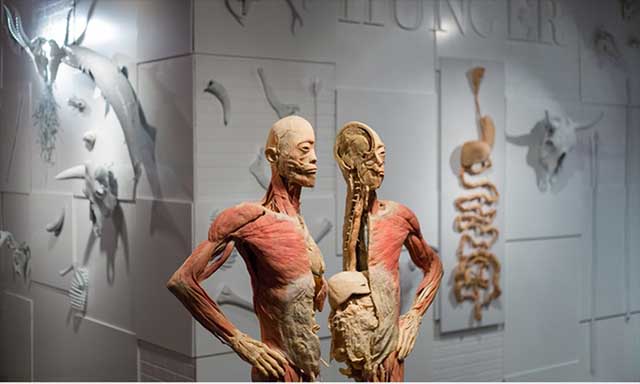 Perfect for science lovers, curious people, or anyone who wants more insight into just how the human body works! The physical systems that power us all are illustrated and explained with 13 whole-body specimens and over 260 organs and partial specimens, all tastefully displayed in a family-friendly manner. This is a neat and unforgettable experience!
America's indoor largest amusement park is in the heart of the desert! It's indoors, in a climate-controlled environment underneath a giant glass dome, perfect for all the fun with none of the heat. Get into roller coaster rides, arcade games, circus performers (Circus Circus sticks to their theme), and even special attractions for younger visitors.
Big Elvis at Harrah's
Get all shook up with a timeless Las Vegas classic: an Elvis impersonator! This is an interactive and highly entertaining show that's not only great for all ages, it's totally free! One of America's best Elvis impersonators performs a catalogue of classics and audience requests. Think of it as a little bit of Graceland, a little bit of karaoke, and a whole lot of fun. Don't forget to snap a pic with the King of Rock n' Roll!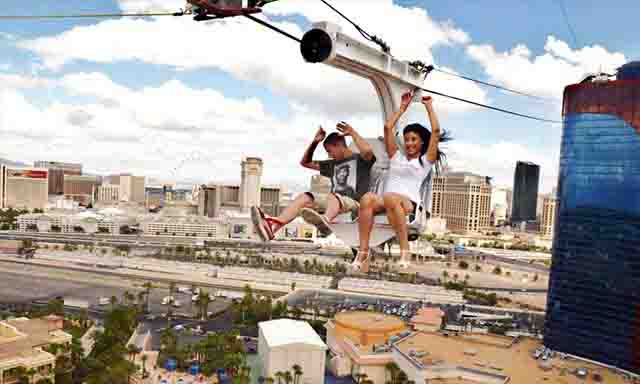 See Las Vegas in a whole new way when you soar between the Rio Hotel's Masquerade and Ipanema towers. Since riders go in pairs, grab a friend and get into it! The Strip's only zipline reaches speeds of up to 33 miles per hour. There's no age limit, but the minimum height is 48 inches.
Fun Places to Eat
In addition to being crammed with activities, the Strip is also home to some amazing places to grab everything from a classic breakfast to a late-night snack and everything in between. No matter what your preferences and dietary needs, there's something tasty waiting for you.
Sprinkles Cupcakes
The sweetest spot on the Strip, located right on the LINQ Promenade. While parts of the menu changes seasonally, you can count on a great range of tasty flavors, any of which can be made into a signature sundae. Did you know that ATMs aren't just for banks anymore? With Sprinkles Cupcake ATM, you can beat the line and get a treat in the process!
Bruxie
Chicken + waffles = delicious! This classic southern flavor extravaganza comes to life right on the Strip. Most sandwiches use waffles in place of buns, but traditional sandwiches are available. If you're not in the mood for a sandwich, check out the salads, desserts, and all-day breakfast menu.
Le Village Buffet at Paris
This all-day buffet brings to charming French village life a with an immersive and delicious dining experience. The fare specializes not only in five regions of French cooking, but also made-to-order specials like prime rib and an omelet bar. Le Village is also famous for its deserts, so be sure to leave room!
Tournament Of Kings at Excalibur
Dinner AND a show! Get medieval with this Las Vegas classic that combines an epic live tournament with period-appropriate cuisine like game hens eaten just like the lords and ladies of yore: with your hands!
Burger Bar
It's impossible to go wrong with a burger. Pick from one of chef Hubert Keller's signature recipes, or go off-script and build the burger of your dreams. The concept is simple: pick a protein, pick a bun, and go wild. The results are your particular kind of delicious. Vegetarian, pescatarian, and gluten-free options are available, as are tasty side dishes and milkshakes.
Five50 Pizza Bar
Grab a tasty slice of artisan pizza unlike any you've ever had before! The wide-ranging menu also offers flatbreads, salads, pastas, and plenty of appetizers to get started. Order a Signature pie, or build your own with your friends! After all, good food tastes better with great company.
All told, there's so much to eat, see, and do on the Strip that it can be a little overwhelming. Don't worry: it's all part of the experience! The 2019 Youth NABC is all about making new friends, playing some incredible bridge, and making some amazing memories, and there's no better place to do it than Las Vegas.