Early in 2018 I was searching around and thought I'd complete my 200-hour yoga teacher training in Rishikesh, I ended up taking a London yoga course instead but prior to embarking on that training I did quite a bit of research on trainings around the world, I even visited a few spots, including Rishikesh, not to scout out a good location for my TT, but just by happenstance I was travelling around and decided to visit the spots I was considering for a training. I loved Rishikesh! It's old, spritual, raw and has peaceful energy.
As we all know, there are a million and one places to become a yoga instructor but to do a Yoga Teacher Training in Rishikesh is a major life experience! Yet, even in Rishikesh, yoga trainings abound so it's helpful to know which ones best suit your needs. It's sad to say that I ran into a good number of fly-by-night or scammy yoga schools in India so it's good to use a critical eye when adding a contender school to your short list.
On this post I've assembled what we feel is a nice cross-section of Yoga Alliance certified teacher training courses. Pick the type that best suits your needs. I think these are all trusted schools.
Before you get to my list of yoga teacher trainings in Rishikesh I thought I'd tell you about a few things to expect. Firstly: Yes, you'll be training in India and you may even be training in an ashram but you most likely won't have the comforts of home. Let me explain. Accommodations in YTT schools and retreat centres in India are bare! Don't expect luxury, if you do you'll be disappointed. Your room will almost certainly consist of a very simple--maybe uncomfortable--single bed on a wood or metal frame. You'll be sharing your room with at least one other student (unless you want to pony up more cash for your own room). Rishikesh can be miserably hot or freezing cold so you can expect to have to deal with the weather. Say bye bye to kebabs and burgers, you'll be eating a vegeterian diet for a month or so...which may be difficult for meat eaters but in the end will be really good for you. The month of your training will be dry--no booze in the training centre will be allowed.
Now that I've turned you off from wanting to take your yoga teacher training in Rishikesh let me tell you that: YOU'LL NEVER HAVE A MORE AMAZING EXPERIENCE! I decided to to my YTT far from home because of the cultural benefits and because I wanted to make life-long friends from around the world and I thought London was the right place for that and Rishikesh was a close second on my list.
Researching Yoga Teacher Training Centers in Rishikesh
I'd been practicing yoga for 2 years when, at a power yoga class I was suddenly hit with the idea that I'd like to become a yoga teacher. I didn't have the intention to teach professionally, I really just wanted to deepen my practice and take part in a transformative experience with other people who also were seeking the same.
My search first started on Google. I typed in 'yoga teacher training', I was overwhelmed by choices but three locations really stuck out at me: Rishikesh, Goa and London--why London, no idea but it was on the list of schools I saw on my Google search. I must have visited a hundred websites (hence the great list of schools above!) and contacted over a dozen, I looked at locations, teacher bios, curriculums, and payment prices. I wasn't afraid to spend a good amount on a good experience but terrified at the idea of spending $1000 or $3000 on a bad one!
Your Daily Schedule Will be Hectic, You'll Get Tired, But it's Soooo Worth it!
When you commit to a 200-hour course you're commiting to some pretty intensive learning! This yoga stuff isn't all the easy. Yoga philosophy really challenged me, the anatomy isn't so easy (you need to learn the names of loads of muscles and bones) and don't get me started on the Sanskrit names! Ugh, that was hard. But you'll be so pleased with yourself when you've graduated--and you will! Here's what my daily schedule looked like:
5:30 AM - 6:00 AM, Morning Tea
6:00 AM - 7:30 AM, Hatha Yoga
7:45 AM - 8:45 AM, Pranayama
9:00 AM - 10:00 AM, Breakfast
10:30 AM - 11:30 AM, Yoga Philosophy
11:30 AM - 12:00 PM, Tea Break
12:00 PM - 1:00 PM, MantraYoga/Teaching methodology
1:00 PM - 1:45 PM, Lunch
3:00 PM - 4:00 PM, Yoga Anatomy/Alignment Class
4:00 PM - 4:15 PM, Tea Break
4:15 PM - 5:45 PM, Ashtanga Yoga
6:00 PM - 7:00 PM, Meditation/Yoga Nidra
7:00 PM - 7:45 PM, Dinner
This was my course schedule six days per week for 4 weeks. We got one day off. After the first week I realised that it was wise to do as much studying and homework after dinner so I could enjoy most of my single day off per week.
You'll Be Vegetarian for a Month
Indian is a vegeterian culture and while attending your course, if you're not already, you'll be vegeterian (and alcohol free). If you're not vegeterian this may come with some difficulties such as reduced energy (not so great beause you'll need all you can get) stomach issues and the like. For you meat eaters I'd recommend reducing or even eliminating your meat intake a couple of weeks prior to your course start date. This'll make it easier for you to focus on learning and course work rather than fealing debilitated due to the severe changed in food intake.
Your meals will very likely all follow Ayurvedic principles and include rice, beans, salads, lentils, soups and the like. Again, if these aren't food items you generally eat in your daily life, begin doing so a few weeks prior to your the course.
How to Apply for a Visa to India
Unless you're a passport holder of a few select countries which includes China, you'll need to apply for a Vist to enter India. This includes those with US, UK or EU passports but luckly the process is pretty simple and can be done online through the e-visa application website. There's a lot of information to provide, a small fee to pay and, if your application is successful (which it should be in most cases) you'll get your Indian visa by email within 48 hours.
Best Time to Visit Rishikesh
This is mostly a mild to hot spot in India but generally speaking May and June is quite hot in Rishikesh with temperatures reaching 35°C/95°F. The best time to visit is from late October or early November to January and March - April to first week of May. If you don't mind the heat June, July, August and September are quite hot and mostly muggy and rainy.
Is it Safe to Travel to Rishikesh?
Being a revered pilgrimage destination, Rishikesh is mostly safe to travel but like any major destination one must keep vigilance as foreigners--in any city--can be easy targets for scams. Mostly however, the local people of Rishikesh are humble and appreciate the contributions that tourists, local and international, offer to their holy city.
Ashtanga Yoga Teacher Training in Rishikesh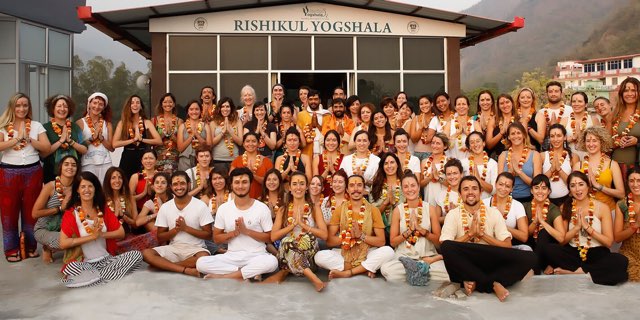 In Rishikesh, hidden away in the hills is this yoga shala and yoga teacher training school in India. Rishikul Yogshala must be doing something right as they several locations in India, in addition to trainings in Nepal, Iran, Mozambique, Vietnam and Thailand. Phew! They are on fire! Rishikul focuses mainly on yoga teacher training courses. There are 7-day and 15-day retreats available as well. The accommodation is much more basic than some others on this list, but again, within the context of everything, everything is adequate and mosquito netting is provided.
One word of caution, Rishikul promotes itself as a centre to learn and train as an Ashtanga Yoga Teacher. It is well known within the Ashtanga community that only by attending classes and training with Sharath Jois, in Mysore, India, can someone become "authorized" to teach Ashtanga Yoga. There's quite a lot to say about this, but it is also worth mentioning that several of the images featured on the website are poses that are not taught in the Ashtanga yoga sequences. They offer very little "Ashtanga yoga" classes per se, rather they begin the day with Hatha yoga classes. A small distinction for some, but rather important if you are solely interested in Ashtanga Yoga.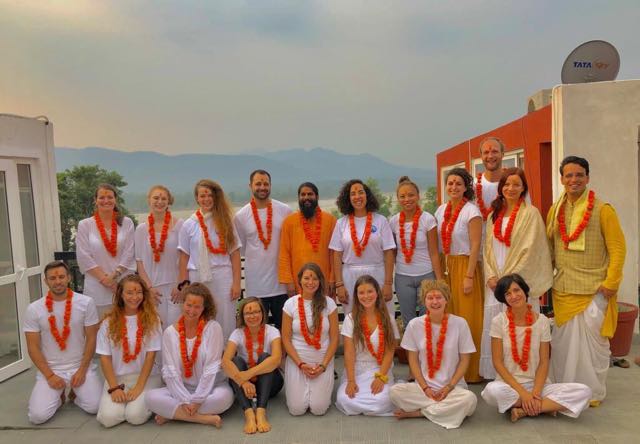 Gyan Yoga Breath is a wonderful resource as a yoga teacher training school in Rishikesh. Offering 100-hour, 200-hour, 300-hour and 500-hour advanced teacher trainings, you'll find nearly every course of study you could possibly desire here. The training includes lessons in both Hatha and Ashtanga yoga, Ayurveda, Kriyas, Meditation, Yoga Philosophy, Mantra chants, as well as Pranayama techniques.
200-Hour Teacher Training
The 200-hour yoga yeacher training encourages profound transformation, increased confidence and mental clarity. You will become familiar with the essence of yoga philosophy, spirituality and master the yoga asanas in relation to their balancing and strengthening properties. Daily breath work (Pranayama), diverse meditation techniques (Dhyan) and a complex understanding of yogic diet, cleansing and ritual will teach you how to connect to yourself and become a good yoga teacher.
300-Hour Yoga Teacher Training
The 300-Hour training is accredited by Yoga Alliance and designed for yoga teachers who have previously completed a 200-Hour Teacher Training with a registered Yoga Alliance school. If you are interested to advance your personal practice, yogic wisdom and teaching skills to the highest level, the 300 Hour Yoga Teacher Training at Gyan Yog Breath will be the right fit. Besides the daily schedule, you will study about Ayurveda and learn to remove accumulated energy blocks through Emotional Blockage Treatment.
500-Hour Yoga Teacher Training
This highly intensive 55-days Yoga Teacher Training covers all subjects of yoga from a foundational base to more advanced branches. This includes practical, theoretical and interactive learning modules. We invite you to connect with the source of yoga and steadily build up an enriching knowledge. During this course you'll learn how to practise and teach asanas, pranayama, meditation and give the right adjustments and develop confidence in your individual teaching style. This 500-Hour TT is Yoga Alliance registered and upon completion you'll be able to register as RYT-500 (Registered Yoga Alliance Trainer).
World Peace Yoga School in Rishikesh is a Yoga Alliance certified institution offering 100, 200, 300 and 500-hours of yoga teacher training in the Hatha and Ashtanga styles. Authentic training can be had in a non-traditional venue--sorry no historic ashram here, but the school is located within the city limits of Rishikesh making historic and sacred sites easy to get to.
200-hours Yoga Teacher Training
This is a 28-day, intensive course designed to give students a broad and thorough understanding of yogic principles, techniques and philosophy in three styles: Hatha, Ashtanga and Vinyasa.
Week One Lectures
Week one highlights include an introduction to Pranayama and lectures on the technical details of Ujjayi breath (yogic breathing).
Week Two Lectures
Week two you'll begin to explore Asana poses and posture analysis. Each posture will be demonstrated complete with appropriate, and not so appropriate, adjustments followed by practice sessions in small groups. Expect to begin dipping into anatomy, meditation and yoga nidra.
Week Three Lectures
Week three will focus--not exclusively--on Mudras. Mudra hand gestures are an ancient yogic practice and these affect the energy flow in our bodies affecting a person's spiritual and mental characteristics. Lectures on anatomy, meditation and yoga nidra will continue and an introduction into yoga philosophy and cleansing (Shatkarma) will take place during week three.
Week Four Lectures
The final week of this course will focus on yoga bandhas and teaching practice with final exams and graduation.
300-hours Yoga Teacher Training
If you've completed your 200-hour YTT and are certified by Yoga Alliance you may now begin to dive far deeper into the heart of Yoga. The World Peace Yoga School 300-hours of Yoga Teacher Training is 30-days in length and offers takes place the school's flagship World Peace Yoga School centre in Laxman Jhula, Rishikesh, the Home of Yoga. The course is divided into modules designed to allow deep reflection and learning withing each topic:
26 hours of Chanting
80 hours of Asanas practice
26 hours of Pranayama
26 hours of Guided meditation
15 hours of Silence practice
26 hours of Adjustment, alignments, methodology
26 hours of Yoga Philosophy
26 hours of Yoga anatomy/ Physiology
26 hours of Self-study & projects
20 hours of Karma yoga
5 hours of Examination
500-hours Yoga Teacher Training
A 500-hours yoga teacher training is an intensive blending of the 200-hour and 300-hour coures at a single time and intended for those who have the time and ability to deeply commit themselves to the learning and practice of all aspects of yoga, not just asana.
This 2 month intense course is a journey and upon completing this course, you'll become a fully qualified and certified teacher with Yoga Alliance.
Shakti Yoga Peeth in Rishikesh offers 100, 200 and 300-hour yoga teacher training in the Ashtanga and Hatha styles. Per course capacity is limited to 20 students assuring a higher degree of personal attention. Fully certified by Yoga Allance, Shakti Yoga Peeth is a good choice for a YTT in Rishikesh, but do consider that venue and accommodation are barebones--your personal room, while clean, will not offer air conditioner which is not an issue outside of extremely hot summer months. Expect vegeterian meals prepared in the Ayurvedic tradition, no animal meat and alcohol are allowed within the facility.
Yoga India Foundation offers Hatha and Ashtanga style 200, 300 and 500-hour residential yoga teacher trainings in Rishikesh. The school's location isn't in the city centre but you're a hop and a skip from the Ganges river--expect to do some of your course practice on the river banks--and not too far of a walk from temples, shops and attractions. The most popular course format is the 200-hour and Yoga India Foundation breaks down that course offering as follows:
Techniques, Training and Practice (120 hours): Communication, demonstration, observation, assisting and adjustments.
Anatomy and Physiology (20 hours): Breathing, Gunas, vikaras, Kundalini, chakras, nadis.
Yoga Philosophy, Lifestyle and Ethics for Yoga Teachers (30 hours): Yoga Sutras, Hatha Yoga Pradipika, Bhagavad Gita, Yogopanishada and principles of ahimsa.
Practicum (10 hours): A Minimum of 5 hours of actual practice teaching as the lead instructor, observing, assisting.
Yoga + Meditation for Health and Healing
Bringing Yoga + Meditation into Daily Life
Vinyasa Flow Yoga Teacher Training
The Vinyasa Yogashala is another yoga retreat and yoga teacher training centre in Rishikesh, India. Certified as a yoga school by Yoga Alliance, USA, this centre trains yogis in Hatha Yoga and Vinyasa Flow Yoga, one of the most popular styles of yoga. There is a 100-hour, 200-hour and 300-hour programmes, and they clearly state their curriculum online, a helpful tool for determining their standards of training. You'll learn Vinyasa and Hatha yoga, Pranayama, anatomy, philosophy, yoga nidra, mantras, mudras and bandhas as well as shatkriyas, or cleansing exercises.
While the accommodations may not be something you'll write home about, they are sufficient and private. Each student is afforded their own private room and cleanliness is not lacking. Additionally, vegetarian meals are on offer and of course you're free to wander into Rishikesh to sample more delicious Indian food.
Arohan Yoga School
Arohan Yoga School conducts a comprehensive and intensive 200-hour yoga teacher training program covering asana, pranayama, mudra, bandha, cleansing, and meditation techniques. Practical work will be in the hatha, ashtanga, iyengar and aerial styles of yoga. Theory includes yoga anatomy & physiology, philosophy, and vedanta. On off days the school offers free excursions and Ayurvedic cooking classes. This 200-hour TT is Yoga Alliance certified.
Anand Prakash Yoga Ashram & Retreat Centre
Anand Prakash Yoga Ashram, a yoga teacher training centre located in Tapovan, Rishikesh alongside the Ganga river is a features two yoga halls, a rooftop, and an Ashram. Most yoga takes please in the Nataraj Yoga located on the third level and large enough to accommodate up to 60 students quite comfortably. All yoga halls are supplied with cushions, bolsters, blocks and yoga mats.
Yoga teacher training students will find the Asharm's accommodations quite comfortable though all rooms are shared with single beds. Guest rooms all have night tables and shelves as well as ensuite bathrooms with hot water, shower and a Western toilet. The Ashram provides three freshly cooked Sattvic vegetarian meals a day, gluten free and vegan are available.
200-Hour Yoga Teacher Training
The Akhanda Yoga 200 hour Yoga Teacher Training in Rishikesh, India offers an amazing journey for those who would like to deepen their understanding and practice and step with confidence into teaching. Yogrishi Vishvketu and an expert teaching team have honed the YTT since 2004. First trip to India? You'll be taken care of from the moment you arrive with airport pickup in Dehradun, and transport to Anand Prakash Yoga Ashram. The training is fully residential and includes three tasty vegetarian meals a day with Vegan and Gluten Free options.
300-Hour Yoga Teacher Training
Yogrishi Vishvketu and his expert teaching team for the Akhanda Yoga 300-Hour Yoga Teacher Training course where you'll gain your 500-hour accreditation. This course is a unique opportunity to expand your teaching and engage more deeply with the yogic wisdom of the Bhagavad Gita and Ayurveda as well as the Koshas, Chakras, and Pranas.
500-Hour Yoga Teacher Training
YTT 300 course can now be taken in three out of four 100-hour modules. These intensive, retreat-style course are taught by Anand Prakash's head trainer Yogrishi Vishvketu and Senior Akhanda trainers, such as Yog Sundari and Eila Devi. Modules can also be taken individually as stand-alone courses for those with a particular area of interest. For graduates of YTT 300 with another yoga school, these modules offer unique Akhanda approaches that would greatly complement your training and would then count towards a 1000-hour designation.
Yoga Essence Rishikesh is a registered yoga school of Yoga Alliance, USA and Government of India. This 200-hour yoga teacher training is in the Hatha and Ashtanga styles--that is you're learn Asana postures, adjustments and sequences in both styles...quite unique. You'll also receive a 250-hour yoga nidra certificate by completing the 200-hours. Expect yoga philosophy, pranayama, mudras, bandhas, chanting and anatomy lectures.
Yoga Yug International School is a registered Yoga school recognized by Yoga Alliance and offers a 200-Hours Residential Yoga Teacher Training certification program in Rishikesh. The course curriculum includes sequencing in mulitple yoga styles, anatomy, meditation, Pranayama, and yoga philosophy. All texts are also included in the program price.
Hatha Yoga Teacher Training
Hariom Yogashala is registered with Yoga Alliance and offers 100 and 200-hour yoga teacher training courses in Rishikesh. The syllabus for 200 Hour Yoga Teacher Training Course is immersive and intensive for students who want to dive deeper into Hatha yoga, Philosophy and the Ancient Way of Yoga. This course is intensive, you must complete it within 28 days and it's registered with Yoga Alliance.