Description
Four Seasons Hotel Las Vegas is not only immediately adjacent to and connected to the Mandalay Bay Hotel (one of the closest casino hotels to McCarran International Airport); Four Seasons guests can use the pool and beach facilities of the Mandalay Bay at no additional cost. The advantages of staying at the Four Seasons, however, instead of the Mandalay Bay include avoiding the huge crowds checking in and out at the Mandalay Bay and receiving a lot more personal attention from the staff. In addition, the Four Seasons Hotel has a reputation of catering more to children. Many other families with kids stay there, so during the course of your stay, you might even meet other guests with kids the same age as yours who can hang out with and play with your kids.
Few Las Vegas hotels are willing to go the extra mile to make your kids feel welcome as Four Seasons. As soon you check in, your children will be delighted to find all of the following:
A kids' welcome amenity
Complimentary baby and children's toiletries
Complimentary welcome milk and cookies
Popcorn and soda on arrival for teenagers
Children's menu for room service
In addition, upon request, the Four Seasons can have your room childproofed and provide you with various other amenities you might need like these:
Crib and/or roll away bed(s) (additional fee)
Strollers (there may be an additional fee)
Basket of essentials for infants
Complimentary high chairs and playpens
Board games
DVD and video library
Check-in time is 3 p.m. and check-out time is 12 noon. As at most hotels, accommodations vary in terms of size, extra amenities, and cost. However, the Four Seasons Hotel is considered a luxury resort, and all rooms and suites are expressly designed with guests' comfort in mind and include the following special features and amenities:
Located on 35th to 39th floors with large floor-to-ceiling windows offering magnificent Las Vegas Strip or mountain views
Marble baths with shower and separate soaking tub
Down duvet and pillows (or hypoallergenic bedding on request)
Hi Tech features: Wired and wireless Internet access, multimedia hub on TV credenza and iPod docking station
Hair dryer
Thick terry bathrobes
In-room safe
Refrigerated private bar
Coffee and tea making capabilities
Twice daily housekeeping service
Daily newspaper
Even the smallest rooms are oversized compared to what you will find at most hotels. "Superior rooms," which can easily accommodate two adults and one infant or child, are 500 square feet and include 1 king-size bed and 1 rollaway bed or crib. "Deluxe rooms," which are large enough for two adults and two kids, are 550 square feet and include 1 king-size bed and both a rollaway bed and crib or two double beds and either a rollaway bed or crib.
Or you can opt for a suite ranging in size from 810 square feet to 2,225 square feet. The suites feature a separate living room and bedroom area and a 55-inch LED TV in the living room. In addition, the larger suites include a sofa bed, two rollaways, and a crib, so they can easily accommodate a family with three kids. The larger suites also include a separate dining room and large kitchen pantry equipped with kitchen appliances and a full size refrigerator.
Four Seasons Las Vegas Resort Fee
A mandatory daily resort fee of $44.22 is added to the cost of all rooms and suites. The resort fees includes Wi-Fi access for multiple devices anywhere you want to use them (including by the pool), in-room coffee and tea, shoe shine service, and local and toll-free phone calls.
Things To Do Near Four Seasons
During the day your kids can go swimming at the Mandalay Bay free of charge. The pool comples includes multiple swimming pools, wave pool beach, and lazy river.
Shark Reef Aquarium
Another must-do activity at the Mandalay Bay is
Shark Reef Aquarium
which is suitable for kids of all ages, is one of the largest aquariums in the world. Shark Reef is home to more than 2,000 creatures of the sea, including 15 species of sharks, along with other dangerous aquatic predators.
Titanic: The Artifact Exhibition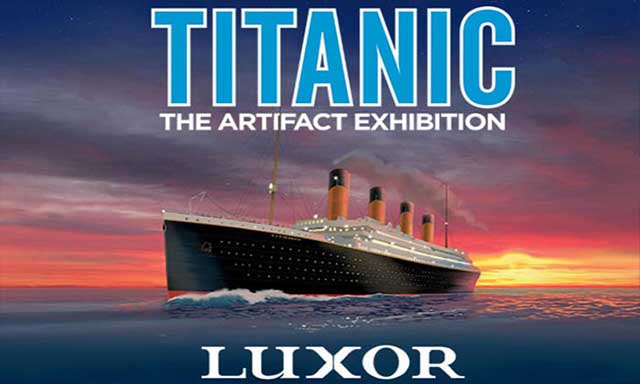 The Luxor, houses a fascinating exhibit, Titanic: The Artifact Exhibition
Fun Dungeon
The Excalibur, a hotel with a more casual vibe, will keep kids of all ages (and you, too) happily entertained at an arcade called "Fun Dungeon" filled with more than 200 games.
Big Apple Roller Coaster
Immediately North of the Excalibur is
New York - New York
, where your kids can marvel at the replicas of the Empire State Building and Statue of Liberty, take a ride on the
Big Apple Roller Coaster
, and savor
Hershey's Chocolate World
.
M&Ms World
Adjacent to the
MGM Hotel Casino
across the street, you will find another chocolate emporium, M&Ms World, and the Showcase Mall. The CSI Exhibit at the MGM Grand itself will appeal to older children and teenagers.
Evening Entertainment
The nearby casino hotels also offer multiple options for family-friendly evening entertainment. Any of the following would make a good choice:
Babysitting Services at Four Seasons Las Vegas
The hotel concierge is happy to arrange in-room babystting services by experiences and licensed babysitters with a two hour notice. Please visit our Las Vegas hotel child care page for more information on this topic.
Restaurants
Veranda
There are only two restaurants at the Four Seasons Hotel, one of which is Veranda, located on the lobby level. Veranda offers a choice of indoor or outdoor seating. It is basically an upscale coffee shop.
There is no separate children's menu. However, in the morning, standard breakfast items are available like eggs with bacon, ham, or sausage or buttermilk pancakes, along with some more adventurous items like chicken and waffles and Huevos Rancheros. A gluten free breakfast special is available, too, for children who have a gluten intolerance. There are also many items on the menu that will appeal to the health conscious (but probably not so much to children) like quinoa muesli, steel cut oatmeal, and organic juices, and even an "antioxidant healthy start" breakfast.
Charlie Palmer's
Charlie Palmer's Steakhouse, voted best steakhouse in Las Vegas by the Las Vegas Review Journal, is an upscale restaurant known for world class steaks and vibes. Expect an excellent selection of traditional cuts including a Charcoal Grilled Filet Mignon in and a 28-day aged Bone in Rib Eye. The wine list specializes in exciting new producers from up and down the West Coast but also offers a wide range of Old-World wines. Charlie Palmer's is located just off the lobby of The Four Seasons Hotel.
Raffles Café
Raffles Café, open 7 a.m. to 2:30 p.m., is a relaxing place for a family breakfast or lunch. However, it will cost about as much as the Veranda since everything is la carte and there is no special menu for kids. Figure on spending about $35 per person, even for breakfast. Items on the lunch menu your kids might like include cheeseburgers, chicken tenders, and sandwiches.
Citizens Kitchen Bar
This 24/7 eatery offers a nice choice of kid-friendly breakfast items. For example, your kids can have Bacon, Egg, and Cheese on a Kaiser Roll, Belgian Waffles, or Red Velvet Pancakes. The lunch and dinner menu includes various sandwiches or a hamburger or cheeseburger with a choice of shoestring fries, potato salad, pasta salad, or coleslaw.
Bayside Buffet
While the Bayside Buffet is not cheap either, unlike the above-mentioned restaurants, children do receive a special price. The buffet is open for breakfast, lunch and dinner daily and for brunch Friday through Sunday. The hours and prices for adults and for children ages 5-12 are shown below. Children under age 5 eat free!
House of Blues Restaurant & Bar
This popular restaurant located at the Mandalay Bay Hotel in Las Vegas serves breakfast, lunch and dinner. In fact, the breakfast is not only kid-friendly, but also wallet-friendly. In addition to the sizeable regular menu, there is a special Kids Menu for children ages 12 and under. The choices include bargain-priced Kids Pancakes, Kids French Toast, Cheese Omelet, "Mini Waffles of Love", or a combo of pancakes, scrambled eggs, and bacon, or sausage.
If you're in Vegas on a Sunday be sure to take your kids to the world-famous House of Blues Gospel Brunch which includes an all you can eat Southern style buffet and the gospel entertainment. The food includes breakfast fare, and hearty traditional Southern cuisine favorites like fried chicken, biscuits and country gravy, macaroni and cheese, and jambalaya. Desserts include bread pudding, brownies, and cookies.
Slice of Vegas
This pizza place at the Shoppes at Mandalay Place is open daily from 11 a.m. to 11 p.m. Pizza are New York style with a thin crust. An extensive selection of craft beers and wine are available.
Burger Bar
The Burger Bar, also located at the Shoppes at Mandalay Place, is open Sunday through Thursday from 11 a.m. to 11 p.m. and Friday and Saturday from 11 a.m. to 1 a.m. The simplest and probably most child-friendly of the tasty but pricey burgers is the American Classic (Angus beef with American cheese, bacon, tomato, and onion) on a sesame bun. Or you can customize your burger however you like it, choosing any type of meat, bun, toppings, and sides you want. Chefs milkshakes in vanilla, chocolate, or strawberry, or in specialty flavors like Nutella and Pink Monkey.
Sea Breeze Ice Cream and Juices
Located on the Mandalay beach level, this place is perfect if you are spending a day on the beach or at the pool. Hours of operation (seasonal) are limited to Friday-Sunday 7 a.m.-5 p.m. You and your kids can enjoy a quick salad or sandwich and a cool refreshing drink or some ice cream.
Beach Bar and Grill
The Beach Bar and Grill, open 9 a.m. to 6 p.m., is another seasonal eatery you can take advantage of while spending the day on the beach. There are lots of kid friendly items on the menu like hot dogs (with or without cheese and onions), cheeseburgers, and chicken tenders, or a BLT or grilled cheese sandwich, and even a "Beach PB&J." All are served with fries, fruit salad, or green salad.
The Noodle Shop
The Noodle Shop, open Sunday-Thursday from 11 a.m. to 10:30 p.m. and Friday and Saturday from 11 a.m. to 12:30 a.m., is not just for noodles. It is a full service traditional Chinese restaurant serving authentic Cantonese and Mandarin cuisine. But what comes as even more of a surprise is that it has a kids menu! All children's meals come with a small soft drink, an egg roll, and fried sesame balls.