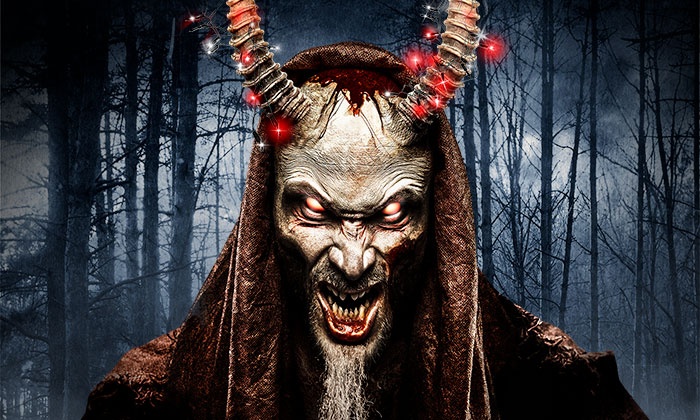 This is a classic Las Vegas oldy but goodie Halloween attraction. Located inside of the Adventuredome at Circus-Circus, Fright Dome offers more than 250,000 square feet of gory and horrifying creatures throughout six haunted houses and five scare zones. Fright Dome has been horrifying the masses since 2003. This attraction is not appropriate for children younger than 12.
When: Sep 29 - Oct 31, 2017 from 7 to Midnight
Where: Circus Circus FrightDome
Discounts and Promo Codes
Discount coupons are available at Fright Dome sponsors' La Bonita Supermarkets, Del Taco, Rebel stores, Denny's, Vons, and Albertsons.
Fright Dome Groupon Deals
Groupon Fright Dome Ticket Deals
Haunted Houses
Insanitarium: From the freezing temperatures of body lockers to the hellfire heat of a crematorium, 'Insanitarium' is a sick journey of extreme sight, sounds and smells. Those who dare enter will find themselves acquainted with the rotting corpses of those who came before yet failed to survive all the while being hunted by the psychopath within now equipped with a circulating saw and machete in place of hands. The twists and turns unveil the surgically altered and most disturbed patients of the past.
Wasteland: "The future is desolate. Humanity is broken in this post-apocalyptic dead zone. A horde of tribal nomads rule this land. Will you join the rebels and battle your way back from this burned, bleak badlands or will your broken remains be found by those who follow you?"
The Dollhouse: "Don't let their smiling faces fool you? something evil prowls the halls of this Victorian house. Lured in by the innocent exterior you?ll quickly find that something sinister is stirring. Have the children turned on their parents as legend tells or was it the dolls?"
Killer Clowns in 4-D: "Step right up and step into a twisted world where demonic Clowns run wild and free! This expanded experience encompasses 20 unique rooms with a menagerie of chaos. Clowns spare no trespasser, attacking all of your senses and feeding off of the chaos in this sinister carnival of neon."
SWARM: "In the furthest depths of the theme park the undead are building their colony and growing stronger by the day? Do you dare enter their feeding ground?"
Slaughterhouse: "The butcher has lost control and the animals or your nightmares are exacting their revenge. This seemingly innocent street side shop becomes the scene for the most bizarre by placing customers in a fight for their life against demonic animals that have taken control. No turn is safe as these nocturnal hunters search for prey? None are safe, not even the vegetarians."
Rides
All premium AdventureDome rides are included and ridden in the dark!!!
What Time Does FrightDome Open and Close?
Fright Dome opens at 7pm and closes at 12 Midnght
Are Children Allowed in Fright Dome?
According to the Fright Dome website, the venue is not appropriate for children aged under 12, but it doesn't specifcally say what the age limit is. We'd recommend sticking to 12 as a minimum age for entry.
Afterlife Halloween Party
For the first time in 12 years, Fright Dome returns for one final night on Saturday, November 1st with the AFTERLIFE Day of the Dead Las Vegas Halloween Party. Come dance in the moonlight with live DJs and entertainment to celebrate Hallows Eve in Fright Dome style. AFTERLIFE Las Vegas Halloween Party VIP packages with bottle service is available to pay homage to any spirit and with spirits until 1 a.m. This Halloween Party will make you resurrect any soul to party. This event is for ages for 18 and over.
How Much are Fright Dome Tickets?
General Admission tickets start at $37.95 on select nights
VIP Fast Pass tickets start at $57.96. VIP Fast Pass will allow you to skip the regular haunted house lines. Have unlimited access to the VIP Fast Pass lines. Fast pass required to experience the Isolation Haunted House.
VIP Private Tour enjoy instant access to haunted houses and rides with the Private Tour package. The Private Tour allows group to bypass the regular lines and Fast Pass admission lines for $139.95 per person. The tour is given by the ghostly Fright Dome team so guests never have to worry about standing in line or getting lost in the mayhem. Groups of 4 to 8 people can be accommodated. VIP tour quantities are limited. VIP Tour includes FAST PASS.
What is the phone number for Fright Dome?
(702) 794-3912
Fright Dome is Hiring Actors for Halloween Season
Fright Dome is hiring 400 actor positions for the 2017 Halloween season. Your mission, should you choose to accept it, is to become a ghoul, ghost, goblin or some other frightening being and scare the daylights out of people! Do you have that in you? If so check out Fright Dome's job page