It doesn't get more all-American than a burger! We break down five of the best burger spots in Las Vegas, all with kid-friendly menu options!
ShackBurger at Shake Shack
Photo credit:
Simon Doggett via flickr
It's hard to go wrong with a classic! This legendary East Coast burger chain opened its first Las Vegas location at the end of 2014 at New York-New York Hotel & Casino in a nod to its Manhattan roots, bringing with it the popular ShackBurger: a cheeseburger with lettuce, tomato, and Shack Sauce, available as a single or a double to suit any appetite. Shake Shack uses freshly-ground Angus beef and non-GMO potato buns; if you or anyone in your family has gluten sensitivity you can turn your ShackBurger gluten-free for an extra $1.

Address: New York-New York
Phone: 725-222-6730. Open 11AM-2AM daily.
Have It Your Way at Mandalay Bay's Burger Bar
Photo credit:
Herman Luyken
This build-your-own burger bar lets you be as traditional or as out there as you want. Start with the basics - a protein and one of eight buns - then choose your toppings and go to town. Pineapple? You got it. Brie? No problem. Black truffles? Coming right up! Kids and parents alike will love the variety and the autonomy of getting to customize their burgers! House recipe veggie burgers are suitable for vegetarians, but those with dairy restrictions should be aware they contain mozzarella cheese.
Since variety runs the show here, there's also a fully customizable milkshake bar with plenty of non-alcoholic choices for kids and a number of tasty adults-only options.

Address: Mandalay Place
Phone: 702-632-9364
Bobby Blue at Bobby's Burger Palace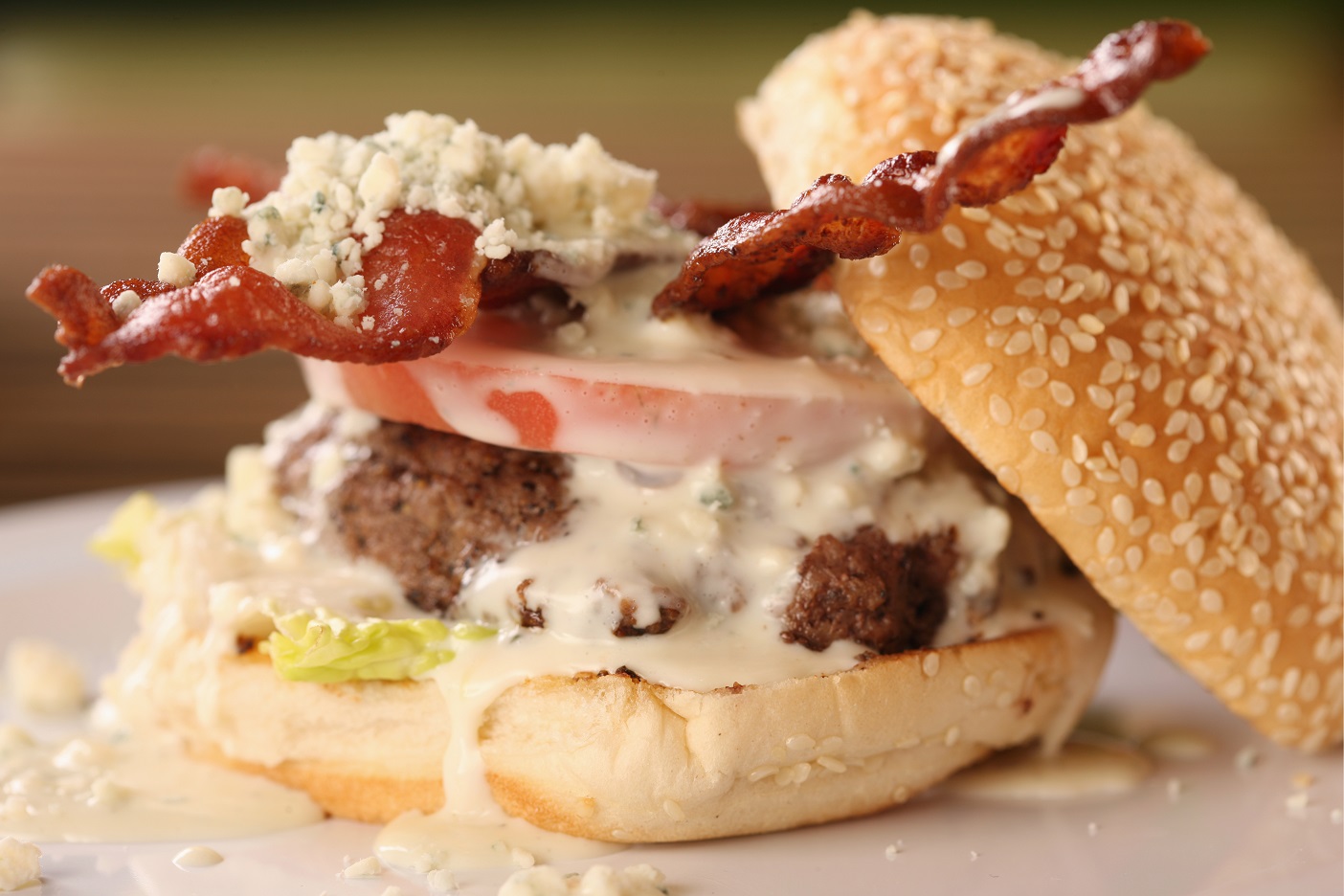 This is a nice unpretentious option for those who want no-nonsense burgers at their best. Chef Bobby Flay went for a "fast-casual" twist with his Burger Palace restaurants and the namesake Bobby Blue burger. Blue cheese lovers will enjoy crumbles of their favorite tangy cheese mixed with smoky bacon and refreshing lettuce and tomato. If you're looking for a Burger Palace twist, try your burger "Crunchified," topped with potato chips, for no extra charge!

Address: City Center - 3750 South Las Vegas Blvd Las Vegas, NV 89109
Phone: 702-598-0191
Double Double at In-N-Out Burger
Photo credit:
Krista
Is the Shake Shack too East Coast for you? Don't worry...West Coast staple In-N-Out Burger has spread all over the country and recently found its way to the Strip! The Double Double is, like its name suggests, two beef patties with two slices of American cheese, tomato, lettuce, sliced or grilled onions, and In-N-Out's original recipe spread. Go Protein Style and switch out the bun for a lettuce wrap, or get wild with Animal Style for extra zing.
A budget-friendly choice for the whole family, In-N-Out is also known for fries, milkshakes, and a "not-so-secret" menu.

Address: Linq Hotel
Phone: 800-786-1000
Backyard Favorite Burger at Honey Salt
Hot on the farm-to-table dining trend, the Backyard Favorite comes with aged cheddar cheese, tomato jam, and butter pickles. Take a taste cue from the farm by going "Kim's style" with a farm-fresh egg or by adding Applewood smoked bacon. Although this is on the lunch menu only, there's no reason why it shouldn't be available at dinnertime also.
If the Backyard Favorite is too big for your younger kids, they'll love the Kind-Of-A-Big-Deal Cheeseburger from the Honey Salt kid's menu.

Address: 1031 S. Rampart Blvd Las Vegas NV 89145
Phone: 702-445-6100