If you're someone who loves yoga, at some point you're likely going to attend a yoga retreat in India. The birthplace of yoga, the history of yoga, the very essence of yoga is all wrapped up in India, in its people and places. The two are inseparable and returning to your home country to say that you've completed a yoga retreat in India usually comes with a fair degree of esteem. The key to yoga retreats in India is, in a country with more than a billion people, where on earth do you start?
When you begin your search, you'll find a gazillion yoga retreats, yoga holidays and yoga vacations in India, and those that boast that they are the "original" and many will also offer yoga teacher trainings for people ready to become a yoga teacher. Again, what sets the bar for yoga retreats or even teacher trainings? If you are just starting your yoga journey, it can be very challenging to ascertain what makes for a good training and teaching centre. With this list, you'll be able to narrow your search based on location, quality and style of yoga. Here's to the future you enjoying your yoga retreat in India!
Beginners Yoga Retreats
Many beginning yogis, and even those who have practiced a while, (with likely enough knowledge to recognise that they are always be a beginner), a beginner yoga retreat really speaks to what you'll get out of it, rather than a retreat or training centre that caters only to beginners. Which brings us back again to the question of quality of trainers and quality of the experience. Keep in mind, these are all located in India. Which simply means, don't expect a Caribbean luxury retreat or the indulgence of the Ritz. It's India, and part of the charm and mystique (and experience) is the authenticity and reality of the country in all its glory and foibles. Take it all with a grain of samosa...or sand!
Where is Yoga in India?
Yoga retreats are actually ubiquitous in India. They start at the hills of the Himalayas, run to the water-laden South, abound in and around Mysore (a place that Krishnamacharya and Sri K. Pattabhi Jois made famous), some are sprinkled around Pune (birthplace and center for B.K.S. Iyengar and his devotees), there are several around the tourist-heavy southwest coast, and of course in the big cities. If you are a devoted practioner to the style of yoga known as Ashtanga or Iyengar, you may find yourself drawn to centres that focus primarily on those practices. For others, the experience of an Ashram and the bhakti and karma yoga practice that accompanies that experience may be what your spirit craves. If you are wary of the heat, stay away from the south and keep to the hills of Rishikesh or the border of Nepal.
Yoga Retreats In Southern India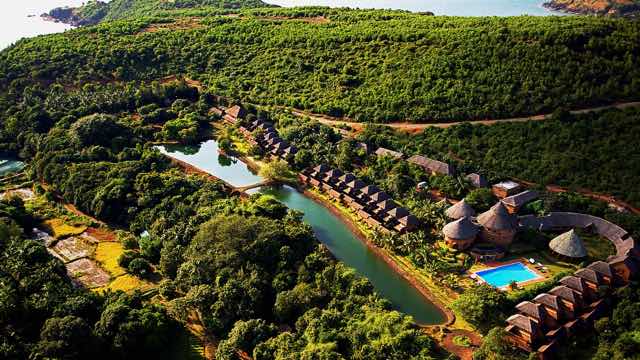 South of the ever-popular touristy stretch of beaches and coastline in Goa is a tiny little oasis called cgh earth swaswara. Located on Om Beach on the southeast coast of India, this little piece of paradise offers both yoga retreats (beginners yoga retreats are offered too) and yoga teacher trainings. This centre has nearly everything you're looking for in terms of total well-being. If you're interested in yoga, meditation, even the concept of art therapies, not to mention healthy ayurvedic food options, look no further. Their yoga offerings are considerable. Not only do they have a beginners yoga retreat, they also offer yoga nidra and pranayama in addition to the physical (asana) practice you're likely familiar with. Private yoga sessions are also available and after your 7th night, they are offered as part of your package. Ayurvedic massages and remedies are on offer, as are panchakarma
The facilities are similar to what you'd expect from a top-notch resort in Bali. There is a swimming pool, meditation deck overlooking Om Beach, the Yoga Shala, library (only place with wifi), a yoga and meditation hut as well as an art studio for those creatively inclined or drawn to clay modeling and painting. Beyond yoga, you'll also have a choice of nature trails and bird watching to enjoy, as well as local boat rides to the historic fort or the harbour. There is a Shiva temple in the nearby town of Gokarna and cooking classes and specialised art classes and an art studio for you to truly delve into your creative side.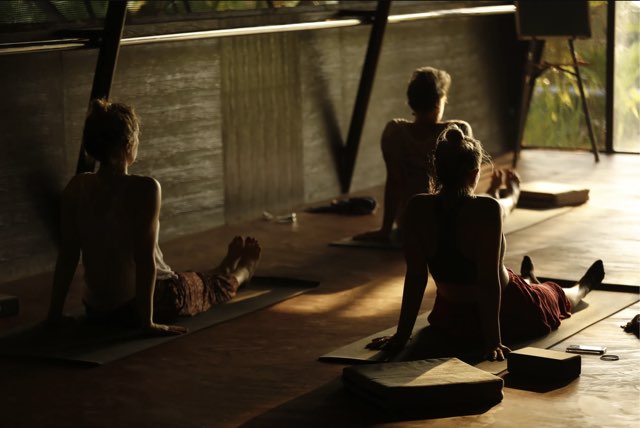 A special place that focuses on Yoga and Ayurveda (they are sister sciences after all), this eco retreat centre in Kerala (southern tip of India) has 3-day, 6-day, 10-day and 14-day yoga retreat packages, not to mention personalised yoga and Ayurveda retreats. With several authentic sounding and moving testimonials about the quality of the staff and their genuine warmth, it seems this place offers harmony both in its offerings, staff, as well as its surrounds. A sample day starts with a yoga practice along with pranayama (breathing exercises). After breakfast you'll receive yoga philosophy and then a guided meditation. Following lunch, you'll have the option of a private session or Ayurvedic Doctor consultation, along with an Ayurvedic oil massage (so worth it!). In the afternoon from 4 - 6pm another asana and pranayama class is offered and before dinner you can watch a demonstration that will have you returning home with more than just a relaxed soul and stronger legs, cooking skills!
While the facilities are comfortable, here is when its useful to remember that you're in India, not a 5-star hotel in Tokyo.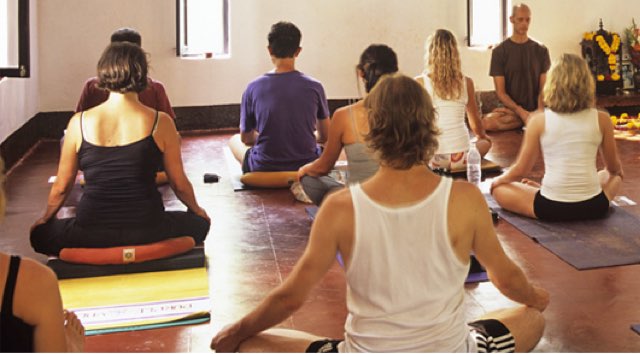 One of the most popular yoga teacher trainings in India, as well as one of the most popular yoga retreats in India, Purple Valley has been in existence for a long time. Purple Valley mainly caters to Ashtanga yoga practitioners and typically brings in only Ashtanga teachers for 2-week courses. There are of course longer courses and there is an option to stay for only 1-week, but generally speaking people attend for a two-week course.
The centre has been known to host the likes of Mark Robberds, John Scott, Joey Miles, Nancy Gilgoff, Ty Landrum, Petri Raisanen, Laruga Glaser, David Robson, Dena Kingsberg and Jack Wiseman. With so much Ashtanga, you'll be happy to know that several different types of Ayurvedic and regular massages are available on site. If you're in need, facials as well as waxing is also offered!
Pricing at Purple Valley is a bit more than what you'll find at other Indian retreat centres. One of the reasons for this is that Purple Valley has more of a European approach to their employees and are very upfront about offering their employees a health care plan and widows' pensions, which are not common in India. With three different accommodation styles available, there is something for everyone here at Purple Valley.
For beginners: Purple Valley is not the best option for a beginners yoga retreats.

This pristine and beautiful centre is located in Goa and has nearly everything you desire. If you are keen to begin your yoga teacher training, they have two types, one is broken into modules or you may choose the 4-week intensive. If you have already completed your 200-hr training, you might be interested in their 300-hr yoga teacher training. Not only are all trainings authorized by Yoga Alliance trainings, they also have a 1-week Yin Yoga course available. One-week yoga retreats are available with teachers from across the globe, both in India as well as at their new location in Brazil.
Their accommodation may make you drool, so be mindful of that before perusing their site. From beach huts to luxury suites, you'll find something to soothe your soul while still being sensitive to your budget. Their season runs from the 1st of October until 30th April each year, taking time off for the monsoon season.
And what would this place be without some spa treatment? Of course there are several Ayurvedic treatments available, not to metion Ayurveda and Panchakarma detox or juice detoxes. Though how anyone could pass up the food here is beyond me!
Yoga Retreats in Pune, India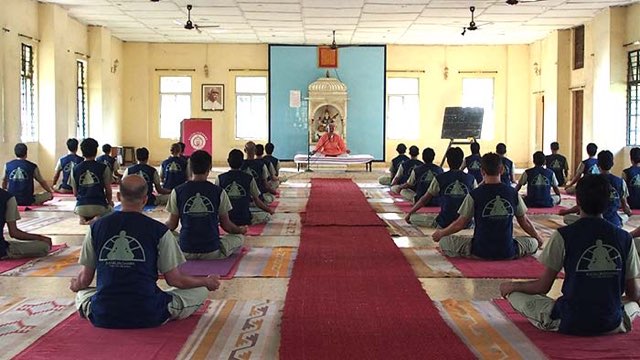 One of the most prestigious yoga centres in India is the Kaivalyadhama Ashram in Lonavla India, just outside of Pune. This centre teaches yoga, panchkarma, Ayurveda therapy, naturopathy and massage therapy. They also offer a specialised programme of Yoga for Weight Management. What's also unique about Kdham, is that they offer online courses as well. You can begin to study online to become an Ayurveda teacher or even a yoga teacher. These courses eventually require in-person training as well, so at some point, you will still be asked to come to Mother India.
One of Kdham's most important trainings is in the course work of pranayama. This is taught by Sri O.P. Tiwari, who has a long lineage of training and teachers himself. He has been running this centre since the mid-50's, and now travels to several other yoga training facilities to spread his teaching. His son, Sudhir Tiwari, offers a three year pranayama course that requires two one-week stays at their centre in India or at another international yoga training location. Previous trainings were held in France and Spain. This course is the most thorough course on pranayama that we could find. Workshops on Yoga Therapy, Sound Therapy, Meditation are also available on site. Lastly, Kdahm has a Yoga College (established in 1951) with several full-time staff members offering a range of courses all related to yoga.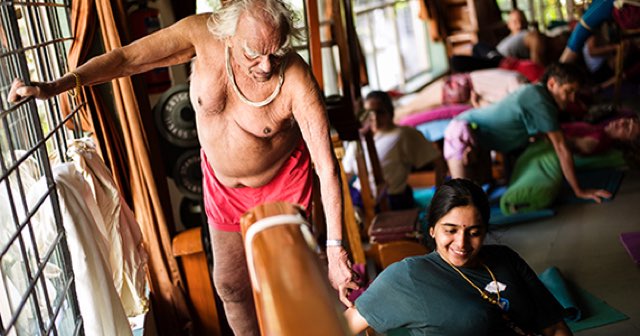 For Iyengar yoga practioners, this is the Mother Ship! B.K.S. Iyengar was a student of the "Father of Modern Yoga", T. Krishnamacharya, his brother-in-law. The yoga he teaches is Ashtanga yoga, but its known as 'Iyengar Yoga' to distinguish it from Pattabhi Jois' yoga. Iyengar yoga teachers are known for their rigorous training and evaluation in order to become a certified Iyengar teacher.
The RIMYI is directed more towards yoga teacher training rather than a yoga retreat. Here you will be instructed into the methodology and teachings of Iyengar yoga. Only 15 - 20 foreign nationals are accepted every month, and the courses are generally booked 1 - 2 years in advance. If you are interested in studying here, generally speaking, eight years of prior experience is necessary. The website is a wonderful resource for finding a teacher in the US, as well as finding Iyengar workshops.
For beginners: RIMYI is not your best option for a beginners yoga retreats.
Yoga Retreats in Northern India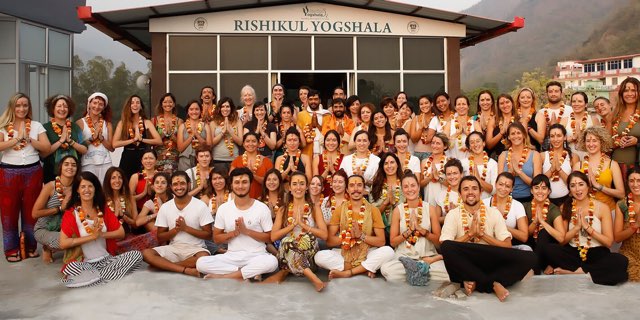 In Rishikesh, hidden away in the hills is this yoga shala, retreat centre, and yoga teacher training school in India. Rishikul Yogshala must be doing something right as they several locations in India, in addition to trainings in Nepal, Iran, Mozambique, Vietnam and Thailand. Phew! They are on fire! Rishikul focuses mainly on yoga teacher training courses. There are 7-day and 15-day retreats available as well. The accommodation is much more basic than some others on this list, but again, within the context of everything, everything is adequate and mosquito netting is provided.
One word of caution, Rishikul promotes itself as a centre to learn and train as an Ashtanga Yoga Teacher. It is well known within the Ashtanga community that only by attending classes and training with Sharath Jois, in Mysore, India, can someone become "authorized" to teach Ashtanga Yoga. There's quite a lot to say about this, but it is also worth mentioning that several of the images featured on the website are poses that are not taught in the Ashtanga yoga sequences. They offer very little "Ashtanga yoga" classes per se, rather they begin the day with Hatha yoga classes. A small distinction for some, but rather important if you are solely interested in Ashtanga Yoga.
Iyengar Yoga is known the world around, and for good reason. B.K.S. Iyengar was one of the first people to study with Krishnamacharya, the man who also taught Sri K. Pattabhi Jois, the founder of Ashtanga Yoga. B.K.S. Iyengar took the teachings in a slightly different direction focusing more on alignment and structure. Anyone who has previously studied Iyengar Yoga will attest to the quality of this style of yoga. This centre is called The Patanjala Yoga Kendra, located in Rishikesh, and is recognised by the official Iyengar yoga institute in Pune. Authenticity is without question here!
General yoga classes, intensive yoga courses as well as beginner yoga classes are all available here. If you're interested in philosophy, you can also book a one-week course on the Philosophy of Yoga which will study Patanjali's Yoga Sutras. While this centre may not truly qualify as a yoga retreat, due to its rigorous standards, limitations on dress and posted rules, what you will discover is an institution that is qualified in teaching the lineage of Iyengar yoga and a practice that will serve you throughout your life.
This place is perfect for a beginners retreat and will help connect you to your inner yogi!
Gyan Yoga Breath is a wonderful resource as both a yoga retreat and a yoga teacher training school in Rishikesh, India. Offering 100-hour, 200-hour, 300-hour and 500-hour teacher trainings, you'll find nearly every course of study you could possibly desire here. The training includes lessons in both Hatha and Ashtanga yoga, Ayurveda, Kriyas, Meditation, Yoga Philosophy, Mantra chants, as well as Pranayama techniques.
The Gyan Yoga Breath also offers two different yoga retreats. One is a 7-day yoga retreat geared towards beginning practitioners. With both sunrise and sunset yoga classes, along with meditation classes, you'll have an opportunity to expand your yoga practice, coupled with enough time to enjoy the gorgeous surrounding valley. Additionally, they have an on-site Ayurvedic Doctor who is available for free one-on-one consultations and pulse diagnosis. Another feature is that each retreat is limited to 21 students maximum. If time is of the essence, or you'd rather start small, choose the 3-day yoga retreat, offering mostly the same programme as the 7-day retreat. The lodging is basic and clean, with very minimal and simple furniture on top of a hill offering gorgeous views over the valley.
The Vinyasa Yogashala is another yoga retreat and yoga teacher training centre in Rishikesh, India. Certified as a yoga school by Yoga Alliance, USA, this centre trains yogis in Hatha Yoga and Vinyasa Flow Yoga, one of the most popular styles of yoga. There is a 100-hour, 200-hour and 300-hour programmes, and they clearly state their curriculum online, a helpful tool for determining their standards of training. You'll learn Vinyasa and Hatha yoga, Pranayama, anatomy, philosophy, yoga nidra, mantras, mudras and bandhas as well as shatkriyas, or cleansing exercises.
One week yoga retreats are offered throughout the year. Featuring meditation along with morning yoga and pranayama practices, these retreats are sure to leave you relaxed and rejuvenated, ready to face modern life again. Ayurvedic massages are also available as are excursions to nearby caves, temples and a boat ride on the Ganges. While the accommodations may not be something you'll write home about, they are sufficient and private. Each student is afforded their own private room and cleanliness is not lacking. Additionally, vegetarian meals are on offer and of course you're free to wander into Rishikesh to sample more delicious Indian food.
Yoga Retreats for Beginners
Here's how it begins. You're a beginner at yoga but you want to deepend your practice. A great option is a yoga retreat for beginners where you'll get the time and attention from an experienced teacher and you'll get the space away from the demands of daily life. Be it a weekend, a week or a month, yoga retreats for beginners are growing in popularity. Who knows, you might begin the week gently getting into your asanas and by the end of the week you just might be rocking some headstands!